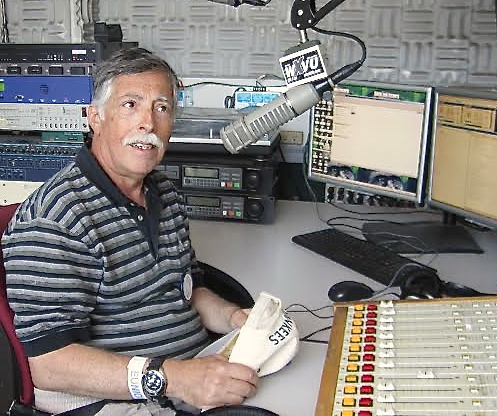 Although the combination is unusual, Douglas Dick, aka Doug Lewis, has had no trouble playing a dual role for most of his adult life – the dedicated advocate and prosecutor in his day job, and the community-minded, music-loving disc jockey evenings or weekends.
Dick retired in May from the V.I. Justice Department, having one of the longest and most successful tenures there. In his 31 years as an assistant attorney general he built a reputation as a champion for children and women and helped to shape the territory's domestic violence laws. His hallmark was diligence, never showmanship, and his work earned him awards from the people who best know his worth – those with whom he collaborated on cases and causes.
"I enjoyed what I was doing. I thought it was important work," he said. But, he added, "I was ready to retire when I retired. I needed a change. It was time."
Among his recognitions are the Peacemaker Award from the Family Resource Center, the "Outstanding Citizen" award from the Virgin Islands Chapter of the National Association of Social Workers, and a Paul Harris Fellowship from Rotary.
Dick was born in Puerto Rico and has roots there from both sides of his family; he grew up in New York, specifically, the Bronx.
"I was always kind of interested in law," he said, especially in litigation work. He attended Villanova University in Pennsylvania, earning bachelor's and master's degrees in political science. He earned his law degree at Creighton University in Omaha, Nebraska.
He practiced in family court in Philadelphia and was working in the public defender's office in child advocacy, before he moved to St. Thomas in 1983 to take a job at the Attorney General's office.
When he started, there was nothing in the V.I. Code specifically addressing child neglect.
"You had to try to be creative" in prosecuting such cases, drawing on other parts of the law that could apply, he said.
Dick was part of a task force that made recommendations for upgrading the code, and resulted in more legal protections for children. It was a joint effort, and one he is proud of.
For many years, there was talk of establishing a specialized division within Justice to address domestic violence. Dick credited then Attorney General Julio Brady with actually creating the Family and Special Victims Unit in 1997. Dick headed the unit.
"It's not easy" working for the Justice Department. "The caseloads are heavy," Dick noted. "I spent a lot of time in court." It can be stressful, he said, but "once you're in the courtroom, you don't have time for" being nervous.
Dick lauded the advocates who work with victims and witnesses.
"They're the ones that help you prepare the cases," he said. "The advocate builds a trust with the victim or the witness. There's a trust there" that the prosecutor can tap into in mapping out the case. He said he also worked closely with the police and with staff from the Department of Human Services.
Dick said his work as an attorney was important and satisfying, but it was also stressful. That's why it was good to have another job as a radio personality.
"The radio was my mental health thing," he explained. "The radio was fun."
As he tells the story, his launch onto V.I. airwaves was serendipitous. When Hurricane Hugo struck in 1989, it knocked out the satellite communications for a local country station that relied on a feed from the mainland for its programming. At a Thanksgiving party, Dick met "the Virginia Ridge Runner" who told him the station was trying to get back on the air and was looking for local talent to man the microphones while the satellite was down.
Dick had had considerable air time while in college and law school. He was a regular disc jockey on the school stations. When he met his wife, Charlene Dick, back in Pennsylvania she, too, was working on a college station. The two of them put together an award-winning 17-hour Beatles tribute for a local station.
So it wasn't a stretch for Dick to take "Ridge Runner" up on the offer. He already had a radio name. Back in college, when record spinners were going by names like "Cousin Brucie" and "Murray the K" he started using "Doug Lewis." It was a take-off on his middle name, which is Louis.
His first V.I. show ran on WIYC for about three years, until the station was sold and the format changed. Then he moved to WIVI for more than four years, then to WIUJ. He's been holding forth on WVGN (the local NPR affiliate) for more than 10 years.
He said he has enjoyed the freedom he was given by VGN. The trend now is for "strictly formatted" programming. "The D.J. has no discretion on what to play" on many stations. In contrast, he picks his own music and makes it an eclectic mix of rock, folk, blues, jazz and what-have-you. He also makes it a point to feature a lot of local artists. VGN was recently sold and at the time of this interview, it wasn't clear whether there would be program changes.
In such a small community, many of his listeners have long understood that Doug Lewis was also Doug Dick. But he says he kept a line between the two.
"On radio I never talked about my work at Justice," he said. "I tried to keep the two careers separate."
Dick said he is enjoying retirement from the law, but is keeping busy. He attended a continuing legal education session this summer. He's slated to conduct some training about the legal system for social workers at Human Services this month. He's certified as a mediator. And he said he still gets calls from colleagues at Justice who may need some help on a case or issue he handled.
"I still pop in there every couple of weeks," he said.
He's also active in a number of community groups. Over the years, his involvement has included serving on the October Sunday Committee, Arts Alive, Rotary II, the Institute for the Performing Arts and Catholic Charities Answer program.