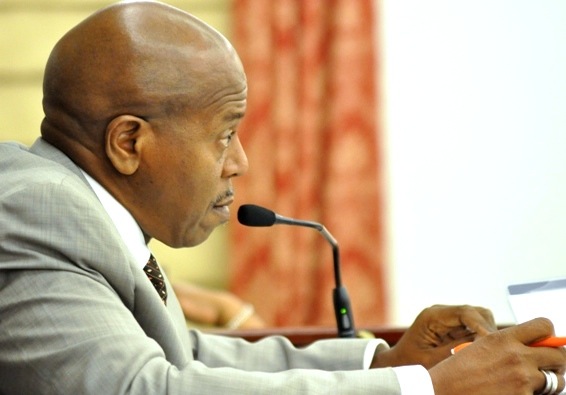 Senators sent a bill out of committee Wednesday changing its 2012 authorization to rebuild Paul E. Joseph Stadium in Frederiksted – legislation that agency heads said is needed to finalize the contract and let work proceed.
The Culture, Historic Preservation, Youth and Recreation Committee voted to hold the bill at a July 30 hearing on St. Croix, citing as their greatest concern a provision that would allow work to proceed without an additional legislative approval. (See related links below)
An amendment from Sen. Kenneth Gittens on Wednesday removed that provision, with Sports, Parks and Recreation Commissioner St. Clair Williams and Public Finance Authority Executive Director Angel Dawson both saying they had no objection to the change if that would get the legislation approved.
The 2012 Act, approved by the 29th Legislature [Act 7453], authorizes the Public Finance Authority to issue up to $35 million in bonds financed through the Communities Facilities Trust account for Paul E. Joseph Stadium and for a sports complex at Mars Hill, outside of Frederiksted. The Community Facilities Trust is a fund established in the Diageo distillery's operating agreement with the V.I. Government. The agreement states that Diageo's new distillery will deposit "3 percent of the annual gross cover over receipts" into the fund, administered by the PFA.
A first request for proposals went out in early 2012, with local company GEC and stateside firm GlobalVest initially being selected to build a larger project, involving swimming and tennis facilities as well as baseball and a festival village. But those plans collapsed after revelations of financial issues and padded resumes with GlobalVest. (See Related Links below)
Williams spoke in support of the bill, repeating his previous testimony that GEC was selected for the work after the most recent request for proposals, but that the contract cannot be finalized until the financing is clarified by this legislation.
Williams said the bill was needed to confirm the Paul E. Joseph project can first begin, and does not have to be delayed to coordinate starting simultaneously with the Mars Hill project, which is not close to being shovel ready.
"Personally, I too have been frustrated by the lengthy procurement process. But it was necessary that all due diligence be done to avoid any embarrassment in this second round," Williams said.
Many of the senators present, including Sens. Kenneth Gittens and Terrence "Positive" Nelson seized on William's remark, turning it around and asking him to understand that the Legislature too must do its due diligence, even if it slows down a project.
"I don't think we need any convincing, but we need to make it clear to you, just as you stated the … process was too lengthy and you were not comfortable with, but you had to do your due diligence and this body must do its due diligence too and I'd hope you'd understand," Gittens said.
Sen. Nereida "Nellie" Rivera-O'Reilly honed in on the project's longevity, asking what plans or funding there would be for maintenance and marketing. Williams said some funds were included in the overall $20 million budget, but the contract details were still being hammered out.
Rivera-O'Reilly said many on St. Croix were frustrated with contractors that brought in employees from elsewhere and proposed an amendment saying the contractor on this job "must comply with the provisions" of existing law that require companies contracting with the government to give preference to qualified, unemployed residents.
Sen. Tregenza Roach objected, saying it served no use to require following a law that was already the law. Voting for Rivera-O'Reilly's amendment were Gittens, Jackson, Rivera-O'Reilly, Nelson and Sen. Janette Millin Young. Roach voted no. Sen. Shawn-Michael Malone was absent.
Voting for the amended bill were Gittens, Jackson, Nelson, Rivera-O'Reilly, Roach and Millin Young, with Malone absent.
The committee also approved a bill, sponsored by Jackson, to create another new volunteer commission that shall "develop and enforce all laws and policies that govern sports and recreation in the Virgin Islands."
It also sent on two bills honoring local sports figures: One, sponsored by Malone is an act honoring and commending George Lewis Jr. for his contributions to the community and naming the tennis courts in Cruz Bay, St. John, in his honor. The other, sponsored by Graham, is an act honoring and commending Milton M. "Milt" Newton for his formidable contributions to the Virgin Islands and renaming the Bordeaux Basketball Court in his honor.
All items approved Wednesday will move out of committee and be considered next by the Rules and Judiciary Committee, where, if approved, they will be sent to the floor for a final vote.