So far the Health Department hasn't had any reported cases of the Enterovirus D68 that has been causing severe respiratory illness among children in the United States, but Monday it urged Virgin Islands residents to be on the alert.
The virus is spread from person to person when an infected person coughs or sneezes, or by touching objects or surfaces that are contaminated with the virus and then touching the mouth, nose or eyes. Health Commissioner Darice Plaskett noted that viruses can spread very quickly in daycares and schools.
Residents are urged to protect against getting and spreading the virus by washing hands often with soap and water for 20 seconds. Avoid touching your eyes, nose and mouth with unwashed hands. Avoid kissing, hugging, and sharing cups or eating utensils with people who are sick. Disinfect frequently touched surfaces, such as toys and doorknobs, especially if someone is sick. Avoid close contact with sick people. Cover coughs and sneezes.
"And stay at home when sick to prevent the spread," said Health's medical director, Dr. Marc Jerome.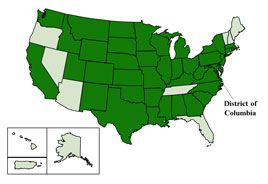 According to the Centers for Disease Control website, from mid-August to Sept. 26, CDC or state public health laboratories have confirmed a total of 277 people in 40 states and the District of Columbia with respiratory illness caused by Enterovirus D68. All but one of those cases was in children. The 40 states are Alabama, Arkansas, California, Colorado, Connecticut, Delaware, Georgia, Idaho, Illinois, Indiana, Iowa, Kansas, Kentucky, Louisiana, Maryland, Massachusetts, Michigan, Minnesota, Mississippi, Missouri, Montana, Nebraska, New Jersey, New Mexico, New York, North Carolina, North Dakota, Ohio, Oklahoma, Pennsylvania, Rhode Island, South Carolina, South Dakota, Texas, Utah, Virginia, Washington, West Virginia, Wisconsin and Wyoming.
The first documented cases showed up in August.
The CDC indicates enteroviruses commonly circulate in summer and fall and Enterovirus-D68 infections are likely to decline later in the fall.
The CDC said that, in general, infants, children and teenagers are most likely to get infected with enteroviruses and become ill because they do not yet have immunity from previous exposures to these viruses. The CDC believes this to be true for Enterovirus D68.
The respiratory illness starts out like the common cold but can quickly turn serious among people with respiratory problems, especially in children with asthma.
"While the virus affects children more seriously, anyone can catch it," Plaskett said.
Symptoms can include fever, runny nose, sneezing, coughing and body aches. Most of the symptoms are similar to the flu, Jerome said. Enterovirus D68 patients have trouble breathing. Jerome said wheezing and even a bluish tinge to the lips are other symptoms.
"If they should develop wheezing or a kind of a crackling noise in their chest or difficulty breathing, seek emergency medical attention," Jerome said.
Parents should keep a closer eye on their child if they are experiencing a bad cold. "They can quickly deteriorate," Plaskett said, urging parents and caregivers to immediately seek medical help for their children.
Some people with severe respiratory illness may need to be hospitalized and receive supportive therapy.
There is no specific treatment for Enterovirus D68 and no antiviral medications are available.
A blood test can determine if it is Enterovirus D68, but Jerome said it's imperative to begin treatment immediately and not wait for the test results.
Health said in its press release that it's in communication with the Centers for Disease Control and health providers in the territory regarding the current Enterovirus-D68 situation in the United States. The Health Department will continue to keep the public informed and share information and guidance with health providers as it becomes available.
For more information about Enterovirus D68, visit the Health Department website at www.healthvi.org.