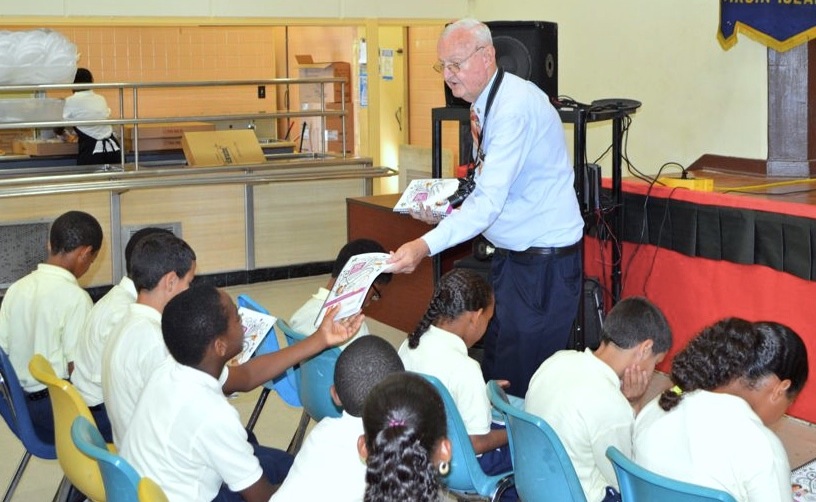 St. Croix Rotarians and the V.I. National Guard gave Charles H. Emmanuel Elementary fifth- and sixth-graders "Coole School" planners, school day planners with room to track homework assignments, grades, parental meetings and other data on Thursday, continuing what has become a long-standing annual fall tradition. With help from Innovative and other sponsors, VING and Rotary donate the planners throughout the territory.
The inch-thick spiral-bound organizers are packed with factoids, inspirational quotes and information, alongside weekly and daily planning pages. Speaking to a room full of Emmanuel students, Rotary President Susanna Smith said the idea behind them is to get students in the habit of managing their time at an early age, as part of the V.I. National Guard's Safe and Drug Free "Coole School" program.
The Coole School program goes all the way back to 2000, and the Guard latched onto latched upon the idea of planners while looking for a tool to help students keep track of their homework assignments, achievements and parental involvement, she said. "What began as a collaborative effort in hopes of achieving academic success has blossomed into a program that takes into consideration the total child," she said.
"Targeting fifth- and sixth-graders, the planners focus not just on organizational skills but life skills that can foster positive decision making," she said.
Rotary jumped on the bandwagon in 2007 and has been purchasing and distributing the planners ever since.
"We thought the program would end due to lack of resources and we want to thank Rotary for stepping up," said Chief Master Sgt. Neville Lee, who oversees the Coole School program for VING. "Ultimately all of this is about being a good citizen in our community," he said.
Innovative began sponsoring the planners in 2011 and Innovative Chief Executive Officer Shawn O'Donnell told the students both his parents were teachers and he himself had a similar planner when he was in school and found it useful and worthwhile.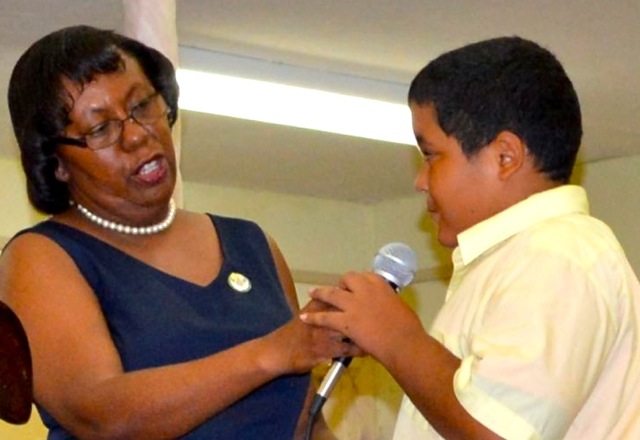 Rotary Assistant District Director Deborah Howell asked if any sixth-grader could tell them what they did with the planner they got last year, when they were in fifth grade.
"I used it to write up all my homework assignments and organize and store all my papers and assignments," said Emmanuel sixth-grader Juan Nieves.
Aside from Innovative, this year's sponsors included Jennifer Matarangas-King, Colette Griffin, Mary Sluss and Business World.