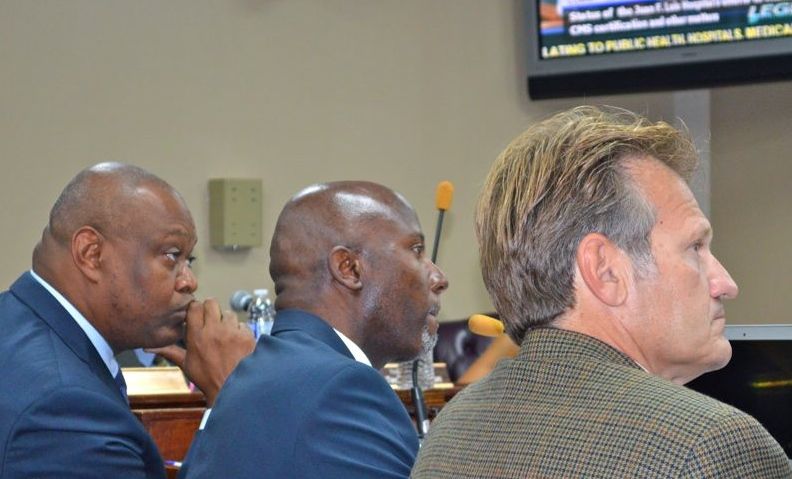 Dr. Kendall Griffith, Gov. Juan F. Luis Hospital's chief executive officer, personally fired newly hired Chief Financial Officer Sam King last week because he was "not a good fit," Griffith told senators at a hearing on the beleaguered hospital's financial and management needs. Assistant Chief Financial Officer Michael Younger is taking on his former supervisor's duties for the time being, Griffith told the Senate Health, Hospitals, Human Services and Veterans Committee.
The Centers for Medicaid and Medicare Services very recently gave the hospital a temporary reprieve, after giving the hospital an extremely damning report in September. (See Related Links below) The hospital has until Nov. 20 to be ready for another inspection visit and possible decertification, which would have devastating financial consequences to the already severely underfunded community hospital. It would also be a condemnation of the quality of care at the hospital.
Sen. Sammuel Sanes asked Griffith about the firing of newly hired CFO Sam King. "What was the reason for that dismissal?" Sanes said.
Griffith replied, "When you interview someone and you vet them, as I'm sure all business owners have experienced this, sometimes what you see at first is not what you really get. It was clear it was not going to be a good fit and, as a leader, I have to choose the best team," he said.
Griffith cited the hospital's current emergency need to meet CMS standards to justify the decision, saying "in order for us to move forward, hard and fast decisions have to be made … I think it was readily apparent he was not going to be a good fit."
Griffith did not detail what made King a poor "fit." There was no mention of work performance or professional qualifications.
CMS's report sanctioned the hospital for a "lack of oversight" and "the governing body's ineffectiveness" in an array of situations. In one instance it sanctioned the hospital for doctors hired by Griffith and hospital management because these "appointments were not brought up to the governing body for approval."
V.I. law explicitly requires Griffith to get the "advice and consent" of the district hospital board, or in its absence, the territorial board, to hire or fire a CFO, just as the Legislature gives its "advice and consent" to the governor's nominees to the hospital boards, for example.
This created an issue last year when Griffith fired its previous CFO, Deepak Bansal – also without board advice and consent.
Griffith also had previously forced out two members of the governing board overseeing him, with help from the V.I. Legislature, breaking its quorum. So legally it was not apparent Griffith had the authority to fire Bansal. Two months later, the territorial board retroactively approved Bansal's ouster – much as if Gov. John deJongh Jr. had declared someone to be a member of the hospital board – or kicked them off it – and two months later the Legislature voted to approve the appointment retroactively. (See: Territorial Board OKs Termination of JFL Financial Officer)
Griffith directly addressed CMS's concerns about lack of board review of other issues. He said that now there was again a quorum on the St. Croix board, it has already revamped its credentialing of physicians and staff, and would soon start reviewing patient harm incidents as requested by CMS.
St. Croix Board Chairman Anthony Ricketts confirmed this, but said the board still needed four more members and had only been active for two weeks, so hearings have not been scheduled yet. The nine-member board has five members right now.
Overall, Griffith emphasized that he feels the hospital has been improving for the last year and a half.
"In a little over 18 months, JFL has accomplished quite a bit and finances are improving," he said, adding that staffing levels are improving and the board again has a quorum.
Sen. Alicia "Chucky" Hansen loudly applauded Griffith at the end of his testimony and blamed all of the hospital's problems on Griffith's predecessor, Jeff Nelson.
"All of us are fully aware that this report goes back to before you … it was Mr. Nelson that did this," Hansen said. The overwhelming majority of the incidents cited by CMS occurred in July of 2014.
"When he fired the CNAs that was also part of the report," Hansen said, referring to Nelson laying off 85 certified nursing assistants. The CMS report does not mention or criticize the layoffs, although it does say it is understaffed in its nursing department.
Griffith laid out a $10.3 million spending plan, asking the Legislature for a fast infusion to help address the most pressing immediate issues at the hospital. That sum includes $5 million to buy medicine. And $1.6 million to go into an escrow account to ensure payment to a third party consultant. CMS cited the hospital for losing the consultant for failing to pay, Griffith said. Putting the money in escrow will ensure the contract is met and CMS is happy on that front, Griffith told senators. The request also includes $1.5 million for the hospital's psychiatric unit and $1 million for the Patient Keeper digital patient records system.
No votes were taken at the oversight hearing. Present were Sanes, Hansen, Sens. Clarence Payne, Kenneth Gittens, Craig Barshinger, Terrence "Positive" Nelson, Tregenza Roach and noncommittee members Diane Capehart and Nereida "Nellie" Rivera-O'Reilly.