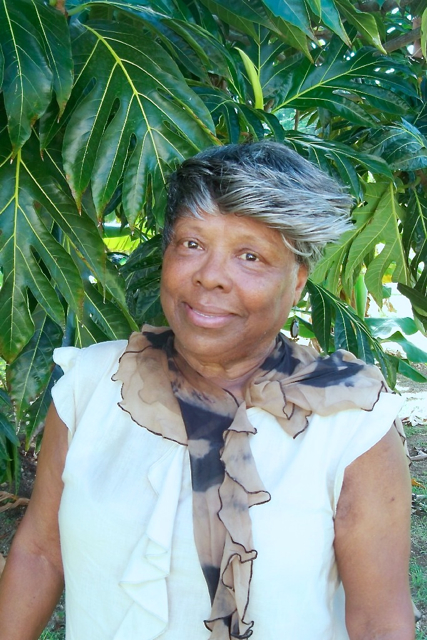 Carol Seale-Howell, CEO of Virgin Islands International Black Pages, said she loves to meet people.
As the publisher since 2002 of the directory on local leaders and business owners, she has met thousands of people as she goes about her day promoting the directory.
Seale-Howell's directory highlights black-owned businesses large and small, showcasing and giving entrepreneurs and civic leaders exposure to the public. Meeting fascinating local people and getting their biographies is what she loves most about her work, she said.
The publication has featured St. Croix administrators, small business men, politicians, policemen, musicians, artists, elected officials, inventors, veterans and more.
Believing that exposure works for business and being a smart business woman, Seale-Howell didn't hesitate when asked about letting the Source profile her.
Seale-Howell, 73, acts and looks a lot younger than her age. Her face isn't wrinkled and her legs are still shapely. She bursts out with hearty laughter when her legs are mentioned.
"Girl, when I was young men always said the Seale sisters had great ham hocks," Seale-Howell said.
Her legs look great because of her genes, and she gets plenty of exercise hoofing it around St. Croix. She decided when she moved to St. Croix she didn't need a car and she helps the environment that way too.
"This island is small, I don't need a car," Seale-Howell said. "It's not that far end to end or across. It's easy enough to take a taxi. If I have to walk, it doesn't bother me, I'm used to it."
Seale-Howell was born and raised in Harlem and has lived in a dozen other states. She moved a lot because she wanted to see different places and have new experiences. She moved to St. Croix from Anchorage, Alaska, in 1999. She picked up and set down roots on St. Croix on the recommendations of her girlfriends. When she arrived on the island, she didn't know anyone, had no job, and no home.
"It wasn't that big of deal, I just stayed at a hotel in town about three weeks and got a job at a boutique right away," Seale-Howell said.
She said one way she meets people everywhere she has lived is getting involved with the local Democratic party. She was influenced by her mother, who was politically involved as an active volunteer for candidates, Seale-Howell explained.
Meeting the Obamas at the 2010 Congressional Black Caucus gala was the highlight of Seale-Howell's life. With the sound of pride in her voice she said the president shook her hand and Michelle Obama bent down and gave her a hug.
In her spare time she said she loves to go to the courthouse and sit in on trials. She said she sat in on Sen. Alicia 'Chuckie' Hansen's trials a dozen years ago. "It relaxes my mind knowing I'm not the one in trouble," she said.
By the time Seale-Howell is 80 she wants to be doing stand-up comedy on a regular basis. She has done some little engagements and she has roasted people. And she wants to travel a lot more, preferably by train so she meet other passengers riding with her.
More information about the Virgin Islands International Black Pages is available by calling Seale-Howell at 1-340-692-6836.