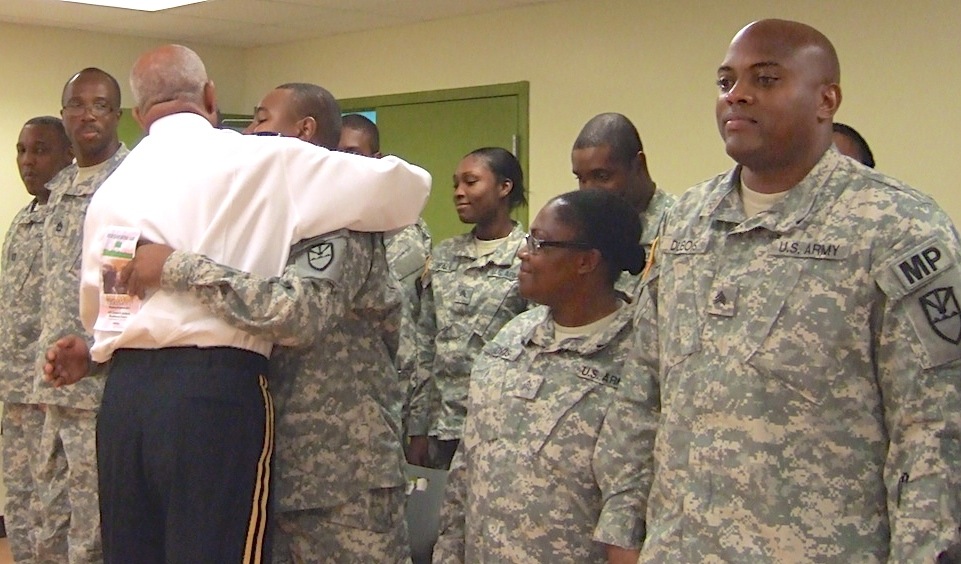 A moving farewell ceremony was held Monday afternoon at the Lt. Col. Lionel Jackson Readiness Center on St. Croix to honor the 661st Military Police Detachment of the Virgin Islands National Guard, departing Tuesday to eventually serve in Afghanistan. The ceremony for the nine St. Thomas service members was held on Saturday.
Of the 15 soldiers from St. Croix, most have had multiple military tours. Staff Sgt. Dwayne Cromwell is leaving for his fifth mission and Sgt. Brenda Sales-Belardo is on her third tour. Despite only nine months of training together, commanding officers said they are confident of the soldiers, perhaps because of their individual experience.
"This unit is fully prepared, fully trained," said Lt. Col. Elvis Harvey, battalion commander. "We are confident we can do whatever is required and discharge our mission and return home safely."
After a training period at Joint Base McGuire-Dix-Lakehurst in New Jersey, the detachment will fly to Afghanistan to support an active Army MP unit, Harvey said. Duties will include traffic enforcement, investigation of accidents, security and perimeter surveillance. The mission is scheduled to last a year.
Senior military officers were on hand Monday with words of thanks and encouragement for the military personnel and their families.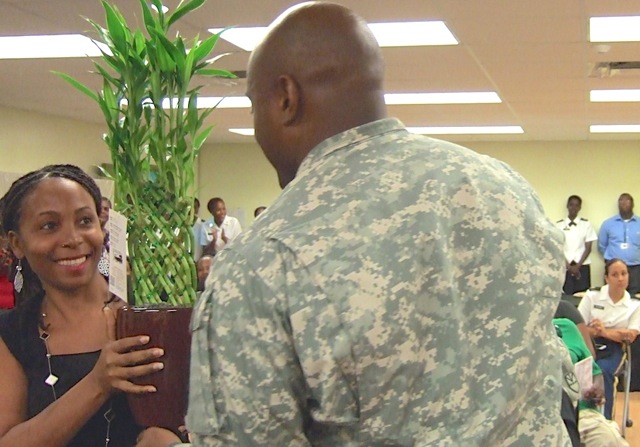 Major Gen. Renaldo Rivera, VING adjutant, directed remarks at the families as well as the soldiers. He asked that no bad news be sent overseas to family members since this will be a "peace making, not peace keeping" mission. He stood in front of the men and women with words of support and then walked through the ranks and hugged each soldier. Afterwards, he wiped his eyes several times.
Harvey also addressed the troops and their families with words of encouragement and assurance.
"This team is ready for deployment. They are prepared mentally, spiritually and physically," he said.
Capt. Mario Brooks, the unit commander, praised and encouraged his troops. He said everyone should be grateful for what they are doing for themselves, their families and the nation.
" A good commander knows his heroes are his men," he said. "I'm so proud to be part of this organization."
Speaking on behalf of the Secretary of the Army John McHugh, Virdin Browne, civilian aide to McHugh, thanked the military personnel and their families for their service. He recognized the troops were going into one of the world's hotspots and advised the soldiers to watch each other's backs.
Other speakers included Sgt. Majors Judy Clarke and Delores Edwards, Beresford Edwards, chairman of Employer Support of the Guard and Reserve, who thanked Home Depot for being a good corporate citizen.
Hermeian Leon from Home Depot attended the ceremony. Leon thanked the soldiers and presented the members of the 661st with a plant to leave behind with their families.
The V.I. 661st Military Police Company was created in 1973 as a combat support unit. The first overseas mission was Guantanamo Bay, Cuba, in 2003. In 2005, 12 members were sent to Kuwait. In 2009, the company was mobilized in support of Operation Enduring Freedom in Kosovo.
Cromwell, who has been in the service 14 years, has been on each of those missions.