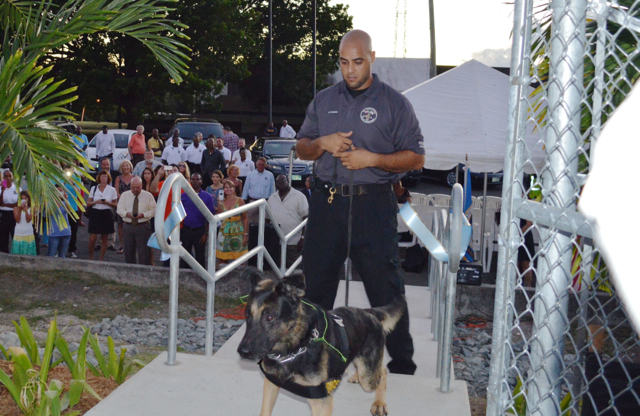 The V.I. Police Department cut the ribbon on a brand new, state-of-the-art K-9 police dog training facility and kennel Tuesday on St.Croix, next to the disused Patrick Sweeney Headquarters.
At a ceremony before the ribbon-cutting, former St. Croix Police Chief Chris Howell told the gathered dignitaries the center was five years in the making, with several fundraisers, lots of coordination and the help of one very generous donor.
"You have what is now The best VIPD facility. And you earned that facility," Howell said.
The brand-new facility has a large poured concrete kennel building, with 10 kennels. Giving a tour after the ceremony, Howell showed how each kennel has its own dog house, where dogs can go while their kennel area is cleaned. The floor is sealed with epoxy, so liquids and stains are not an issue.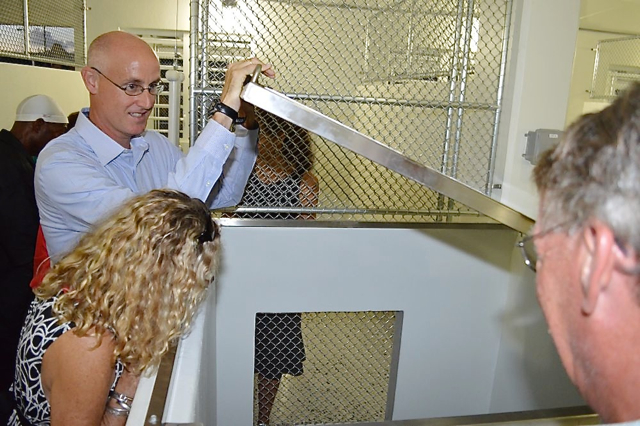 Outside is a large exercise and training area, enclosed with a high chain-link fence.
J. Benton Construction built the facility.
Funding includes acquisition of two more dogs; one of which would be a female for breeding. Generally, police dogs are male, as all the VIPD's current dogs are, according to Howell. Being able to breed their own dogs will save between $15,000 and $25,000 per year, and will make the territory a source for dogs and K-9 training in the region, he said.
A second building, for training and for officers, is to break ground this week, said Police Commissioner Rodney Querrard.
The whole facility cost $1.97 million, with most of it, about $1.5 million coming from a single, private donor who wishes to remain anonymous, Querrard said. Three annual VIPD gold fundraisers filled in most of the rest, he said.