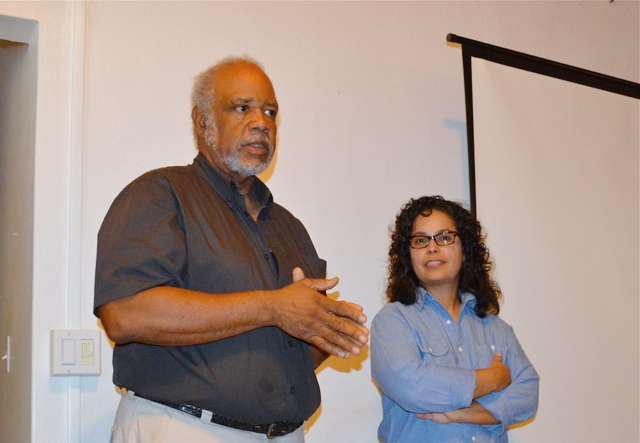 Ever since the closure of the psychiatric ward at Gov. Juan F. Luis Hospital in 2012, mental-health care on St. Croix, already stretched very thin, largely collapsed, leading to more individuals with acute mentally illness to be incarcerated at Golden Grove without any charges being filed.
That is one of many heart-wrenching aspects of mental health care in the Virgin Islands award-winning St. Croix documentary filmmaker, Johanna Bermudez-Ruiz explores in a new documentary "Forgotten in Paradise."
The film premiered Monday at the Disability Rights Center of the Virgin Islands' offices on St. Croix. The DRCV produced the film, which was written, filmed, directed and edited by Bermudez-Ruiz over the last year. It chronicles the history of the territory's mental health service system from its inception in the 1940s to today, with touching firsthand accounts from St. Croix people with mental illness, their families, and their struggle to have better mental health care services. It looks at all facets, including local and national social stigmas; the importance of regular, uninterrupted medication, the impact of declining care on patients, on V.I. society, on public safety and on the prisons. And it connects the dots between mental healthcare and homelessness and the individuals we see and recognize in the street every day in the territory.
St. Croix residents tell their personal stories of mental illness, of trying to handle wives, husbands or children whose behavior is becoming erratic and difficult to deal with. Some told of not understanding what was happening to them, others of finding peace of mind in medication but only at great financial expense.
Often, symptoms are not recognized as mental illness. One person, whose face was not shown on camera, talked about undergoing traditional African Obea ceremonies to purge demons. Another said her church performed an exorcism. Both continued to suffer terribly until they later received psychiatric help and the correct medication.
The impact of the 2012 closure of JFL's psychiatric unit was one of those facets.
"Since our hospital on St. Croix does not have a psychiatric facility, we still have a lot of people who commit crimes who are mentally ill who end up in prison," said Dr. Olaf Hendricks, a St. Croix psychiatrist, in the film.
Hendricks said the previous JFL CEO, Jeff Nelson, who was hired specifically to turn around the hospital's finances and get it back into good graces with certifying agencies, indicated psychiatry was a loss leader and ended up closing the psychiatric ward. The Centers for Medicare and Medicaid Services, which accredits the hospital and provides much of its income, would not allow the unit to be reopened.
"There were a couple of instances where the quality of care was affected," JFL CEO Kendall Griffith said in the film. CMS wanted it fixed immediately and the choices were to immediately retrain and put new staff in place, or close it, Griffith said.
"Once the decision was made to close it down we could not reopen the unit," not only due to lack of money, but "CMS pretty much told us you can't reopen it until you fix all the deficiencies in the entire hospital," Griffith said.
A psychiatrist with the V.I. Bureau of Corrections tells the camera the prison began seeing more inmates with acute mental illness immediately after the hospital's unit closed, and said the prison system was already struggling to meet a federal consent decree concerning mental health care before the hospital's unit closed.
Monday's screening was the film's first public presentation. DRCVI Executive Director Amelia Headley-Lamont said they are working on more screenings around the territory and on getting the film onto local public access and local news.
Headley-Lamont and DRCVI Attorney Archie Jennings said they hoped the film would help raise awareness and put pressure on the territory to improve care and implement a health care plan sought in a 2003 class action suit filed in 2003 filed by Jennings.
Bermudez-Ruiz is a past winner of the MAAFA Film Festival Best Short Documentary, San Juan Film Festival Hummingbird Best Short Documentary and the ImageNation Special Award. She produced "Sugar Pathways," a documentary about the historic ties between St. Croix and Vieques, Puerto Rico. One of her films, "Vieques: An Island Forging Futures," documents the protests on Vieques that led to the closure of military bases and the end of bombing practice there.