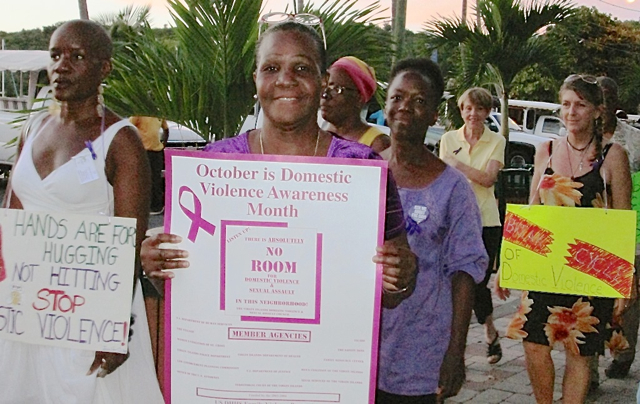 The sad list of people who died because of domestic violence grows a bit longer every year.
Thursday, the Stop the Silence ceremony and march in Cruz Bay Park, sponsored by the Family Resource Center and the V.I. Domestic Violence and Sexual Assault Council, remembered 71 people known to have died across the territory in the past 30 years. The list includes three babies and a toddler.
"The people surrounding these people turned out to be demons," the Rev. Carlyle Sampson of Nazareth Lutheran Church said in his invocation.
Victoria James was one of the featured speakers. Her daughter, Seara Samantha James, disappeared Oct. 11, 2011. Her bones were found Aug. 1, 2012. No one has been charged in the case.
"But I'm standing here on behalf of all those whose lives were cut short," James said, wearing the purple that traditionally honors domestic violence victims.
Marcella Kelshall spoke out, giving a face to domestic violence. She said she was abused emotionally, psychologically and financially. Even her animals were abused.
"I'm still suffering from the financial effects. I'm still jobless and I live in a tent," she said.
Dave Queeley read a poem he wrote about domestic violence called "No More Excuses."
"It's like hate on steroids," he read, speaking about domestic violence
Alan Smith, a retired V.I. Superior Court magistrate, spoke about domestic violence and the law.
"The law provides the maximum protection for the victim, not the perpetrator," Smith said.
He said working with domestic violence cases was the high point of his career as a magistrate because of the efforts of the Family Resource Center.
St. Juste had an equal amount of praise for Smith's work with a batterer's program.
She said that, while working with domestic violence victims is a tough job, she's rewarded when they tell her how much they appreciate the love and support they get at the Family Resource Center.
The Family Resource Center has linked up with the Caribbean American Domestic Violence Awareness organization. Based in Florida, it's headed by Guyana-born Sukree Boodram.
She was at the event to promote One Billion Rising, a worldwide campaign to end violence against woman. Boodram said when she discovered there were no Caribbean countries involved, she jumped in.
While the Family Resource Center is based on St. Thomas, it has a satellite office at the Myrah Keating Smith Community Health Center on St. John.
"We don't charge anything for our services," St. Juste said.
St. Juste said help is available 24 hours a day by calling 776-7867. Those interested can visit the group's Facebook page at www.facebook.com/FRCUSVI .
More on the Caribbean American Domestic Violence Awareness organization is online at www.cadva.org .
More information about One Billion Rising can be found at www.onebillionrising.org .