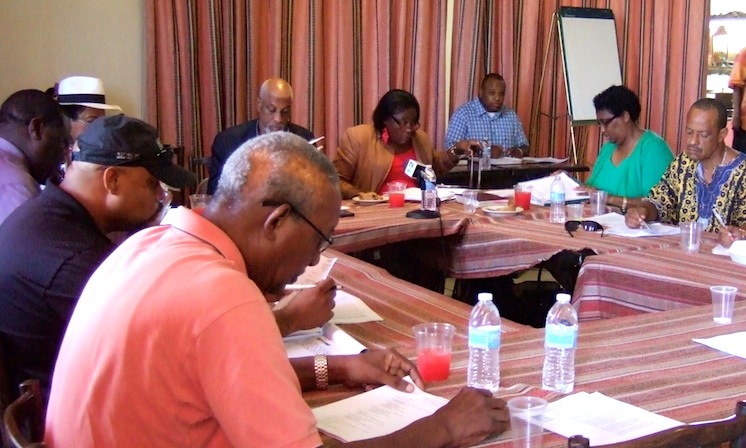 Flight delays pushed back the Joint Board of Elections meeting five hours and, in just over two hours, four items of the 20 listed on the agenda about the general election were discussed at Gertrude's Restaurant on St. Croix.
The bickering typical of the St. Croix Elections board carried over to the joint board meeting. Voices were raised and there was very little agreement, although there were lengthy discussions. More than once, territorial Chairwoman Alecia Wells asked for silence and gaveled for order.
Present from St. Croix were St. Croix Chairman Adelbert Bryan, Rupert Ross, Raymond Williams, Liliana Belardo de O'Neal, Glenn Webster and Lisa Harris-Moorhead. From the St. Thomas/St. John district, Wells, Arturo Watlington Jr., Wilma Marsh-Monsanto and Lydia Hendricks attended. Harry Daniel, Claudette Georges and Lawrence Boschulte were absent.
Members of both boards talked about dealing with the DS200 voting machine glitch.
Because of a programing error that cannot be fixed before Nov. 4, the DS200 cannot read a ballot when a person votes by party symbol. In some cases, it will record more votes than allowed and, if over-voting occurs on a referendum, the ballot is rejected by the machine, Watlington said.
After much discussion, the territorial board approved a procedure wherein voters place their marked ballots in a secured, bottom bin of the machine. At the end of the day, voting judges, monitored by poll watchers or hired auditors, will sort the ballots into two groups. One will contain the ballots voted by party symbol and the rest will be sent through the machine to tabulate the votes. The party symbol ballots, and other spoiled ballots, will be placed in secure containers and evaluated by Elections board members at a later date. Other spoiled or rejected ballots will also be reviewed by the board, since one spoiled area does not automatically disqualify the entire ballot. The tabulated votes will be recorded and available to the public the same night.
The board's counsel, Assistant Attorney General Kimberly Salisbury, expressed reservations about the logistics and handling the ballots. "It's an unfortunate situation," she said. "Human error is much more prevalent when counting ballots than machines."
Since someone is handling every ballot cast, Watlington estimated there would be no results from St. John before 10 p.m.
The St. Thomas board members carried the vote with Moorhead and Ross. Bryan voted "nay" and Belardo, Moolenaar and Williams abstained.
The other motion that was passed set deadlines for completing the vote count and certifying the election in both districts. Ross moved that counting should be complete by Nov. 14 and election certified on Nov. 15. Bryan objected and voted against the measure, while Belardo and Moolenaar abstained.
The question of how to handle early votes was discussed briefly but nothing was decided. Supervisor of Elections Caroline Fawkes discontinued early voting Monday after the Supreme Court ruled last week to remove ballots with Sen. Alicia "Chucky" Hansen's name, since she was disqualified from running.
Bryan wanted to allow early voters up to two more ballots if their votes were rejected for one reason or another and then scanned into the DS200.
Hendricks pointed out that voters casting ballots on election day won't be given another chance if their ballots are incorrect. Watlington added that the law states, according to Salisbury, that early ballots are not to be tabulated before election day.
The other items on the agenda that were not discussed included voting procedures, collecting, storing and counting ballots, auditors and judges. The next Joint Board meeting is December.