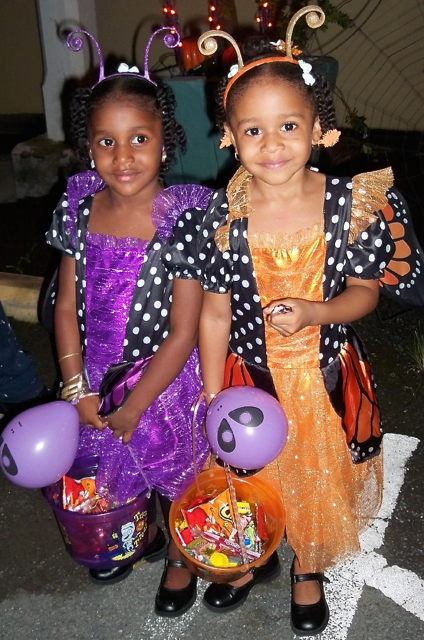 On Halloween night hundreds of ghosts, ghouls, goblins, and grim reapers – not to mention super heroes and princesses – descended on Gallows Bay businesses in the third annual Galloween trick or treat event.
Full of excitement, youngsters of all ages rushed from one business to another with parents close behind keeping a watchful eye out. Most of the children were in cute costumes, but there were also some creepy ones. Dads were proudly pushing strollers with little ballerinas and bumble bees. Children dressed as angels, devils, witches and kitty cats. Plenty of adults got in the spirit of Halloween and changed their appearance for a night.
With so many super heroes and Teenage Mutant Ninja Turtles racing around, parents probably had a tough time keeping an eye on their own child dressed as a cartoon character. Cleopatra appeared to be a popular costume for little girls this year. And of course there were princesses of all sizes in gossamer pastel gowns and sparkling tiaras.
For years, children on St. Croix went trick or treating at the Hovensa company housing, but that ended when the refinery closed in 2012. Clint Simon, owner of the Bistro, organized the first Galloween night to take its place.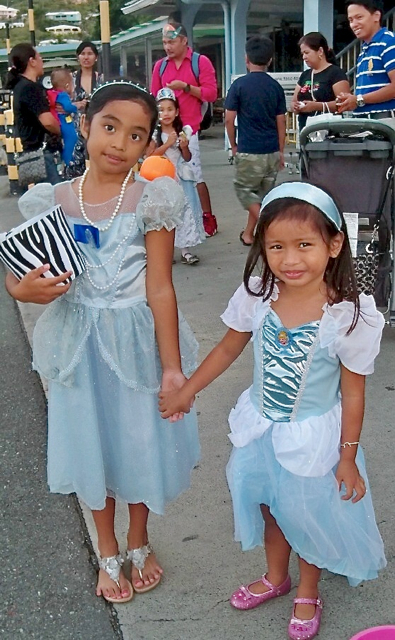 Gretchen Torres said this is the third year she brought her two children, ages 3 and 8. "I'm really glad the businesses have this for the kids," Torres said. "The kids are having a really good time."
Billed as a fun safe family event, Galloween took place from 5 to 7 p.m. The block of businesses was closed off to through traffic and V.I. Police Department officers were on hand lending support.
"I really like this for the kids," Mervin Chitolie, a local dad said. "It's been a fun and safe family thing to do for Halloween."
Cindy Clearwater, marketer for Undercover Books and organizer of the event along with Simon, said they planned for more than 200 children. She said Undercover Books had around 15 pounds of candy to give out.
"It just keeps getting bigger and better." Clearwater said. "This is a really nice community effort focused on the kids in a nice family atmosphere."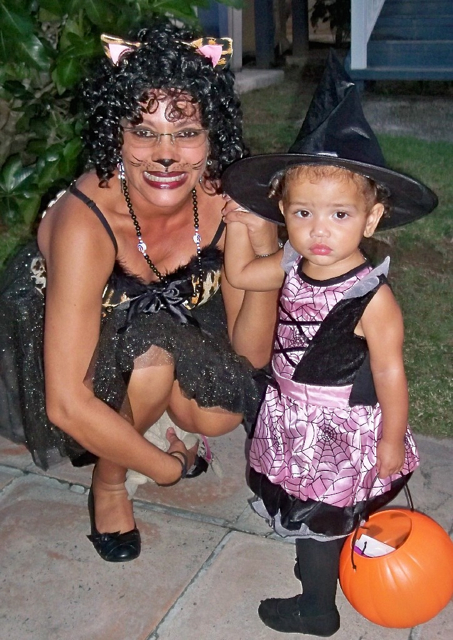 At Undercover Books Merritt Crowder, dressed as a purple crayon, read "The Day the Crayons Quit" to children. And children had their picture taken to put on the bookstore's Facebook page to be entered in a costume contest. The photo with the most "likes" will win a $25 gift certificate from the store. The contest expires Nov. 3.
Kris Kean of Mercy Child played acoustic guitar outside The Bistro.
"Yummy," was all Dylan Torres, 8, had to say as he showed the Source his big bag of loot.
Marshall and Sterling, The Bistro, Undercover Books and Gifts, Coldwell Banker St. Croix Realty, Island Therapy Solutions and Maria's Cantina were major sponsors of the evening's festivities. Other Gallows Bay businesses passing out treats were Gallows Bay Hardware, Bank of St. Croix, Under the Palms, Small Wonder, American Medical Plans, Jaccar Organic Sorbets, Ale House, No Bones Cafe and Seaside Market and Deli.