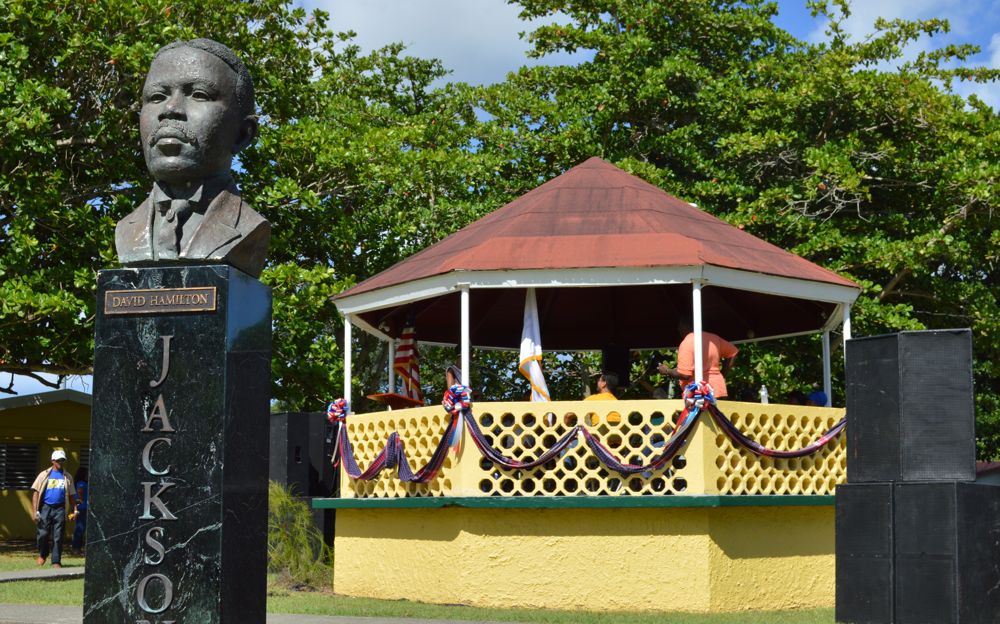 St. Croix politicians competing for office met and mingled with voters and one another, campaigning in friendly rivalry at the annual Liberty Day rally honoring early 20th century V.I. newspaper publisher, labor leader, civil rights and civic reformer D. Hamilton Jackson in Grove Place Saturday. The holiday and festivities are called "Bull and Bread" for the traditional free feast.
The scent of grilled meat filled the air, and vendors sold roti, pates, johnny cakes, chicken, Vienna cake and other pastries, local drinks and more, while soca played over the loudspeaker. St. Croix Central High School JROTC Color Guard practiced as the Grove Place Action Committee prepared for the day's speeches in the D. Hamilton Jackson Park's bandstand.
Ceremonies started a little past 1 p.m., but the park named for Jackson had been bustling with activity from the morning.
Senate, delegate and gubernatorial candidates, families and supporters spent the morning fighting the rain and setting up tents and tables with pamphlets and T-shirts, side by side with food vendors setting up their own stands in preparation for a long day of speeches and festivities.
Large gaggles of supporters in colored T-shirts proclaiming their political loyalties moved about the D. Hamilton Jackson Park's grassy green. Supporters of Kenneth Mapp for governor in dark blue shirts mingled and chatted with neighbors in light blue shirts supporting Donna Christensen for governor.
This year, a huge throng of several hundred Christensen supporters, all in campaign shirts, tramped in behind a van, doubling the size of the crowd shortly before the ceremonies began.
And for a first, all morning long before the festivities, St. Croix elementary school students played volleyball, basketball, baseball and later competed in track and field, filling up the park's recreational facilities for the Ivor James Unity Games from 9 a.m. to 1 p.m.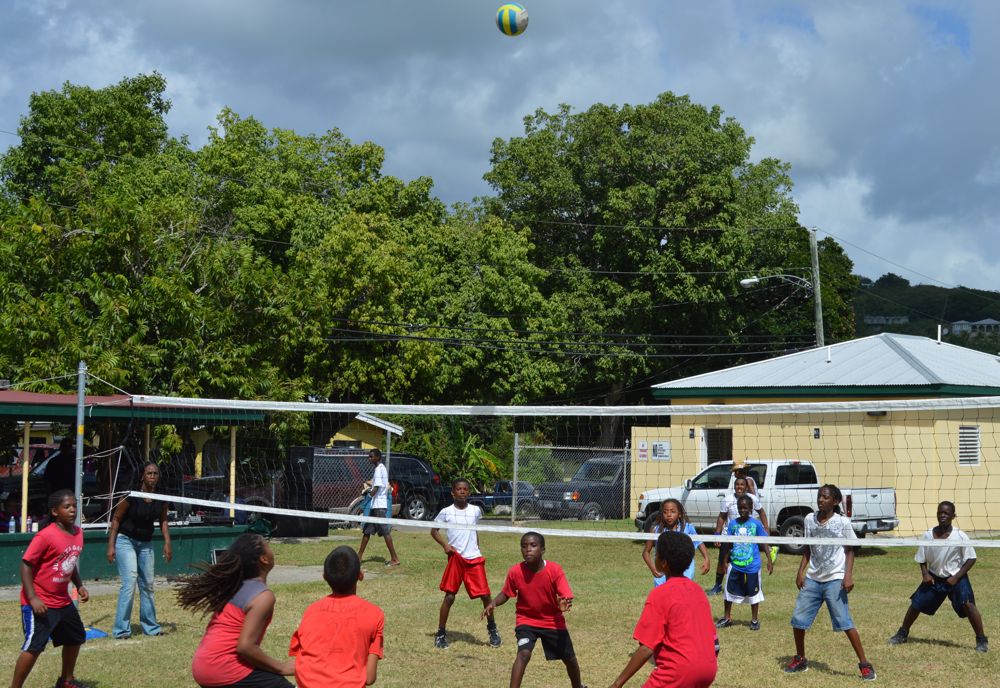 "I attempted to bring together all 10 St. Croix elementary schools for some friendly competition," said Kai Nielsen, who organized the youth games.
All-star teams from each elementary school were competing, he said. He formed an ad hoc organization called Peace Love Progress and Order to hold the competition. He said the competition was named for Ivor James, a talented young St. Croix athlete who was murdered, "to honor his memory, curb violence in the street and invest in our youth."
The top all around winner will get a trophy of conch shell and carved local mahogany made by St. Croix musician Wilfred "Juni Bomba" Allick and St. Croix master wood carver Bien Brignononi, Nielsen said.
To top it off, the students helped contribute to a food drive for My Brother's Table and Queen Louis Home for Children.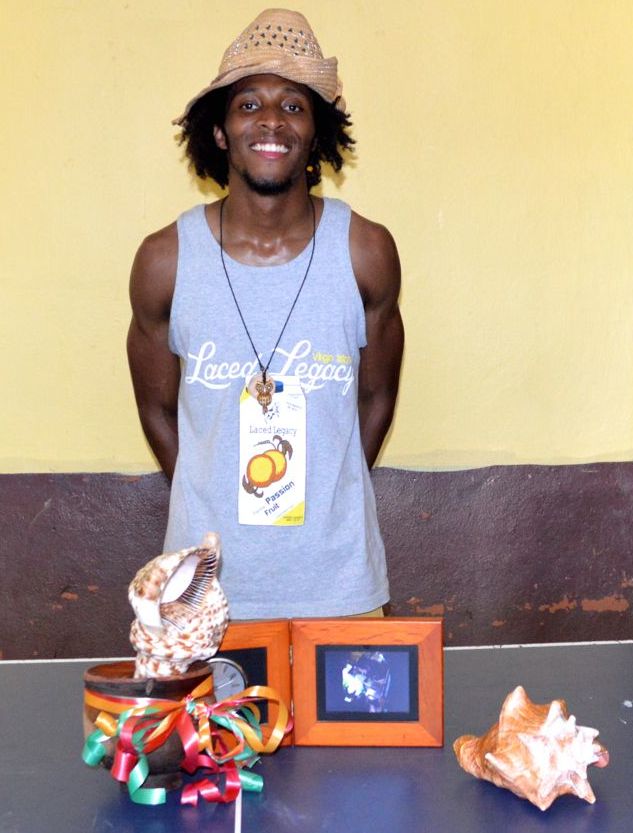 Born and raised on St. Croix, Nielsen went to Lafayette College in Pennsylvania, and worked for Bloomberg Finance. He divides his time between St. Croix and New Jersey.
Mistress of Ceremony Lesliann Yarwood introduced this year's Crucian Christmas Carnival pageant contestants.
Eulalie R. Rivera Elementary student Chalia Stedman read a short account of some of Jackson's accomplishments.
Later, St. Croix Educational Complex junior Iris Battiste read a poetic musing on Jackson's legacy, with a refrain imagining "if freedom was a person." "If freedom was a person, she would pull you aside and tell you about all the people who helped her. And one of those people was David Hamilton Jackson," she said.
The commemoration of the V.I. political figure's life is always a day for politicking and speeches, and Saturday was no different. Christensen, speaking as delegate to Congress, said, "We are called on to fight and continue" Jackson's legacy, which includes fighting for local rule, local representation and the popular vote.
Christensen referred to the Joint Board of Elections' recent decision to scan ballots for voters out of concern over the way the machines handle voter errors like voting a straight Democratic Party ticket, but then also voting for non-party senators. (See Related Links below)
"The rights of our voters are best respected when they have the ability to scan their own votes into the scanning machine on election day," Christensen said.
Raymond Williams, chief of staff to Lt. Gov. Gregory Francis and a member of the Grove Place Action Committee, spoke about the history of the celebration and of Grove Place.
He and GPAC Vice President Denise Lewis also exhorted Grove Place residents and anyone on St. Croix who cares about Jackson's legacy to join the GPAC and help make sure the celebration continues in years to come. Lewis said they were informed at the last second there was no government funding this year, and said to look to Williams if there was any shortcomings in the program. The crowd and festivities were as good as any in the last eight years.
Born in 1884, Jackson made an indelible mark on the Virgin Islands with his publishing of The Herald in 1915, at the age of 31. As the story goes, the first edition of The Herald was posted upon the Grove Place baobab, and the spontaneous celebration that took place there as a result led to the slaughter of a bull, and the distribution of roast beef and bread to the excited crowd. Since that day, Nov. 1 has come to be known as Liberty Day, D. Hamilton Jackson Day, or Bull and Bread Day.
The newspaper was a major milestone, and one which attracted worldwide attention. But Jackson had been organizing labor for some time before then, and earlier the same year, in January 1915, Jackson successfully initiated a general strike. At the time, most of the people on St. Croix labored on sugar cane plantations under severe work conditions and a standard pay rate of 20 cents a day. The six-week strike crippled a dozen different estates and brought the massive Bethlehem Sugar Factory to a halt at the peak of the harvest. The major landowners and owners of the factory capitulated and overnight wages went up to 35 cents a day — a 75 percent raise.
After the U.S. purchase of the Danish colonies in 1917, Jackson was an influential voice pushing for full citizenship for Virgin Islanders, protesting naval rule and insisting upon civil government, contributing to the passage of the first Organic Act in 1936.
The Grove Place Action Committee organizes the park ceremony every year, putting together a series of speakers, arranging for music and special presentations, and cooking up a giant feast of beef and bread. Every first of November since 1915 there has been a celebration near the Grove Place Baobab — across the street from Grove Place's D. Hamilton Jackson Park — commemorating the organized labor movement on St. Croix, and in time coming to commemorate Jackson as founder of the movement on the island.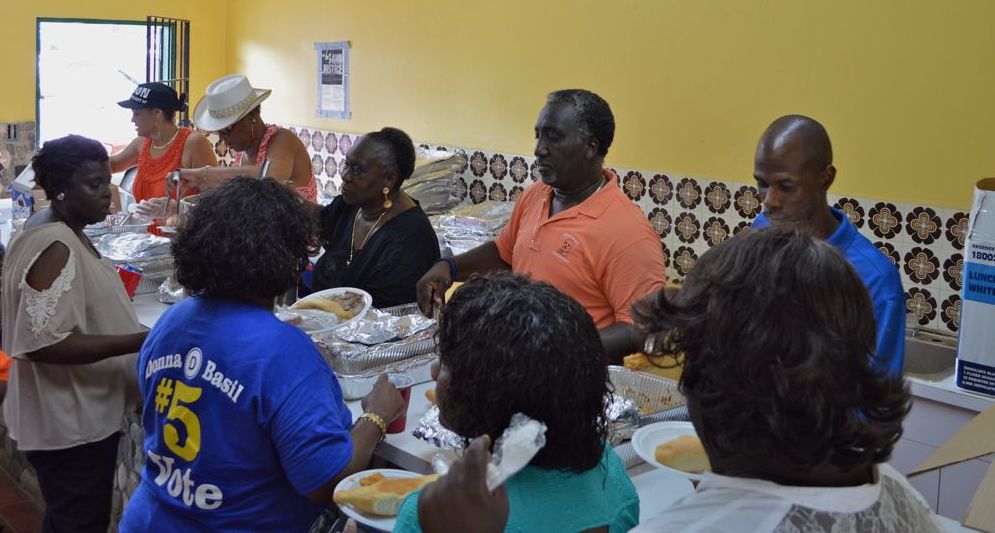 The tradition of serving a huge communal meal of beef and bread to the gathered throng on D. Hamilton Jackson Day led many to start calling the annual celebration "Bull and Bread." Others try to discourage that name, however, saying it trivializes Jackson's legacy by focusing attention on the food, not history.
Mid Island Credit Union was a major sponsor this year. The Grove Place Action Committee also gives special thanks to: Annaly Farms, Cruzan Rum, Public Works, Sports, Parks and Recreation, Waste Management Authority, V.I. Police Department, St. Croix Central High JROTC Color Guard and Grove Place Action Committee members.