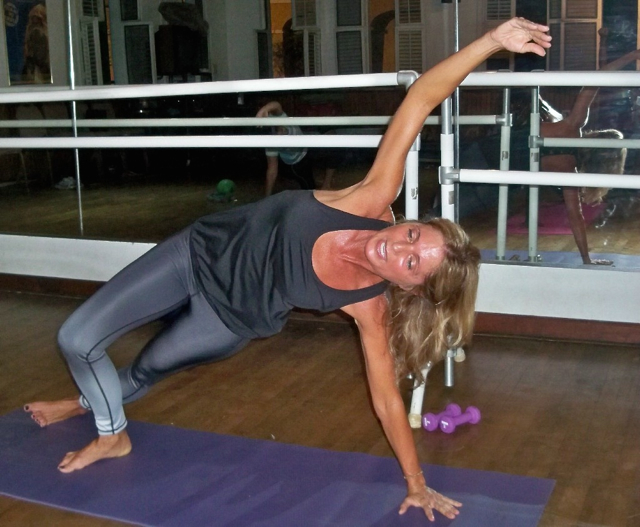 Local veterinarian Stacia Jung, a health, fitness, and dance enthusiast, wanted to kick her exercise routine up a couple of notches. Researching routines and methods, she found Barre Fitness, a total body workout that she said has become very popular in the states.
Barre Fitness is focused on a ballet barre and incorporates yoga, Pilates and ballet. Jung, who seemed unable to quit smiling as she talked about it, said she found it a natural fit that appealed to the dancer in her.
Jung said as a child she did tap, jazz and ballet, but gave it up about 25 years ago. She decided as an adult to get involved in dance again and started dancing at Caribbean Dance Company three years ago.
She found no one offered the Barre Fitness program on St. Croix and wanted to share the physically invigorating instruction with other dancers. In June she traveled to the Turks and Caicos to get her Core Fusion Barre certification. In September she started Barre Fitness St. Croix.
She tells residents thinking about picking up a new exercise regimen. "Hit the ballet barre for a full-body workout designed to give you core strength, toned legs, cut arms, and a high, lifted derriere. This ballet-inspired, core-centric class focuses on isolated exercises, alignment, flexibility and posture as you work through targeted mindful muscle movements."
Dr. Moise Mamouzette, an Ob-Gyn participating in class Thursday, said Barre Fitness offers many benefits.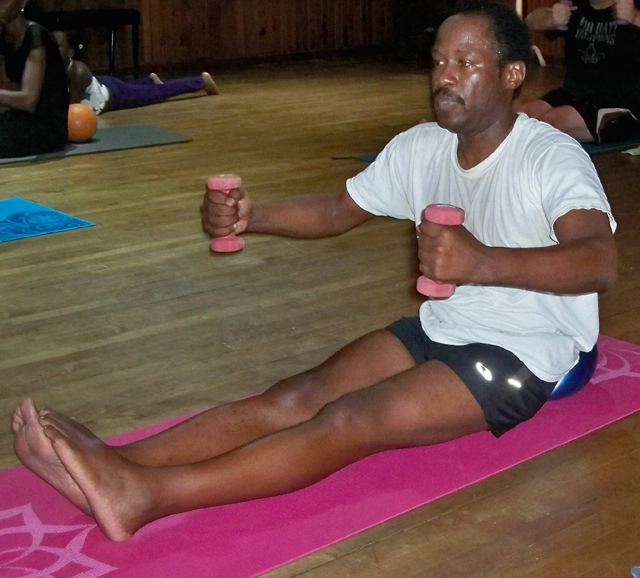 "It's good for the cardiovascular system, increases flexibility, and strengthens muscles," Mamouzette said. "It's good for stress relief and mental relaxation."
It isn't boring, he said, and Jung keeps people engaged and inspired. He said he was a runner but he keeps coming back to Barre Fitness.
"I endorse the class as a way for people to get fit," Mamouzette said. He added it is an easy way for people to have a successful fitness plan.
Lisa Dujon, a dancer off and on over the years, said she does Barre Fitness for her health.
"The cardio part of the program is really important to me," Dujon said.
Dujon, a tall slim woman with a dancer's body, said she wants to build muscle and strengthen her core.
Monifa McIntosh, a serious dancer when she was younger, said she joined the class because she wanted to incorporate her passion for dance into her exercise program.
"Barre Fitness tones the entire body," McIntosh said. " And it cuts down on stress."
The class set to upbeat and hip music. It runs 70 minutes and is suitable for all fitness levels.
"It's low impact and there are modifications that can be done for people with injuries and limitations," Jung added. Every hard-worked muscle sequence is followed by a deep, relaxing stretch.
"This class has a natural appeal for people who like to dance," Jung said. " The number one thing is it works for preventative health care."
She also said she wants people to think about nutrition, so she is going to introduce them to smoothies and other nutritious snacks on Mondays.
Jung provides small, hand-held weights, a yoga strap, and a ball for core strengthening. Participants need to bring a yoga mat and water. The class is held at 6 p.m. Monday and Thursday at the Caribbean Dance Company of the Virgin Islands studio on Church Street in Christiansted. The fee is $15 a class, or $125 for 10 classes.
More information is available at the Barre Fitness St. Croix Facebook page, or by calling Caribbean Dance Company at 1-340-778-8824.