Despite torrential downpours, thunder, lightning and even a few earth tremors in the territory Tuesday, not to mention controversies regarding voting machines and candidates, residents got out to vote with good spirits and neighborly camaraderie.
Controversy and rain did nothing to dampen the enthusiasm of the candidate supporters who lined the streets outside St. Croix polling stations Tuesday morning. Although at Pearl P. Larsen Elementary competing supporters of the two top candidates exchanged friendly taunts, almost everyone had smiles on their faces.
Many voters seemed pleased. After weeks of media reports of turmoil at the V.I. Board of Elections during discussions of the upcoming election, some residents expected the worst. But those interviewed at various polling stations around Christiansted reported that the process went smoothly.
"I really liked the new system," said resident William Johnson as he exited Pearl B. Larsen polling station. "All the excitement about the new machines was irrelevant to me."
Masserae Webster, an election judge at Pearl B. Larsen polling station, said she was impressed with how fast the people were getting in and out casting their votes. She said that by 11 a.m. more than 500 people had voted. Webster said they have about 2,000 voters in that precinct and she figures they will get close to that many turning out before the polls close at 7 p.m.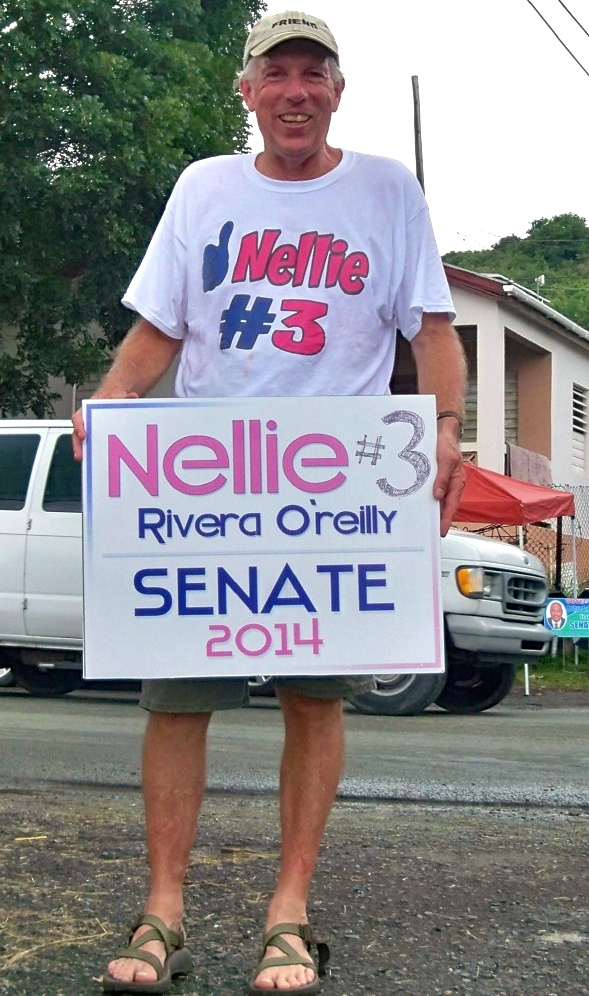 "There's been a steady flow of people all morning," Webster said. "A lot of people came out to vote before they went to work. Everything is going great with no problems or complaints."
Four V.I. Police Department officers were hanging out ready to keep the peace if the need arose.
Juan Alamo, a backer of Alicia "Chuckie" Hansen at Pearl B. Larsen, was giving out slender stickers to place on the ballot for the write-in vote for Hansen. Alamo said not many people had taken the stickers.
On King Street in Christiansted, across the street from the Florence Williams Library polling station, a backer of Hansen was cradling in his arms the creepy doll from the "Chucky" movie.
Velsina Berrios said she was very confident that her candidate of choice, Novelle Francis, was going to get elected to the Senate.
"With his knowledge and the experience he has had in his many positions, he's ready for the Senate," Berrios said. "And he'll be looking out for the best interest of St. Croix."
Jasmine John, election judge at Juanita Gardine Elementary School, said everything was running smooth and there weren't any problems. She added that when the polls opened at 7 a.m. there was a big line of people waiting to vote before work.
"The rain didn't stop them from voting; they were ready with their umbrellas," John said. She said Lee Rohn, attorney for Hansen, had been in to make sure the monitors knew about people having permission to use the stickers for Hansen.
Cardinal Richardson, casting his vote at Juanita Gardine, said he wasn't worried about the new voting machines and his vote being counted.
"I'm not worried – what will be, will be," Richardson said. "No matter how it goes there's nothing we can do about it now."
The mood at Claude O. Markoe Elementary was relaxed and cheerful late Tuesday morning. Campaigners lined the street, three police officers stood casually in the hall, and people trickled in and out to vote. Elections Board members Rupert Ross and Lisa Harris-Moorhead had just visited the polling station.
"Everything is going well so far," Harris-Moorhead said.
"Everybody is following directions," Ross added.
Poll judge Alda Francis said activity was "very slow." Everybody was pleasant, she added. They were given 1,200 unmarked ballots and by 11:30 only 233 people had voted..
Across the auditorium, Elaine Spencer was the poll judge for the St. Gerard Hall precinct and said 142 votes had been cast there. Usually about 550 voters pass through the voting station by the end of the day, she added.
Voters seemed relaxed and unconcerned about the voting process. To those who asked why they couldn't tabulate their ballot, Spencer answered, "Ask the (Elections) board." But no one complained.
At Alexander Henderson Elementary, political supporters lined the block leading to the. People were relaxed and milled around socializing with friends. Poll judge Norma Christian said it was going well and that about 700 people had voted by noon.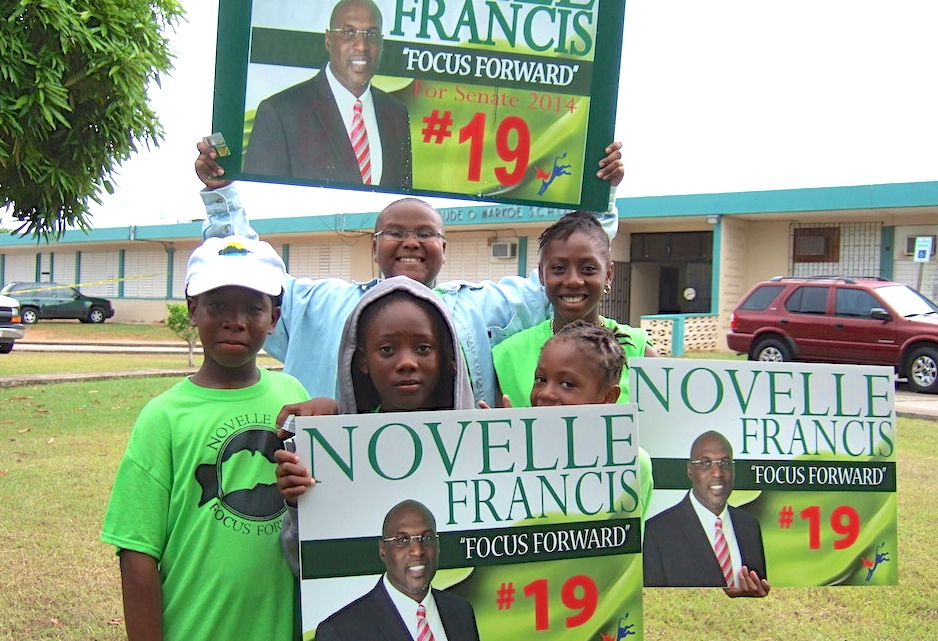 There was a long row of tents filled with campaigners and voters were scattered around the St. Croix Educational Complex to vote at the Charles H. Emmanuel Elementary precinct. With 1,900 registered voters only a few more than 500 had cast ballots by early afternoon, according to the elections judge, who didn't want her name used.
One voter, Esmeralda Cornelius took small but determined steps with a walker all the way to the polling site inside the high school. She wanted to vote "to see what they can do to better the situation," she said.
Malcolm Maccow, who was campaigning for Malcolm McGregor outside the high school, said he voted early in the morning. There was a line and he waited about 20 minutes to vote. Otherwise it was easy, he said.
Maccow, a pipe mechanical superintendent, said he was just laid off with 155 others Friday at the Hovensa refinery. He said he voted for the candidates he did because issues were about things that are "killing us all" – education, the cost of living and the cost of electricity. Maccow said he hopes a new government can correct some of the problems so he doesn't have to move away to find work.
"There's been a brain drain for too long and the more people who leave, the worse it's going to get," Maccow said.
Pat Antoine and Mary Jacob came together to vote and said they wrote in Sen. Alicia "Chucky" Hansen's name on the ballot. Jacob said she voted for "changes, especially for the elderly." Antoine said she voted for Christensen because of the current delegate's accomplishments.
"There have been many candidates to promise things, and then when they get in, they get amnesia," she said.
St. John
On St. John, morning voting was slightly delayed and it wasn't just the weather to blame. A late delivery of keys needed to unlock voting equipment to both St. John polling places meant that early voters left without voting or stood in line until the keys arrived.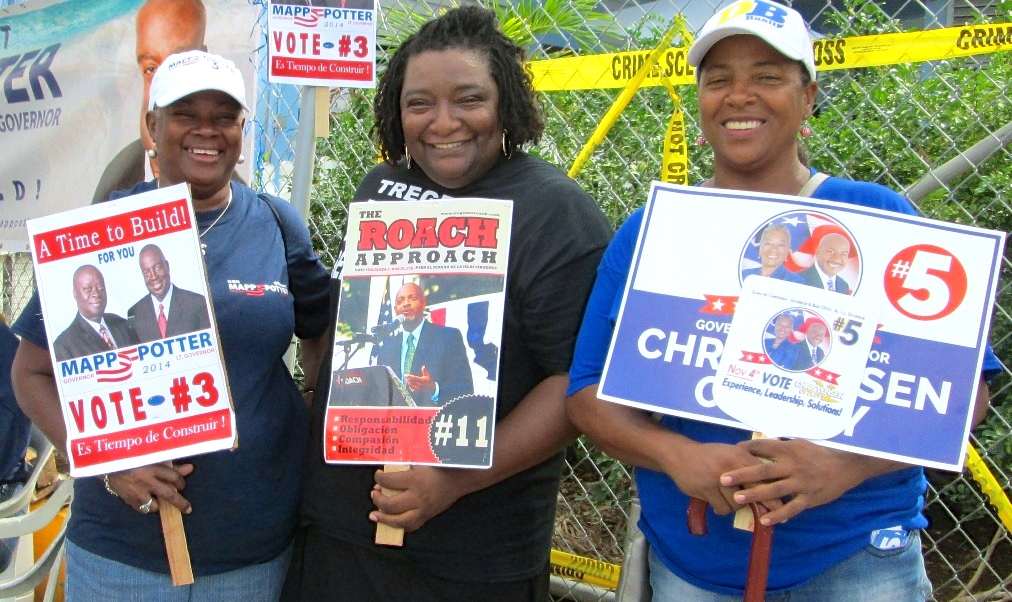 The keys had to come from St. Thomas, and the delay forced Julius E. Sprauve School polls to open 10 minutes after the scheduled 7 a.m. start. It wasn't until the key was delivered at 7:45 a.m. to Guy Benjamin School that the polling station there could open.
"I don't like not being prepared," Guy Benjamin polling station judge Yvonne Wells said.
While Sprauve School election judge Gwen Hyndman said that polling place had everything but the crucial key, that wasn't the case at Guy Benjamin. Wells said she didn't have the cartridges for the machine that brings up the voters' names and curtains.
She said the cartridges were delivered along with the key to open the voting equipment.
By the time Guy Benjamin opened, Wells said about 10 people were waiting in line. Turnout appeared good. By 9:30 a.m., 38 people had voted. An hour later at Sprauve School, Hyndman said 167 people had voted.
Voters were not happy about the late start – "Disgusting," one voter said – and some voters were befuddled by the process of filling in circles on the paper ballots and then depositing them in a locked box to be scanned later by an elections worker.
"I think we voted," said resident John Fuller as he and his wife left Sprauve School. "But we put (the ballots) into what looks like a trash can."
Fuller was talking about the large locked receptacle where voters deposited their ballots.
Sen. Craig Barshinger, who voted at Guy Benjamin, complained that the secrecy of his ballot was compromised because poll workers stood two feet away.
"They could see who you voted for," Barshinger said. "I don't want people to know who I vote for."
Barshinger also said that the paper ballots would be in the box in the order in which voters slid them in. He said that workers could then figure out how everyone voted by correlating the ballet order with the list of people voting.
Elections Supervisor Caroline Fawkes referred questions to Alecia Wells, the Board of Elections member who was stationed on St. John. She could not be reached for comment.
Several voters said they didn't like the paper ballots.
"We're going backwards and I don't see why we couldn't scan it here," Lonnie Willis said.
Gary Ray said he wasn't confused by the paper ballot process, but only voted out of civic duty because he wasn't enthusiastic about any of the candidates.
A few of those candidates showed up at the polling places. Gubernatorial candidate Kenneth Mapp was busy shaking hands in Coral Bay, but when he strayed into the fenced area directly outside the polling place, poll judge Yvonne Wells told him it was off limits to candidates.
Sen. Clifford Graham was spotted at both polling places and said he always goes to Coral Bay because he thinks residents there are disenfranchised because they are so far away. While visiting with folks staffing the candidates' tables across the street from Guy Benjamin, he talked about St. John issues.
With the proposed 145-slip marina in Coral Bay a hot button issue, he said that while Coral Bay could use a smaller marina, that one is too large.
Others were looking for change.
Mapp supporter Bill Needham said, "He'll bring a change the islands and the territory needs."
Although the polls opened late and some voters weren't thrilled with the names on the ballot, several people said wouldn't miss the opportunity to vote.
Alvis Christian, a supporter in Coral Bay of Donna M. Christensen for governor, said people have marched and people have died to get the right to vote.
"I couldn't stay home," he said.
In Cruz Bay, Carmen Boynes was also out to support the Christensen ticket. She had a slew of reasons why she favored them, including the fact that Christensen is her cousin.
"But I want people to see I stand up for something," she said.
St. John residents supporting candidates outside the polls didn't let their politics get in the way of their friendships.
"St. John's got unity," said Abigail Hendricks, a supporter of Sen. Tregenza Roach who was chatting with Mapp supporter Barbara Hendricks and Christensen supporter Sandra Thomas.
St. Thomas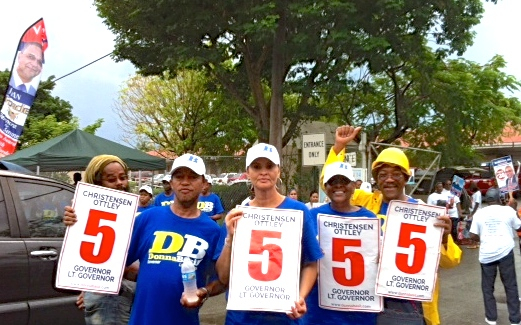 While there were reports on St. Thomas Tuesday of chaos at the polls, some of the bigger polling places, including Charlotte Amalie High School and Tutu Park Mall – which served as a consolidated site for many of the East End precincts – seemed to be functioning normally.
"Today has been going pretty well," CAHS poll judge Pauline Lynch-Benitez said. "Today when we started, we had a long line, but that went really quick. We had 267 within the first few hours, but as usual, at the end, we expect to have a lot of people coming."
Lynch-Benitez said that despite reports circulating about issues with the voting process, she personally didn't see any Tuesday morning.
"We had one lady, she was saying that we're cheating, we're doing this, we're doing that, but we just let it go and let her do what she had to do. And she did, she went in there and voted, and that was it," Lynch-Benitez said.
Some of the smaller polling places, such as the Winston Raymo Recreation Center around Lionel Roberts Stadium, also had large numbers before noon. At 11:58 a.m., Winston Raymo had 271 ballots cast, along with six spoiled ballots and two provisionals, according to polling judge Jacqueline Callwood.
"So far, it's been wonderful," she said. "I expected more action, but so far, everyone that is coming in to vote has been calm, collected and they have been doing what's asked of them, which I like. Everyone is understanding that you have to fill in the little circle, take your time and we're also taking the time to explain to the voters what they need to do, and that has been working for us."
Callwood added that police were dispatched to various sites in case "things got rowdy," but by the afternoon, neither Raymo nor CAHS had encountered any major problems.
Voters interviewed throughout the day Tuesday also spoke positively about their experience, saying that it was "not as bad" as they thought.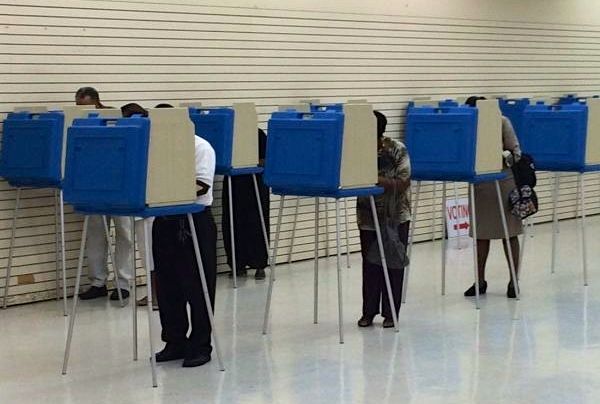 "The process was smooth, even with having to write in," William Callender said after casting his vote at CAHS. "I know the machine was easier with the pressing of the buttons, but it was okay this time."
Callender added that what was interesting to him were the additional questions on the ballot – specifically the referendum for legalizing medical marijuana and whether residents support expanding senators' terms from two years to four.
"It's important, medical marijuana," he said. "It has been known to help people – sometimes, it's the only thing that helps. And the two to four years thing: no. If they're not doing their jobs, then we need to be able to get them out as soon as possible."
St. Thomas resident Laurent Dalmida also said he wasn't in favor of extending senators' terms.
"I think the process that we have now, where they get in for two years, and do what they have to do, that's enough to go on," he said.
Meanwhile, outside the polls Tuesday were packed with supporters, who carried signs and handed out flyers for their favorite candidates.
"I've always been in support of Sen. Tregenza Roach," St. Thomas resident Mervin Taylor said as he campaigned outside Tutu Park Mall. "I've known him since I was an employee at the Daily News and I know him to be a man of integrity. He also has a love for the Virgin Islands. I think he did an excellent job the first time around and I think he deserves a second term," Taylor said.
Some voters at the mall Tuesday debated Tuesday about their favorite candidate for delegate to Congress, but in the end, many said they were throwing their support in for Stacey Plaskett, who they thought "had the experience and the background to get the job done."
Even gubernatorial candidate Donna Christensen was out at the Tutu Park polls, talking to voters as they walked in and out.
"We're feeling good," she said Tuesday. "Folks have come out in support of us, and I think from listening to them that we're on our way to victory. I just hope we can make that 50 percent plus one today. And, I feel confident that we've worked hard, we've been touching people all over the territory, so if it comes down to a run-off, I do feel confident that we'll have the support there as well," Christensen said.
Addelita Cancryn polling station judge Ivy Williams said about 3:20 p.m. that they had 449 so far. She said she would project about 800 total voters in that precinct, "if we're lucky," based on the turnout thus far.
The Dober north and south districts, which also voted at Cancryn, had just shy of 400 voters by the same time. The polling station judge at Ulla Muller reported about 270 voters by 3:30.
Antilles School 12th-graders Rohan Samtani and Devanshi Ved were hunkered down in the Upper School Library, anxious for any updates on the ongoing local election. Along with several of their classmates, Samtani and Ved had been monitoring online reports throughout the morning, and Samtani said that he had been "poll-watching since I woke up."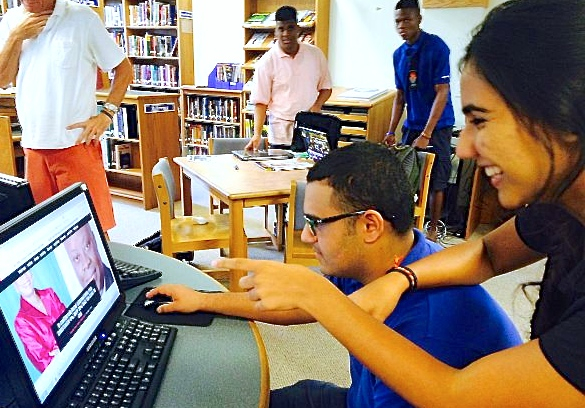 The 17-year-old senior said he's anxious to register to vote and participate in the process himself the next time around.
"I wish I could have been out there today," Samtani said. "In the meantime, though, I'm trying to keep up with the reports throughout the day. I'm hoping that things go well for Donna Christensen – I got a chance through my summer program to visit her office at the Capitol Building, and I really like her platform and what she stands for."
The students can be thankful they were dry indoors, for rivers of water poured down the road adjacent to the Joseph Sibilly Elementary School polling place midafternoon.
St. Thomas voter Lellell Quetel, a petite Frenchtown elder, said voting was OK, "but those ballots were bigger than I am. It's not like the old days, but it was easy," she added.
Resident Diana Higgins wasn't confident in the new system. "I voted," she said, "but I don't thrust this system at all. It's corrupted with all the discord going on. I don't believe we'll get a fair vote."
Other St. Thomas voters concurred with Higgins, expressing unease about the system.
"I don't trust putting the ballot in and there are people watching it. I was not comfortable about that," said Henry Richards. "Last year, they came up with 3,000 ballots that went missing. Now, who says 'X' amount of ballots (are) not going to be missing? If we scan it, we're sure it would have been counted so I'm not comfortable in that part," he said.
St. Thomas voter Khalilah James said, "I kinda feel insecure that the ballot is mishandled by someone else."
Laurencesteen Chapman said, "I think the ballot should be scanned by the person that votes, but I hope that all of the ballots will be scanned."
Cleon Hendricks said, "I think I would be more comfortable scanning my own ballot because the less hands involved in the process mean for a more effective process."
One campaigner at the Cancryn station neither complained nor asked for a particular vote; he just complimented folks entering the polling station, praising them for coming out in the bad weather.
18,800 Total Votes Cast by 3 p.m.
Whatever weather or controversy, final tabulations will tell how many residents got out to vote on Tuesday. At the 3 p.m. Elections System update, a total of 9,525 votes had been cast in the district. In the combined St. Thomas/St. John district, 9,278 votes had been cast by 3 p.m. Tuesday. Polls close at 7 p.m.
Source reporters James Gardner, Lynda Lohr, Carol Buchanan, April Rose Fale-Knight, Molly Morris and Susan Ellis contributed to this story.