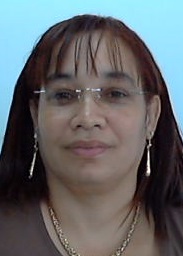 She was preceded in death by her mother, Martha Ruiz; and son, Tad Stevens.
She is survived by her father, Marciano Ayala Matta; companion, Tadius "Bazuka" Stevens; daughters: Teresa M. Bermudez, Denilia S. Schneider and Marishka S. Stevens; sons: Anthony Schneider and Dean Schneider Jr.; grandchild, Dean Schneider III; sisters: Maribel Matta, Anita and Marisol Lasanta, Irene Rodriguez, Soraida, Martha and Meta; brothers: Marciano Matta Jr., Edwin Matta, Domingo Delgado, Hector Delgado, Benjamin Rodriguez, Samuel Ruiz, Angelo Rodriguez, Angel Ruiz, Miguel Carmelo, Danilio Ruiz and Raul; and nieces: Krystal Ruiz, Jamilia Ruiz, Hanifah "Chacha" Rodriguez, Tailin "Dinda" Ras, Tracy Perez-Soto, Jessica Perez, Tyniqua Matta, Shyeida Encarnacion, Makayla and Ciana Matta.
She is also survived by nephews: Samuel Ruiz Jr., Alberto Ras, Malik Matta, Christopher Hardy, Zamoy Rodriguez, Johnny Encarnacion Jr., Joshua Hardy, Romelo Matta and Thaseem Matta; great nieces: Zyniah Ecarnacion, Aaliyah and Shamyra Murray, and Jahilin Soto; great nephews: Jahmari Duggins, Uriyah Soto, Joshawn Ayala, Jamar Ayala, Josiah Valentin and Alberto Ras Jr.; aunts: Juanita, Isabel and Elsie Violeta Ruiz, Maria and Mejay Rivera; uncles: Santiago Ruiz, Angel and Jesus Rivera; daughters-in-law: Juditha Lansiquot and Astou Biteye; and son-in-law, Maurico "Maurice" Francis.
Other survivors include special friends: Mr. Moss, Albert Maillard, Adolfo Lopez, Jose Bermudez, Rita Walcott, Ms. Ortiz, Ms. Encarnacion, Ms. Parris, Shermel Francis, Negra Felix, Naisha Mintas, Nilda, Mellisa Hughes, Raquel and the Concepcion family, Dorothy Weeks, Shawn Walters, Lena and family, and Johnny Encarnacion Sr.; cousins and other relatives: Roberto and Julio Santiago, Carlos and Nelly Parilla, Ruby, Elsie, Natyvidad, Mario Ruiz, Victor and Raphael Lima, Billy, Alex, Johanna, Staephany, Joshua, Michael, Jusco and Johnny Encarnacion, Lisa Jensen, Annie and Yolanda Melendez, Glendaly Felix, Meri Lima, Ruth Ruiz, Thomas Parrilla, Vicky "Mann" Taty, "JanJan," Audry "Adria" Rivera, Maritza and Omar Rivera, and Andrea Jensen; as well as other relatives and friends too numerous to mention.
Special thanks to: The Cancer Treatment Center of America in Atlanta, Ga.; Continuum Care; JFL Hospital Surgical Unit; nurses: Jones, Montes, Cuffy, Brady and others who helped; doctors: Georges and Ventura; and the V.I. Housing Authority family.
A viewing will take place at 9 a.m. followed by a funeral service at 10 a.m. on Tuesday, Dec. 2, at Altona Baptist Church. Interment will be at Kingshill Cemetery.