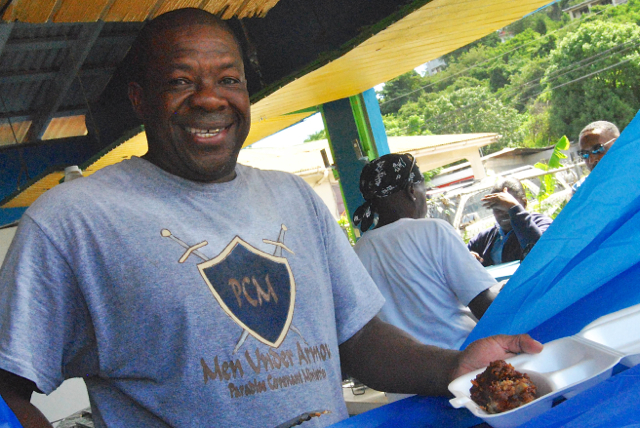 The Smithbay Community Action Foundation, Inc., hosted its fourth annual free pre-Thanksgiving luncheon Wednesday at the Lionel Smut Richards Ball Park.
The meal featured three different types of turkey, ham, stuffing, Spanish rice, rice and pigeon peas, mac and cheese and cranberry sauce. Volunteers filled containers to bursting for everyone who came for the meal. Anyone who passed by the park was welcomed to share the meal, including emergency personnel and police officers on patrol.
Last year's luncheon served more than 150 people, and VIPD Officer Roy Chesterfield, one of the events' organizers, hoped to see even more come out in 2014.
He emphasized the importance of creating a sense of community and family in the Smithbay area, as well as across the island. This, Chesterfield said, is why SBACF also invited EMS, firefighters, and police officers in the area – to show people that they are all part of the same community.
"Bad news resonates so quickly,' Chesterfield said, adding that the Community Action Foundation and the lunch aim to "stamp out negativity."
One of the most important aspects of the day, according to Chesterfield, is that the luncheon was put on by people of the Virgin Islands giving back to their neighbors.
Apostle Alger Warren, pastor of Faith Christian Fellowship Church Alive in Christ, blessed the meal before the first guests were served. Warren also represents One Voice Virgin Islands, another group focused on community action projects.
Warren described the Smithbay luncheon as "a celebration in family." He hopes that events like the luncheon can serve to "galvanize people and encourage them to take pride in their community."
Apostle Samuel Weeks, pastor of Paradise Covenant Ministries, was one of the volunteer servers.
"Today is about serving good food, hoping people come out, getting their mind off the usual, getting to know each other," Weeks said.
While this was Weeks' first time working with SBACF and the annual pre-Thanksgiving luncheon, he said he had helped to organize many similar events in Pensacola, Fla., before moving to St. Thomas three years ago. He said he would like to see people in Smithbay and across the island "feel a part of their community, not isolating themselves."
In addition to the SBACF, the luncheon was sponsored by Alpine Securities, Inc., Smithbay Business Complex, Host U, Eastend Lions Club, Zeta Phi Beta Sorority, Inc., One Voice, Real Deal Bruce Flamon, and Women of Power.