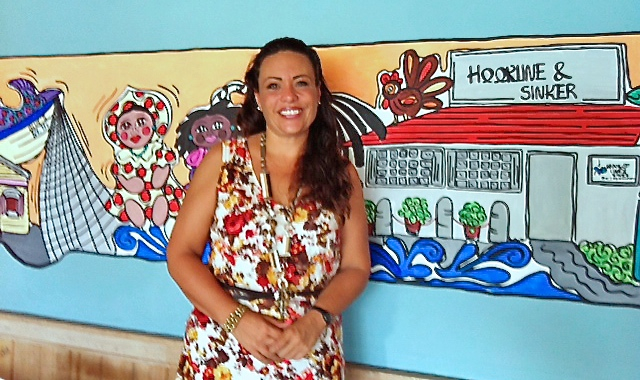 For the first time, the territory has its own Spanish-speaking TV show, "En Control – Noticiero con Erika Romo," or "In Control with Erika Romo," featuring news and interviews focused on its Hispanic community.
This wasn't really one of Romo's goals when a series of twists and turns brought her to the island from her native Mexico three years ago. But it's an unequaled opportunity she cannot pass up. It is her joy to help the Spanish-speaking community, or, in fact, anyone else who falls in her path.
She loves to talk about her journey from Mexico to the Virgin Islands, which she attributes with perfect confidence to God.
"My faith in God is enormous," she said. "I never argue or fight with him because I know that if I do, I will lose."
On a more earthly level, it all began three years ago when she left her native Mexico to celebrate her grandparents 65th anniversary in Wisconsin. Her mother is from Wisconsin, her dad from Mexico.
She said the trip turned out to be life-changing in a way she could not have anticipated.
One day she was chatting with her grandmother when something profound occurred.
"My grandmother was talking about something or other when she suddenly paused and interrupted herself to tell me, 'you must go to St. Thomas and stay with your aunt Kristie for a year. Your children will be fine.'"
"Then," Romo said, "she returned to her conversation as though nothing had happened, but I knew that was God letting me know where he wanted me to go. I asked her where St. Thomas was, and she said it was somewhere near Puerto Rico."
So, with little more information, Romo set off on her quest. First consideration, money.
"The next day I was flying back to Mexico," Romo continued, "and I told God if you want me to go to St. Thomas, I need you to pay my airline ticket."
And he did.
The airline asked for a volunteer to be bumped and get a free ticket. She still smiles at the experience. "I knew that was my way to St. Thomas."
She first cleared up her responsibilities in Mexico. Romo is divorced with two children. She sent her daughter, Maria, to boarding school for a year and her son, Alan, to live with his father.
Romo has a degree in graphic design and masters degree in administration. She had been an anchor woman on Mexican television doing production, children's shows and radio and newspaper reporting for 20 years, However, it was becoming more and more dangerous to work in Mexico because of the drug cartels.
"Everything is controlled by the cartels and the government," she said. "It's just a matter of time before a black van comes along and kidnaps you and you disappear."
The way Romo tells it, "One day before leaving Mexico, I went to church and I remember telling God "I don't know where I'm going, and I don't know what you need me to do there, but I trust you. And the next day I flew here."
The TV host, artist, waitress, hasn't missed a beat since her arrival. She has made it her business to become integrated into the community with the help of her aunt Kristie, who gives her tips on local customs.
For one, Romo didn't need to be told to greet folks with a"good morning." She is naturally open and convivial. She is a tall, attractive woman with long black hair, big brown eyes and a ready smile. She has more Latin charm than anyone needs, and she uses every bit of it.
After a couple other jobs, Romo began working as waitress at Hook, Line and Sinker in Frenchtown.
"I love it," she said. "We are like a family."
The restaurant has also provided an opportunity for Romo to display her art. The small side dining-room bears a Romo mural, surrounding the room in vibrant color.
"I'm very proud of my Spanish heritage, and I like to show it in my art," Romo said.
Owners Becky and Ted Luscz love to show off the room, now bursting with personality. It was Becky Luscz, in fact, who suggested this profile.
Before the TV opportunity appeared, Romo said she finally understood what God wanted her to do on St. Thomas.
"He needed me to work with the Spanish-speaking community, to help. But how?"
The answer came, once again, from above. Adelle Brown of the V.I. Christian Ministries had heard of Erika's TV talents and sought her out. Brown said Romo turned out to be perfect fit for the Spanish-speaking show she had in mind. The ministry sponsors Romo's show along with two others on TV2. Romo's show, which she began a few months ago, airs Saturday at 8 p.m. and repeats Monday at 6 a.m and 8 p.m. The show can also be viewed on You Tube and Facebook/
"It's hard work since I'm producer, reporter, and anchor woman, but the TV2 crew has been wonderful. Even though they don't speak Spanish, they've been very supportive of me. I do the news first, and then I interview a local personality."
She recently interviewed of Leida Perez Garcias of the Family Resource Center about the Center's outreach to the Hispanic community.
"This was helpful to the Hispanic community to know they have counselors who speak Spanish," Romo said.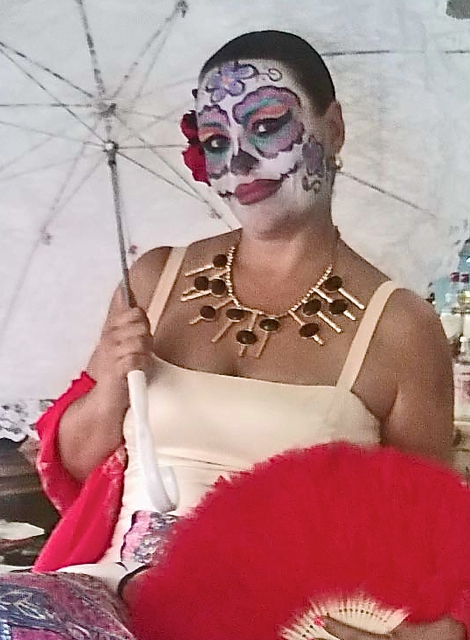 Harking back to her Mexican roots, Romo becomes a Catrina, celebrating the Mexican Day of the Dead, Nov. 2. Catrina is an iconic cultural figure for the holiday.
"I'm very proud of my culture," she said, "and I really enjoy telling people about it. I like to make their imagination wonder about our traditions. We enjoy the Day of the Dead. For us, it means we get to celebrate the people we loved who have gone. We enjoy a time with them, remembering and letting them know we have them in our hearts.
"In my little town of San Miguel de Allende," she said, "you will see the Catrinas everywhere. They are very elegant and pretty."
As was Romo, herself, this year as a St. Thomas Catrina.
"I painted my dress, got my makeup on, and went walking on the waterfront," she said. "I just wanted to share some of my culture with people here. They were amazed."