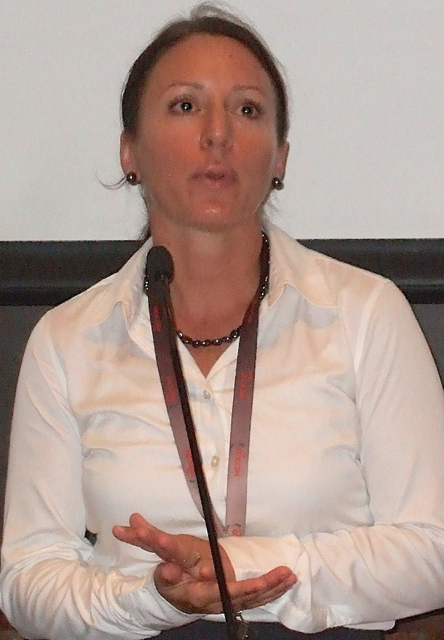 St. Thomas has likely seen beyond its peak of chikungunya cases, but on St. Croix residents may have not yet seen the worst of the mosquito-borne virus, the territory's expert in tropical medicine told a standing room only audience Tuesday at the University of the Virgin Islands, Albert Sheen campus. The seminar was teleconferenced to St. Thomas and St. John.
"On St. Croix, we're right at the exponential increase. We need to see a drop two weeks in a row before we consider the outbreak on the decline," said Dr. Esther Ellis, the new epidemiologist with the V.I. Department of Health.
According to Health Department's records, St. Croix's cases reached an all-time high at the end of October. The number dropped the next week and rose slightly the week of Nov. 2-8, the last week reported. Most people in the audience either had had or knew someone who had chikungunya.
Ellis explained the cycle of the chikungunya virus carried by the aedes aegypti mosquito and how to prevent infection, which is easier said than done – avoid mosquito bites. She suggested treating clothing with insecticides such as permethrin, Picardin or IR 3535, which she has not found for purchase on St. Croix. Some mosquito traps work well, Ellis said, and suggested a model at www.bioquip.com.
There is no cure or vaccination for chikungunya. The only treatment is to alleviate symptoms with pain and fever medications. Ellis said ibuprofen should not be taken until the fever is gone, but then the pain reliever should help.
The onset of chikungunya is abrupt, Ellis said. Symptoms manifest in three to seven days after being infected. Joint pain and/or swelling and fever are the most common symptoms. If the victim doesn't have a fever, he/she doesn't have chikungunya. Some cases are accompanied by nausea, headaches, a rash and muscle pain. Symptoms usually subside within seven to 10 days.
Unlike dengue, chikungunya rarely causes hemorrhage and death, according to Ellis. Also unlike dengue, there can be relapses with pain for months and up to two years.
"I'd much rather have dengue, although both are painful," Ellis commented after someone in the audience said they were still having painful symptoms two months later.
However, once cured, victims cannot contract chikungunya again.
"You can't get it again, but you can have it forever," said a chikungunya victim in the audience.
Once the fever is gone, usually in two to five days, the virus can no longer be transmitted to another human by a mosquito bite. Within two to three weeks, Ellis said there should be no risk of new infections.
Although there is no cure, Ellis said testing and reporting are important to determine what the response should be.
Results of blood tests to identify the virus take three months because they are conducted off-island, by the U.S. Centers for Disease Control. Ellis said the CDC covers the cost of the testing, but the patient pays for having blood drawn.
Ellis encouraged people to send reports to the Health Department online or by fax if they have had the virus. Forms can be found at www.healthvi.org and www.cdc.gov/chikungunya/.
Not all chikungunya infections have been reported and some cases were possibly misdiagnosed as dengue fever. Until recently, physicians and laboratories in the territory have administered the test for dengue not chikungunya, Ellis told the group.
Currently there are 12 confirmed/probable cases reported on St. Croix and 374 other incidents of suspected chikungunya. The most affected neighborhoods are also those with high incidence of dengue: Williams Delight, Mon Bijou, Kingshill and Frederiksted.
According to Ellis, the Health Department has been spraying larvacides and has notified all schools of symptoms and care for patients.
On St. Thomas, there have been 102 confirmed or probable cases, and 857 suspected cases of the virus. St. John reports four probable/confirmed and 41 suspected cases.
One person has died, Ellis said, but had other severe medical issues that may have contributed to the fatality.
The first case of chikungunya in the Caribbean was found in 2013 on St. Martin. Prior to that, the virus was confined mainly to Africa and Southeast Asia.