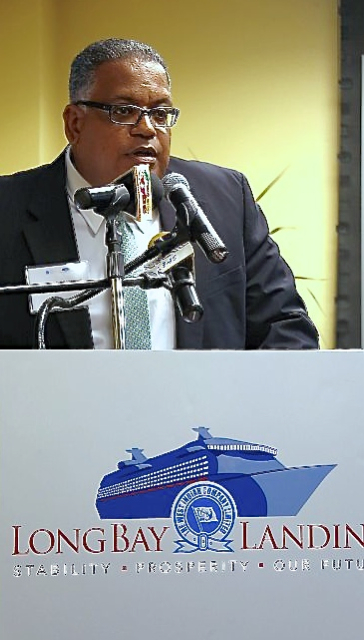 Joseph Boschulte, CEO of the West Indian Company, said a new Long Bay Landing project that would put a new pier next to Yacht Haven Grande is a "game changer" that will bring more people, larger ships and more money into the territory in an effort to build a "better quality of life" for local residents.
Speaking at a news conference Wednesday to announce the project, Boschulte said the project represents a turning point for the local tourism industry.
"The cruise industry is evolving around us and as that continues, we as a top-tier destination have a choice: either we're going to fall back in the pack or we're going to take the lead," he said.
Long Bay Landing includes the construction of a new finger pier with two parallel berths that are approximately 1,350 feet long and a main structure that will be 1,100 feet long and 66 feet wide. Two mooring and breasting dolphins are also proposed, which will connect to the pier by elevated walkways over the water. An upland area, which will serve as a transportation hub to move passengers throughout Havensight, downtown Charlotte Amalie and down as far as Crown Bay, is also included in the project.
Renderings of the proposed development can be seen by clicking here.
Boschulte said 30 percent of visitors coming to the territory are brought in by cruise ship, and investing in the new facility will give the territory the opportunity to attract 10,000 to 12,000 new passengers, along with 3,000 to 5,000 crew members, who will all put money back into the economy and help give residents "a better quality of life."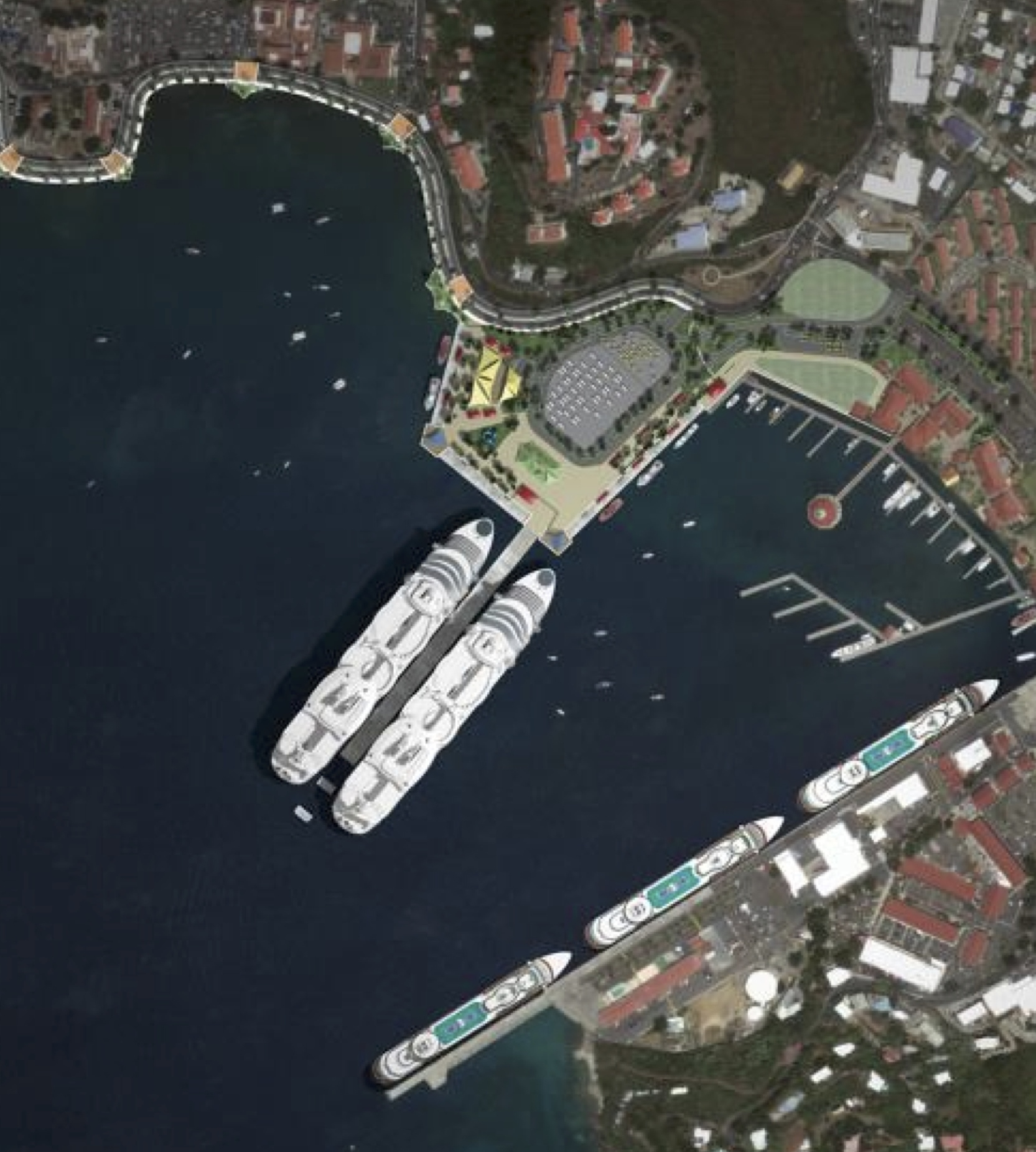 During a Senate hearing last year, Boschulte testified that the current WICO dock can accommodate a maximum of three ships, while the Port of Charlotte Amalie can berth one in the inner harbor and another in the outer harbor. Two ships berth at Crown Bay.
"But there are times when the Port of Charlotte Amalie also is unable to find space for the ships so they go elsewhere. In most cases – unless St. Kitts is already on their itinerary – ships we turn away end up going there because of the service and the facilities," Boschulte told senators at the October 2013 hearing. "If they do not go to St. Kitts, then their choice is to remain at sea. Either decision represents a considerable amount of lost revenue to the territory."
During Wednesday's press conference, Boschulte expanded on those statements, saying that nearby destinations that were never before on the map now compete to knock St. Thomas off as a premier destination. What the Long Bay Landing project will do, he said, is not only keep the territory relevant now but maintain its position as a critical port on cruise ship itineraries years into the future.
Long Bay Landing will also create jobs, pump more money into the economy, open up new modes of transportation – such as harbor ferries or taxis – that will directly benefit local residents. Boschulte said the new facility will also be open in the evenings to the public, can be used to host activities and will "bring new life to the territory's tourism product."
Meanwhile, the development team has also come up with an environmental plan that Boschulte said would put more marine life and corals into the area than were there before the project began.
"And what's driving that is the need to protect our precious resources," he added. "It's why people come to the territory."
Boschulte said the development team will conduct a public outreach campaign to keep local residents more informed about the project. Anyone interested in learning more can visit www.longbaylanding.com or read up on Facebook about the development, and can offer comments or ask questions.