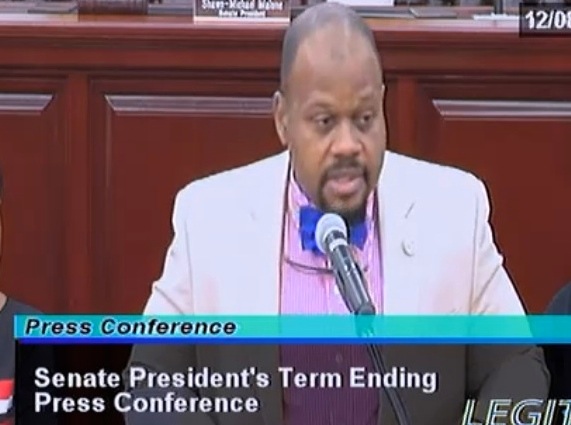 Outgoing Senate President Shawn-Michael Malone personally thanked and commended many of the Legislature's long-time staff Monday in an emotional ceremony on St. Thomas.
He reviewed the acts of the 30th Legislature, from approving bonds for dredging to expanding the roles of physical therapists, pharmacists and other non-physician care providers, saying it had a record of accomplishment to be proud of.
Malone is departing the Legislature after six terms. Instead of seeking a seventh term this year, he ran in the Democratic Party Primary for the opportunity to be the party's candidate in the delegate to Congress race. Stacey Plaskett won the primary and then coasted to an easy victory in the general election.
Malone is one of seven incumbents who are leaving this year. Sens. Craig Barshinger and Judi Buckley both declined to run for reelection. Sens. Clarence Payne, Diane Capehart, Alicia "Chucky" Hansen and Donald Cole lost their elections.
At the beginning of Monday's ceremony, the body showed a video in which Legislature Executive Director Iver Stridiron said the 30th Legislature "was one of the most active," passing lots of legislation and taking action to tighten its own belt by giving up cell phones and government vehicles for personal use.
"We are saving $55,000 to $60,000 annually on cell phones," Malone said. The Legislature also took other cost-saving measures, like cutting back on paper use and recently began allowing senators to participate and vote in committee hearings via Internet, Malone said with pride.
"We also saved on storage … we cut that in half," he said.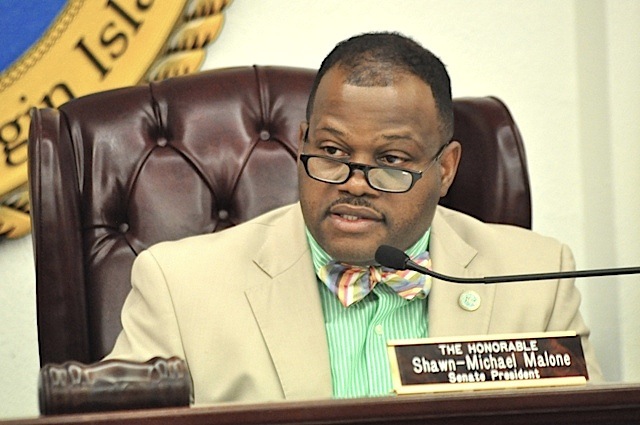 Malone credited the Legislature with restoring government salaries after a 2011 act cut government pay by 8 percent as an emergency budget measure. Malone said the administration wanted to delay the restoration of the pay cuts.
The pay cut was legislated in 2011 as an emergency budget measure, without administration support and with Malone's vote. The cuts expired in July of 2013. (See related links below)
Gov. John deJongh Jr. did not initially support the pay cuts, proposing staffing cuts instead. He opposed letting them expire until the budget stabilized.
Along with the good news, Malone said the purpose of the ceremony was to "account for what we have done the last two years, the bad things as well as the good," and is a sort of accountability.
He said the Legislature has produced a report of its actions, which can be downloaded from its website.
Malone emphasized the activity of the 30th Legislature, comparing it to the previous two Legislatures. The 28th Legislature saw 314 bills proposed, of which 183 became law, he said. "That is a pretty high percentage," Malone said. The 29th Legislature saw 463 bills, of which 231 became law, he said.
The 30th Legislature has 528 bill proposals to date, Malone said, adding that of those 232 have become laws. "So despite the bad economy … it has been a busy, busy Legislature," he said.
The outgoing president also said he was proud the Legislature became compliant with the Americans with Disabilities Act, thanking the staff who worked on that effort. `
Malone and other senators paused to thank and honor Malone's chief of staff, Rochelle Corneiro, who is leaving after 26 years with the Legislature to work for incoming Gov. Kenneth Mapp as deputy chief of staff.
Corneiro "almost acts as chief of staff for the whole Legislature," fielding calls from and to all the senators about all manner of subjects, Malone said.
The senators gave Rochelle a jeweled globe as a parting gift. Corneiro said a tearful farewell.
"I'm going to miss this institution," she said, thanking friends and family, including her father who she said recently passed.
She thanked incoming Senator at Large Almando "Rocky" Liburd for making her chief of staff at the young age of 21, during a prior term, years ago, giving her a chance when most holding that post were twice her age.
While the election is over and the clock winding down on the 30th Legislature, the work is not over yet, Malone said. There will be committee hearings next week, followed by a session Dec. 19, and more legislation to be approved, Malone said.
Malone was elected to his sixth legislative term in 2012. A native of St. Thomas, he graduated from Sts. Peter & Paul High School in 1986, then obtained a bachelor's in political science from Hampton University in Virginia in 1991. Before his 2002 election to the Legislature, Malone's professional work included management and auditing duties with the Ritz-Carlton, St. Thomas, the Marriott Frenchman's Reef Resort, and the Michael A. Simmonds Company. Malone worked later as district manager for Delegate Donna Christensen.
After becoming a senator, he has chaired five major committees and has held every officer position in the Legislature. Malone's legislative record includes sponsoring the Virgin Islands Smoke Free Act, and changing local laws to increase the number of senators needed to approve Coastal Zone Management permits.
Malone says he has also focused on education and is the founder of the Reading to Achieve learning program, offering incentives for students to improve their reading and communication skills.
He founded the St. Thomas Heritage Dancers and was grand marshal of the 2009 Adult's Parade.