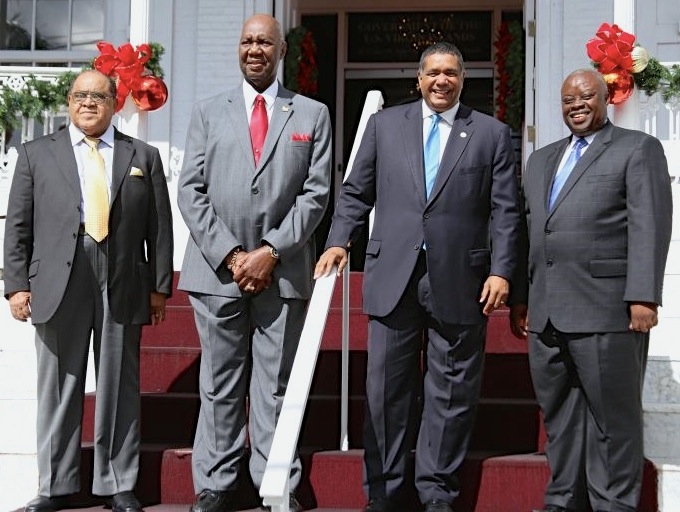 A historic photo opportunity on the steps of Government House turned into a dialogue Tuesday between Governor-elect Kenneth Mapp and three of his predecessors about the past, present and future politics of the territory.
Mapp said afterward that he had initially called the territory's two surviving former governors (Roy L. Schneider and Charles W. Turnbull) and current Gov. John deJongh Jr. together to "take a picture for the community."
"I don't recall in my history ever seeing the surviving governors coming together to take a photo for the V.I. community and we thought it would be something historic to begin with, but also we had the opportunity to show this process of bringing together people who have had different views, who have been on different sides of the aisle, who have had different politics all standing together to do what's good in the interest of the Virgin Islands," Mapp explained.
But the meeting also gave the group a chance to talk about past issues affecting the territory. As he headed into a transition team meeting with deJongh, Mapp said Tuesday that the governors were also able to talk about some of the issues and concerns that he will be encountering over the next four years and, in deJongh's case, how to transition smoothly from the current administration into the new one.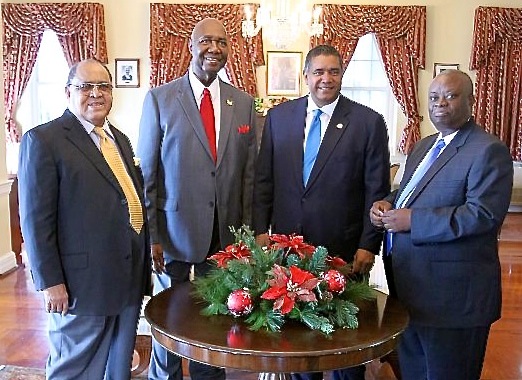 DeJongh said, "The gov-elect and I met right after the election in my office and had the chance to have a brief discussion, and today is really a chance to meet with his core team, the transition chairs and those that are going to work with him in Government House."
"I am introducing my people as we hand over the transition reports we have been working on so there can be a basis of familiarity and understanding that we're doing everything possible to ease the transition," deJongh said.
In discussing some of his ongoing initiatives, deJongh added that he is hoping some of the major development projects, along with the approval of the Atlantic Basin Refining operating agreement, are put in place before he's out of Government House.
"Time is running down, but I think I've governed during a very difficult time in our community, and it's a time where I've been very satisfied with a lot of accomplishments," deJongh added.
The governor said there are still a few items he hopes are acted on before he leaves office, including a Water Island Hotel development and capital projects on St. Thomas, that he say could "give the territory a good foundation" moving into 2015-2016.