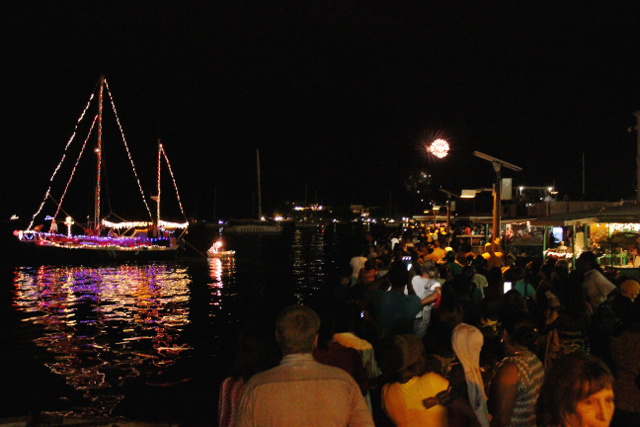 All along the Christiansted boardwalk, "Oohs" and "Aahs" abounded at the Crucian Christmas Boat Parade, as the little ones starred into the darkened sky where fireworks showcased their radiance.
About 25 boats paraded around the harbor, their colored lights, holiday music and general merriment delighting the large crowd that packed the boardwalk from Fort Christiansvaern to the seaplane terminal.
"This was a great event; they should continue to do it. I was glad to see Pressure. It was a nice and peaceful atmosphere" said Michael Thurland as he walked with his family. Pressure, a local reggae artist, performed live on one of the boats with onlookers waving and cheering.
The entries in this year's parade ranged from standing paddle board elves to Santa Claus on a speed boat. Each of the 25 boats was decked with lights, decorations and Christmas music ranging from Latin, calypso to rock 'n' roll.
Parents with children, teenagers with friends, and seniors sharing the moment with grandchildren wove their way through the throng on the boardwalk or sat neatly along the edges, waiting for each boat to showcase its lights and decorations. Children by the fort played as families congregated on beach chairs and blankets in the grassy field.
Eight month old Sasha caught her first fireworks show as her grandmother and family members. Sasha's eyes sparkled bright as a yellow and white globe pattern fireworks erupted in the sky.
This year's boat parade was joined by pre-show activities throughout the downtown area from 1 to 5 p.m. But by as dusk fell the downtown area was bumper to bumper traffic as many in the community walked briskly to meet the parade of boats.
"The fireworks were better than last year. It was great to see more friends and family members. Which is always a good thing" said Lekisha Rantan as she was nested tightly against railing of the boardwalk to avoid the moving crowd.