Cyril E. King Airport on St. Thomas came in at number six on an Elite Traveler Magazine's list of top 10 Caribbean islands for private jet arrivals. According to the magazine, the airport had 822 private charter jet arrivals between November 2013 and April 2014. The magazine said those visits were valued at $56.7 million in the territory's economy.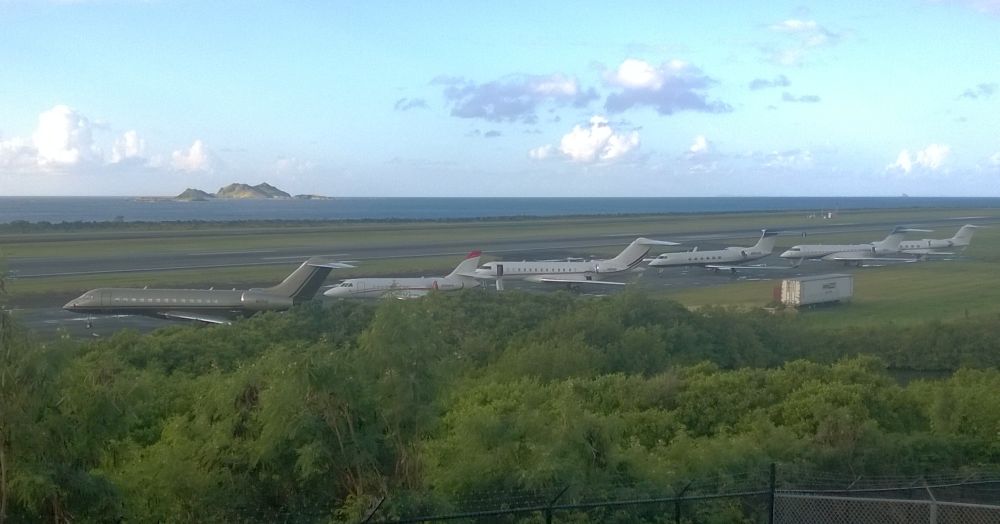 "This represents significant revenue to the territory and it's business we want to continue to support and grow," said Sebastiano Casinelli, president of the St. Thomas/St. John Chamber of Commerce.
Figures provided by the V.I. Port Authority indicated that 1,732 private aircraft landed at Cyril E. King between October 2013 and this past October. At Henry E. Rohlsen Airport on St. Croix, the number stood at about 300 a year.
Michael Hancock, who owns St. Thomas Jet Center at Cyril E. King, said that unlike many of the destinations listed in the top 10 list, St. Thomas is a year-round destination.
That said, he indicated the 10 days between Christmas Eve and Jan. 4 are busy with 150 to 160 private planes expected to arrive. He said the planes don't stick around but fly off to transport more passengers.
While the benefits to all those who provide services to the passengers are significant, Hancock also pointed out that the V.I. Port Authority also benefits because the Jet Center pays the agency landing and passengers fees as well as 12 cents a gallon for fuel sold to the planes.
As to why St. Thomas made the list, Douglas D. Gollan, group president and the magazine's editor-in-chief, cited several reasons in an interview with the Source.
"You have a lot of people with houses," he said, referring to off-islanders who own homes on St. Thomas.
Additionally, St. Thomas serves as a jumping off spot for nearby St. John, which gets its share of well-heeled people inclined to hire private jets.
Gollan also said that Yacht Haven Marina brings in well-off yacht owners who fly by private jet to St. Thomas.
He said the island is now getting an increased number of rich visitors from the Middle East, Europe and Africa.
According to Gollan, the territory could increase its share of that business by more actively marketing itself to these visitors.
Casinelli said that St. Thomas projects now in various stages of implementation will enhance the territory as a destination for high net worth travelers. Those projects include Main Street enhancements, improvements to Veterans Drive and the implementation of water transportation.
Chamber member Steve Morton, who in his career served as vice president of marketing for Sentient Jet, echoed many of Casinelli's remarks, but also pointed out that these are the same people who purchase homes after a visit or may be exploring the territory's Economic Development Commission packages.
Nassau in the Bahamas topped the Elite Traveler's Top 10 list with 4,034 arrivals between November 2013 and April. The visits were valued at $278.3 million. Gollan said that Nassau's proximity to Florida was a boost but the island also gets a good amount of European traffic.
"There is a robust international banking scene and it gets a lot of people coming for the gaming," Gollan said.
St. Maarten came in second with 1,514 visits valued at $104.5 million. Gollan said its nearness to tony St. Barts is one reason, but a lot of yacht owners join their vessels in St. Maarten. He said this happens because the island's airport can handle the largest private jets with no payload restrictions.
He said those private yachts reached via private charters generate a couple hundred thousand dollars a week for the island. Gollan said that it's not unusual for the yacht crews to spend tens of thousands of dollars getting the yacht ready for the owner.
Third place went to Providenciales in the Turks and Caicos Islands with 1,374 visits valued at $94.8 million. Gollan said Turks and Caicos decided that it would lure luxury travelers. He said the island has a half dozen "five star plus" resorts. Additionally the island gets well-off travelers arriving via private charter jet to do business in its banking industry.
Nearby San Juan was fourth with 2,276 visits valued at $88 million.
"San Juan gets quite a bit of traffic from South America as well as Europe. It also gets very rich people who come for the gambling as well as soft adventures," he said, adding that Puerto Rico does a great job promoting soft adventures.
Abaco in the Bahamas was fifth with 930 visits valued at $64 million. Gollan said a lot of people head to Abaco for sport fishing. The island also has some high-end real estate that attracts those in the upper income brackets.
Trailing St. Thomas was Bermuda at seventh with 726 visits valued at $50 million. According to Gollan, Bermuda benefits from its banking, offshore finance and insurance business. Additionally it's only 80 minutes by private charter jet from the northeast United States, which makes the island attractive to people like former New York City Mayor Michael Bloomberg.
North Eleuthra in the Bahamas came in eighth with 654 visits valued at $45.1 million. Anguilla with its high-end real estate was ninth with 630 visits valued at $43.5 million. The top 10 list was rounded out with Grand Cayman and its banking and diving attractions with 606 visits valued at $41.8 million.
According to a press release from Elite Traveler Magazine the top 10 destinations to enjoy the benefits of private jet charter flights during last year's peak winter season resulted in revenues of $867 million from 12,566 flights.
"Elite Traveler Magazine tracks the jet stream of the super rich and chronicles the vacations and purchasing habits of affluent travelers across the world," Gollan said. "We continue to see the Caribbean as one of the preferred destinations for our readers, especially those traveling by private jets and mega-yachts."
According to the press release, data from Prince & Associates show that private jets bring an average of $69,000 in spending to the destinations they visit. This excludes fuel and landing fees. However, private jet travelers brought some $867 million in spending to the destinations where the top 10 airports were located.
"When one considers the above numbers represent only 33 to 50 percent of total private aviation activity to the region and only the 10 busiest airports, it shows the huge opportunity for destinations and resorts to increase their share of super rich winter travel spending," Gollan said.
Carol Cork, marketing head at PrivateFly, which is a booking agent for private jets, said that charter is only about one-third of private jet activity. The rest is owned jets and fractionally owned jets, so she estimated that elite travelers would bring in much more spending to the Caribbean.