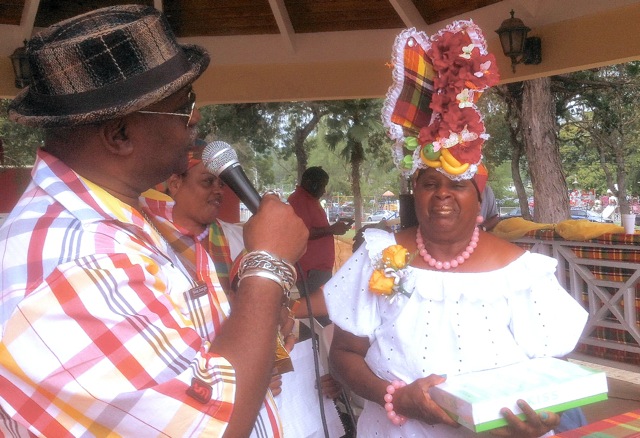 Laughter and quick smiles were exchanged between vendors and customers over stainless steel containers of Crucian food delights at the St. Croix Carnival Food Fair on Tuesday in Frederiksted, but on the stage near the Clock tower, there were tears.
Surrounded by dignitaries and family and family dignitaries, Theresa Maia Arnold Davis was overcome with emotion so strong she could not speak on occasion as the fair was named in her honor. But Davis showed the tears were not of sadness as she danced to the music waiting for the scissors to cut the ribbon opening the Theresa Davis Food Fair.
Delegate Donna M. Christiansen said of Davis, "Wherever food is at the forefront, she is there."
Master of ceremonies Alvin Milligan talked about Davis' natural stews, such as tamarind, gooseberry, guava and pineapple. He said she was just as famous for hot pepper sauces.
Carnival Queen 20-year-old Amualeet Kahine took to the stage on the gazebo and poured her emotion into the song she sang, a song she wrote, "I am ready for Carnival."
Melody Rames, who has worked on public relations for the Crucian celebration for more than 10 years, addressed the decision to change the name from Crucian Festival to Crucian Carnival.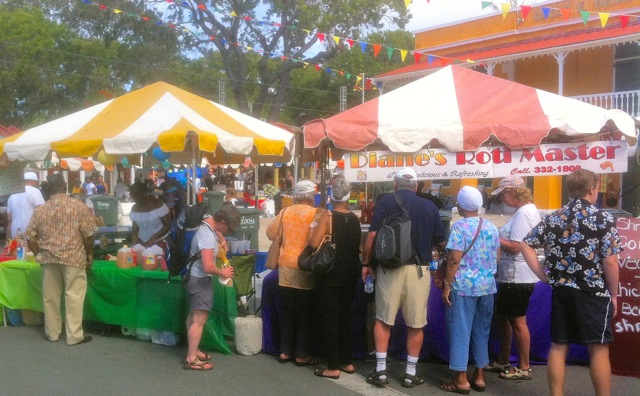 Several speakers had stumbled saying, Crucian Festival instead of Crucian Carnival, and Rames said that was OK. She said, "In our hearts it may always be Crucian Festival." She said the name change came about to attract a "global audience."
After the ceremonies, the Carnival queen said she was very happy to be able to be part of the Food Fair. "I love culture and food is our culture."
Mona Barnes gave the benediction at the ceremony. Bradley Christian, chairman of the Carnival Committee, made welcoming remarks.
The Guardians of Culture Mocko Jumbies, Stanley and the Sleepless Knights, the Rising Stars Steel Orchestra, the West End Masqueraders, We Deh Yah Dancers, Ay Ay Cultural Dancers and the St. Croix Heritage Dancers were scheduled to round out the afternoon activities.