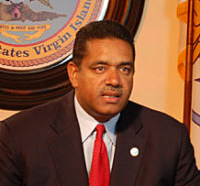 The following statement was issued Wednesday by Government House.
As we approach the end of this year, and the end of my term as your governor, I wanted to take this opportunity to thank the people of the Virgin Islands for the great honor and privilege you bestowed on me by twice electing me to serve as your governor.
Throughout the eight years I have served as your governor, through all the challenges as well as the ups and downs that we have faced together, I never lost faith in the ability of those of us who call the Virgin Islands home to meet and overcome whatever may confront us. I know now – even more than I believed before I took office – how true it is that when we work together we succeed, that it is only when we are divided that we fail.
I know that everyone joins me in extending our best wishes to Governor-elect Mapp and Lieutenant Governor-elect Potter as they begin their term of office.
Looking ahead, and on my behalf, and on behalf of my wife, Cecile, and all of our family, I want to wish everyone in our territory the very best for the New Year and for the months and years ahead.
As you have heard me ask before, let us all commit to working together each in our own way to build a better future for all.
I thank you again for the honor of serving as your governor.
May God bless you and our Virgin Islands.