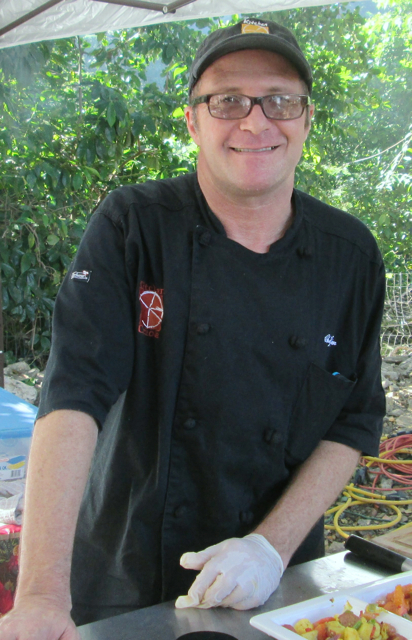 As a chef, Jim McManus had a need, so he began conjuring up spice blends for use in his professional and personal kitchens.
That idea grew, and now he sells Kitchen Creole spice blends at retail locations on St. John and St. Thomas.
"Each blend has an ingredient of interest," he said, launching into an in-depth description of a couple of the blends.
And each blend has a story that McManus is quick to tell. For example, the Quintana Roo blend takes its culinary cues from the Yucatan. It includes toasted hemp seed, a wild herb called epazote, which is known in the Virgin Islands as worm grass, as well as a selection of peppers that provide both a smoky and sweet taste to the blend.
The Bordeaux Mountain blend has its roots in herbs and spices that grow on St. John's Bordeaux Mountain but also includes dried porcini mushrooms.
All of his blends can be used as both rubs and spooned into the cooking pot to provide a flavor boost.
"It's a culinary jump start," he said.
He uses them professionally as the chef at Shipwreck Landing Restaurant, but he said he finds them invaluable at home when he just wants to sprinkle some on a dish and add some rice to come up with dinner.
McManus suggested continuing the flavor thread started with one of his blends in the main dish to the side dishes by adding a dash or more. Each dish will take on different characteristics of the blend but will be linked together.
The San Francisco-born McManus, who grew up in Chattanooga, Tennessee, thought he'd pursue a career in art. He got a bachelor's degree from the School of the Art Institute of Chicago and a master's from the University of Chicago, both in fine arts, before heading off to the workaday world. He created sculptures and art installations in his free time but worked days as a maintenance repairman for The Gap and Banana Republic clothing chains.
After getting laid off from The Gap and Banana Republic he realized his art career wasn't going to go in the direction he wanted. McManus shifted gears, cashed in his 401K retirement account and headed off to culinary school at the Cooking and Culinary Institute of Chicago. He worked in Chicago restaurants while going to school. After he got his certificate, the lure of travel beckoned.
He headed off on trips to Nepal and Thailand and went to Alaska to help open Alpenglow, a well-known restaurant located just outside Denali National Park. After a season at Alpenglow, friends suggested he try St. John.
"I planned to hang out for a season," he said.
He started working at Shipwreck, did some sailing, went back to Shipwreck, traveled to Bolivia and Peru, and eventually found himself back at Shipwreck. Meanwhile, he met his wife, Christy McManus, and the two got married.
McManus, 52, has settled into St. John. He's building house, has his job at Shipwreck, and with his wife, conducts events such as tastings to make his business grow.
And like many St. John residents, in his rare free time, he heads to the beach.
"We swim at Maho," he said.
Kitchen Creole blends are for sale on St. John at Shipwreck, Keep Me Posted, the Full Moon Café, Pickles, Pink Papaya, and Sugar Birds. On St. Thomas, find them at Moe's, the Barefoot Buddha and Gourmet Gallery.
More information can be found online at www.kitchencreole.com. McManus can be reached at 1-340-626-8484,