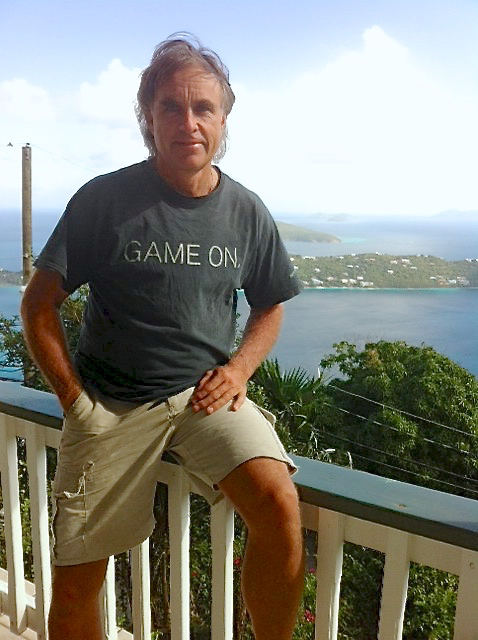 Basketball star, tennis whiz, day trader, businessman – oh yes, and the island's own piano man, Freddie Rabuse has been a leading entertainer on St. Thomas for so long it's hard to think of him as anything but a musician.
Talk with him for an hour or so, and you'll hear a lot about chord progressions, bass lines, vocal ranges and musical keys. But you will also hear about the rhythm of life, game-changing chance encounters, the joys of travel, and the allure of the tropical sea.
Relaxing on the deck of his home overlooking Magens Bay one recent morning, Rabuse said without a hint of exaggeration, "I've done about 10,000 gigs."
Some of those gigs were with other musicians or full bands; some were solo piano. Many involve accompaniment for vocals – his own or others'. Often, he has backed up other artists, including such luminaries as Dave Mason. Some of his performances are at private functions, some in restaurants, some on mega yachts. Some are in the Caribbean, some in New York, some around the globe.
"I can't imagine a better job," he said. "And I do still enjoy it."
Born and raised in Queens, New York, Rabuse grew up with piano as part of his life.
"My mom played," he said. "It looked like a normal thing to do."
He took keyboard lessons at the age of 6, but his first formal training lasted only a year. When he was 11, his mom rather casually suggested he try it again.
His second piano teacher opened the world of music to him, showing him how to build on his knowledge and skill.
"She just gave me the tools to learn songs quickly," Rabuse recalled.
He studied with her for a year. By the time he was 13, he was playing for audiences.
In high school, he and a couple of other guys formed a band they called the Deltas, consisting of drums, guitar and –Rabuse's part – the organ.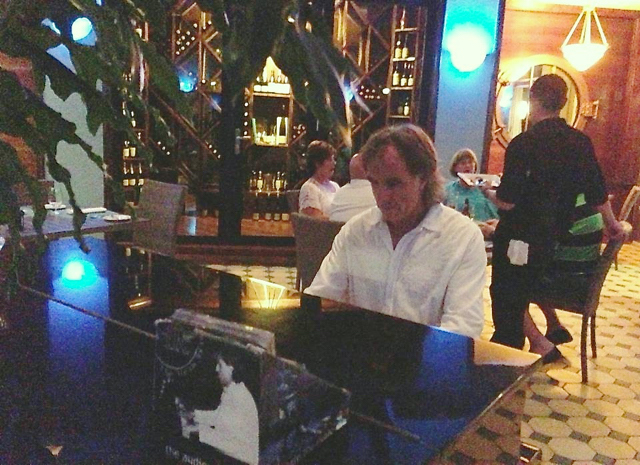 "It was a good band," he said. Soon the group was playing at functions throughout the area. They had a repertoire of 83 songs and sometimes worked with a singer.
At the same time, however, Rabuse was cultivating another passion: sports.
He was a star on the high school basketball court and made All City. He turned down a basketball scholarship to Duke in favor of Columbia because, he says, "I just chose to stay in New York."
He didn't make it to the pros, but he did get to meet Magic Johnson at a business seminar many years later, and to take a turn going one-on-one with him for a minute. Gleefully, Rabuse demonstrated how he maneuvered the ball to get by Johnson, though he admits he had the element of surprise on his side.
Rabuse continued to play for fun, but at 35 he took a heavy hit when he went for a rebound, and decided it was time to switch sports. Now tennis is his main game. He plays frequently at various courts around the island and in tournaments. For a while, a bout of tennis elbow in his right arm forced him to use his left, and now he has no problem switching back and forth.
"I consider tennis athletic chess," he said. "I just enjoy the process; I don't have to beat somebody … (when you play) you're pursuing perfection."
He says he also loves to snorkel, and although he doesn't count himself a swimmer, he's clearly at home in the water. Commenting on the beauty and clarity of Virgin Islands waters, he said a few years ago he donned mask and fins and "I swam to Inner Brass (island) one time and I didn't lose sight of the bottom" even at depths of 90 feet.
"I've always really considered myself as an athlete," he said, explaining why he hasn't gone the route of so many entertainers who fall victim to excessive lifestyles.
He also built his music career carefully. For a long time, it was a sideline.
"I had a trucking company for 10 years in Manhattan, and at night I played piano at all kinds of clubs," he said.
"I never sang 'til I was 23," he revealed. That's when a man offered him a job if he could both sing and play and Rabuse decided he could. It was a Friday; his new act started on Monday. "I had a weekend to become a singer."
Over the years he played in more New York establishments than he can remember, but a few were stand-outs. Tavern on the Green didn't pay much but it was a great resume-builder. Chelsea Place, a hidden, late-night club camouflaged as an antiques furniture shop, was a world unto itself. He was challenged to play a wide variety of songs, so "all of a sudden my repertoire catapulted."
A couple nights a week, when he wasn't working, Rabuse said he haunted the jazz clubs, watching and listening and learning through "osmosis."
He's had a handful of lessons as an adult – including one from Harry Connick Jr., who was already big in New Orleans but was "six months away" from becoming an international star. While he has picked up a few pointers from other artists, Rabuse says primarily he is self-taught.
His musical influences range from Fats Waller and Teddy Wilson to Pink Floyd and Emerson, Lake and Palmer, and his portfolio of songs is even more eclectic. He's just as likely to play classical as rock, reggae or rag, pop or jazz. Often he mixes things up in a single set.
"I feel like I give each style its justice," he said.
His arrangements – planned or improvised – can result in totally new treatments for well-known pieces, although he's also careful not to disappoint his audience by frequently straying from what they expect. He's produced two CDs, Elysian Keys I and II, that concentrate on the tried and true, but also include some original work.
Rabuse's introduction to the Virgin Islands came on a vacation trip in 1979. In 1985, he moved to St. Thomas and quickly became a headliner at night spots across the island.
Off season, he generally heads for the mainland, though he has spent a few summers on the global scene. He's performed in San Tropez, on the Mediterranean island of Ibiza, on a steamboat in Lake Biwa in Japan, and in Norway. His travels have been eye-opening.
In northern Norway, a Bulgarian DJ had to explain to the native New Yorker that when the crowd requested "swing" they weren't talking about the Big Band sound of the '40s. They wanted that Chuck Berry early rock 'n roll, you know, when the guys on the dance floor "swing" their partners over their heads.
One summer, when the job he thought he had contracted at a French resort suddenly vanished, he found himself "pounding the sand" on the Riviera, going from club to club, using his very rudimentary French, and trying to get managers to listen to his music. He managed to land enough work to finance his stay and then met a man who offered him a job playing in the Alps.
"It was serendipity," he said.
In Japan, he was surprised to see a piano set up in a post office and asked if he could play it. Before he could sit down for the impromptu performance, he had to sign a document saying what song he would play, then sign again when he finished. He eventually learned that the piano was used regularly, exactly once a month, for one hour, for a public concert. He's still puzzling over what would have happened if he had played a different tune than the one he said he'd play, and where the paperwork was filed, but he's sure it went somewhere.
"The whole country is so organized, and 'serendipity' isn't in their language," he observed.
It's very much in his vocabulary, however. He credits much of his success to it, and it may be why he seems to live life under an open-door policy.
Like many musicians, Rabuse says he was always good at math. In recent years, he's been employing that skill to speculate on the stock market. His day-trading results aren't bad, he said, but "so far I haven't quit my night job."
Currently, he's performing six nights a week: from 6:30 to 8:30 p.m. Monday, Wednesday, Friday and Saturday at the Portofino Restaurant at Dreams Sugar Bay Resort on the East End; from 8 to 11 p.m. Thursdays at Rum Shandy in Frenchtown; and from 6:30 to 9:30 p.m. Sundays at the Caribbean Fish Market at the Elysian Resort.
There's more information online at www.freddierabuse.com, and on his Facebook page.