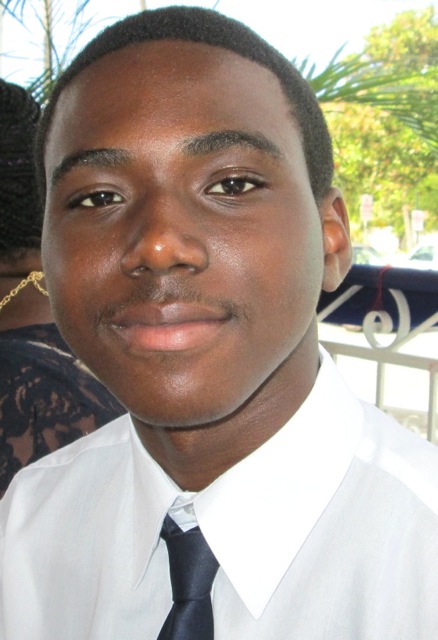 Jahmari Boynes' experience in the territory's Poetry Out Loud contest netted him a few moments to shine at the recent inaugural ceremony on St. John. He read Elizabeth Alexander's poem "Praise Song for the Day" written for President Obama's first inaugural.
"Someone is trying to make music somewhere, with a pair of wooden spoons on an oil drum, with cello, boom box, harmonica, voice," he read.
Boynes, 17 and an Ivanna Eudora Kean High School senior, said that there was something in the poem that stood out for him. That said, he noted that Langston Hughes "I, Too" is his favorite Poetry Out Loud entry.
Boynes said he began participating in the territory's Poetry Out Loud contest while a student at Sts. Peter and Paul School on St. Thomas. The contest is national and is sponsored by National Endowment for the Arts and the Poetry Foundation.
"I enjoyed the experience and I like recitation," Boynes said.
He said he skipped the 10th grade Poetry Out Loud contest but participated again for the last two years.
Boynes said he expects that he'll always be involved with poetry and writing but is a bit more pragmatic about what he'll do for a living once he's done with college. He said he wants to be a journalist.
Boynes plans to start that path at the University of the Virgin Islands but said he hopes to transfer to a mainland college to complete his education.
Meanwhile, he's on the 7 a.m. ferry every day from Cruz Bay to Red Hook for classes at Eudora Kean. He said he likes English, but math is his favorite. Boynes comes home on the 3 p.m. ferry, relaxes for about an hour and then tackles his homework, he said.
He spends time with his family: mother Chrystal Daley, father Noel Boynes Jr. and three sisters – Sierra, 12; Bobby, 4; and Noelle, 1.
In his spare time, Boynes said he serves as an usher at Our Lady of Mount Carmel services, plays video games and reads.
"And write poems," he said.