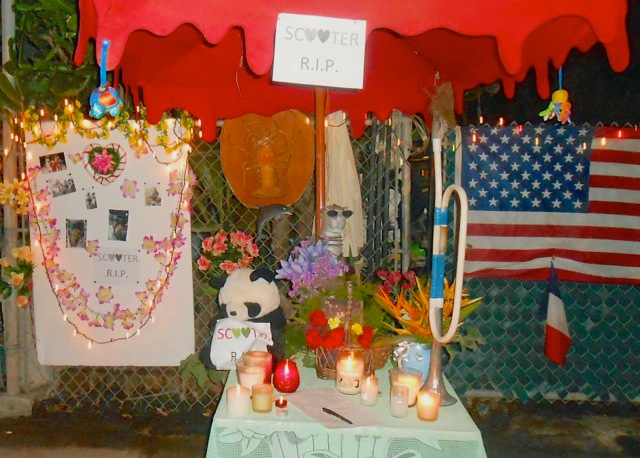 David Turbe's little Frenchtown house in the cul-de-sac by the playground became a living memorial Tuesday as the day wore on and the news passed through the community. Turbe drowned Sunday while spear fishing.
A massive air and sea search continued Monday. His body was discovered Tuesday morning in the water outside the sandfill dock in Gregorie Chammel.
His brothers, Kenny and Stevie Turbe, and other members of his large family arranged a makeshift memorial to David Turbe outside his front yard with a table dominated by the large ceramic grey cat that had sat outside Turbe's yard. Longtime friend and neighbor Boogie Richardson placed the cat on a table and adorned it with sunglasses.
That was the start, and the memorial evolved from there, eventually filling with candlelight as day wore into evening.
All day long folks came to the house, just to be together and to offer support. By late afternoon, flags, flowers, photographs and a shark tail were on display – in truth just a tiny sampling of what his ample yard contained.
Turbe never left anything he liked behind. His brother, Kenny Turbe, describes it like this: "He had one of everything on the island. At least." Kenny Turbe said he's thought about contacting one of the TV shows in the states about his brother. "I'd tell them this was special, a real Virgin Islands hoarder."
David didn't limit his imagination to his yard. He placed a bed frame and chairs in his flamboyant tree. He told his neighbor Jill Anderson, "One day I'll put netting around that for my honeymoon suite."
Turbe, also known as "Scooter" or "Combat Cat," was an institution in Frenchtown. Everyone knew him and his ways. He was a familiar figure coming back from diving with his flippers balanced on his head and a grin for everybody.
Pulling together some humor Tuesday morning, Kenny Turbe said, "David was a frig, but he was our frig." More contemplatively, he said, "Well, David died doing what he loved to do, in the water, diving."
Turbe was an artist of many talents, as handy with a carving knife as with a spear gun. His coconut boats were true works of art. He used to sell them at Hook, Line and Sinker; he carved when the spirit moved him.
Anderson, like all of the folks slowly assembling before Turbe's house Tuesday, still couldn't quite come to grips with the news. "There will never be another David Turbe," she said. "He was eccentric, artistic, generous. We talked back and forth from our yards at every hour. We shared gelato when the truck came by. He was upset they didn't have rum raisin."
Ted Luscz, owner of Hook, Line and Sinker, was as shaken by the news as anyone. He said Tuesday, "David was truly representative of the old Frenchtown, always smiling, always ready to help. When I managed the Normandie, he would call at 4 a.m. if he saw something he thought was wrong. You could get mad at him one moment, and the next you were hugging him. He was always ready to celebrate a holiday, any holiday."
Leon Danet, who said he has known Turbe since childhood, said, "He was up at our house last week helping me in the yard. You know, next month's my birthday, Feb. 14, he told me. We should have a party. I'll be 50."
Danet just shook his head with a sad smile. Turbe's willingness to help anybody, any time, was repeated again and again Tuesday evening as folks tried to make sense of their loss. Just being together seemed to be all they could do for one another. And it spread a kind of magic feeling.
"David's looking down," someone said, and everyone seemed to agree.
Suddenly there was a familiar blast in the solemn evening. It was David's horn he'd made out of PBC piping years ago.
One of Richardson's little girls, 7-year-old Trinity, had grabbed it and let out a blast that got a cheer from everyone. Turbe would wake up the neighborhood regularly at 3 or 4 a.m. to give a little toot or two. Knowing it was Turbe, everyone would just turn over and go back to sleep.
Trinity brought a color crayon drawing of a green kayak to the memorial display. "My teacher made it and I colored it in green, like David's," she said as folks came to leave written messages under the picture of the green kayak, the one David last dove from.