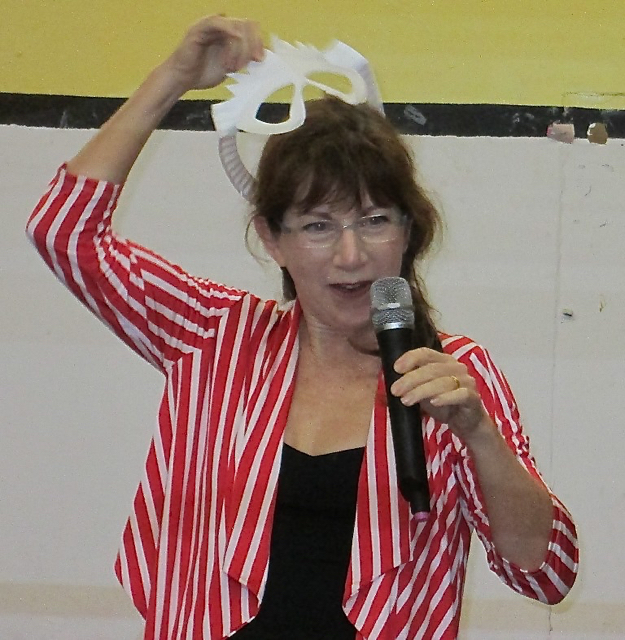 The three performers from Cause to Wonder had Julius E. Sprauve School students hooting and hollering at their antics during their performances Wednesday, but they came with a message.
"You can be anything you want to be," founder and St. John resident Lisa Menna said.
Menna, a magician, cowboy Derrick Stevens, and a woman who goes by the name Wacky Wendy, who creates fanciful hats and masks out of paper plates, all conjured up careers by thinking outside the box.
Cause to Wonder is a non-profit organization whose mission is to reduce human suffering and promote social justice by producing creative, collaborative, cross-cultural public performances and events that facilitate the exchange of ideas, dialogue and education.
This performance was called Attitudes for Success.
Sprauve Principal Ellen Francois said after the performances that she hoped they students who attended would be inspired to to start thinking about their futures.
"And the beginning of building their careers," she said.
Third-grade teacher Brenda Brown said she hoped the performances inspired the students to learn about being creative.
Students in grades kindergarten through fourth and special needs students had one word to describe the performance:
"Cool," said Reinye Fleming, echoing the words of other six-year-olds sitting around her.
Those students said they especially liked Menna's magic. She had them in the palms of her hands when she pulled ribbons out of students' hair, poured an endless supply of water into a bowl and magically made a toilet paper ball move from one hand to another.
The toilet paper trick was a winner. Menna told them that 200 years ago there was no such thing as toilet paper.
"Someone had to invent it. Maybe we don't use leaves anymore. It makes me itch," she said, wiggling her bottom from side to side to get the point across.
The students really had a laugh at that one, but they laughed just as hard when cowboy Stevens roped Menna, who was pretending to be one of the island's donkeys and later, teacher Lucille Parsons.
But Stevens, who lives in the Canadian town of Nelson, British Columbia, had a bigger message.
"I never rode a horse till I was 18 and I grew up in a town with no cowboys," he said.
He discovered life as a cowboy when a chance summer job showed him that enjoyed being around horses. Since then, he's won awards as a guide and hunter.
Stevens told the students to follow their interests and their dreams because life is short.
New York resident Wacky Wendy was an artist who got stuck at what she said was a boring barbecue when inspiration hit. She saw a stack of cheap paper plates, got a pair of scissors and started cutting the plates into hats and masks. That grew into a career as an entertainer at parties.
"And they paid me money," Wendy said, showing off a hat cut to look like the crown on the Statue of Liberty.
More information on Cause to Wonder is online at visit www.causetowonder.org