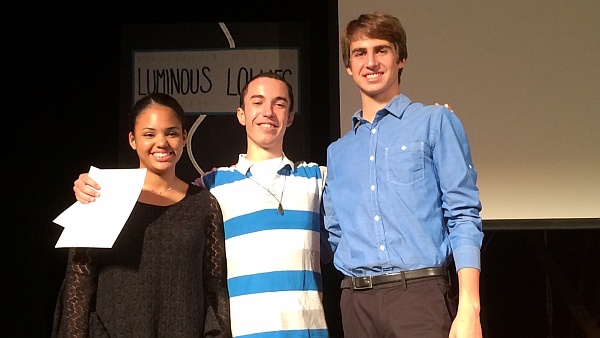 The national Poetry Out Loud Competition started in 2006 as a small scale pilot project on the mainland; but in the years since, it has grown into a full-scale movement that gives students the chance to freely explore the emotion and meaning behind the literary art while also teaching everything from prose structure to public speaking techniques.
Poetry Out Loud coordinator John Riggle and Middle/Upper School head Marva Bennett brought Antilles into the movement five years ago, seeing the competition as a way to enhance poetry studies within the English/language arts courses on campus, according to Antilles School. The birth of the school's first Poetry out Loud video followed in 2011 after Riggle began integrating film into the process with the hope of better engaging his senior film as literature and AP literature students.
"We started in 2011 by making them laugh with 'Dare to Dream,' and moved into making students with 'I'm Alive, I Believe in Everything' in 2012," Riggle said in a statement from the school. "'Shake the Dust' in 2013 was all about showing the seniors that they had the ability to redefine and define themselves despite labels that may have been placed on them already. We wanted to remind them that poetry is everywhere, even in popular songs, which was the basis of 'Happy' in 2014 and this year, with 'Where the Sidewalk Ends,' we joined our seniors with the smallest members of our Antilles community to remind folks that in the rush to become a successful adult, we have to hold onto the things that make life magical, and silly and fun."
For Riggle, who creates the concept every year, the video has become a loving "thank-you note" to his students, who in turn have something to leave behind in the months before making the transition to college.
"Poetry and the performance of that poetry is something that has actively touched all of our lives," Riggle said. "Our hope is that those words and feelings are not going to leave the students' heads and hearts for many years."
Just as meaningful, however, is the importance Poetry Out Loud carries each year for the actual competitors, who start with performances in each English classroom before moving to the big school stage. In both instances, students said the poems they selected called to them on a personal level and gave each the chance to reveal the "depth" of their performance abilities.
For sophomore Jonathon Qualls, an aspiring actor with several years of school theater experience, the challenge was ironically greater.
"You would think it would be easy, but when I'm in a play, it's greatly different," he explained after winning this week's in-school competition. "In a play, there are several of us on stage at any given time — it gives us each a chance to feed off of each other, to take cues and respond to changes in the performance. But here, I'm by myself, and I have to work those things out within my own mind."
'Working it out' for Qualls meant reviewing past student performances, working with friends on intonation and emphasis, and like most students in training, selecting pieces — such as John Donne's "The Canonization" — that he could identify with.
"I had seen this performed before and it was done so powerfully that I automatically connected with it," Qualls said, adding that he also empathized with the poem's message.
"It is about society being able to determine who someone loves, and that is something I relate to," he said.
Coming in second place this year was senior Michael Nelthropp, while Savannah Dukes took third place. Qualls will move on to the territorial competition on March 14th, and so far, says he's not even thinking about winning or losing.
"Let's take it one step at a time," Qualls joked. "I am excited, but we have to practice first."