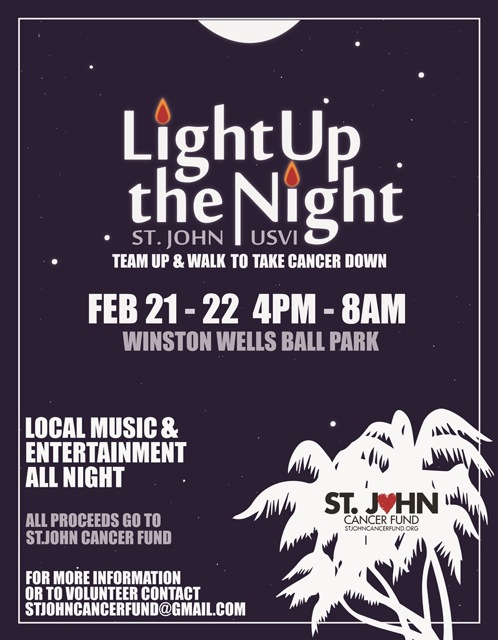 The St. John Cancer Fund kicks off its first Light up the Night all-night event Saturday at Winston Wells ballfield.
"One hundred percent of what we make goes into a fund for St. Johnians," organizer Mary Bartolucci said, referring to St. John residents undergoing treatment for cancer.
Light up the Night begins with a parade at 3:30 p.m. from Mongoose Junction shopping center to the ballfield featuring Julius E. Sprauve School students, the school's basketball team and the Avengers musical group.
The students' arrival at the field signals the start of the event, scheduled for 4 p.m.
At 8 p.m., luminarias will be lit in support of those suffering from cancer and those who have died from the disease. The luminarias will be for sale at the event and throughout the week at Keep Me Posted in Coral Bay.
The traditional first lap around the ballfield by cancer survivors begins at 8:30 p.m.
Activities continue until 8 a.m. Sunday and include music by Ah We Band, Inner Visions, In de Sand Band, Lauren and BO, Mark Wallace and friends, the Cirquetacular Entertainment and more.
A $10 donation is requested from those over 18. The donation for youth age 13 to 18 runs $5. Children 13 and under are free with an adult.
Formed in July 2013, the St John Cancer Fund's mission is to provide financial and personal support for St. John residents battling cancer. The St. John Cancer Fund aims to supplement all of the existing support avenues available to St. John residents. The fund does not restrict how the funds are utilized by the patient, but rather serves as a support in their journey.
For more information on the organization, visit www.stjohncancerfund.org or email stjohncancerfund@gmail.com.
For more information on Light up the Night, visit www.facebook.com/pages/St-John-Cancer-Fund/520366457990413.