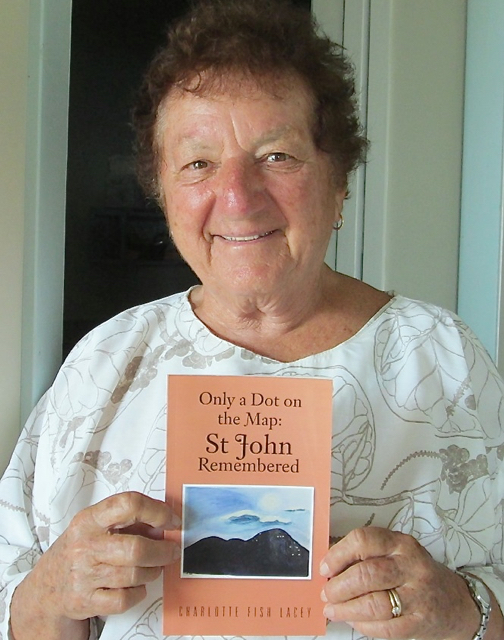 St. John has changed in many, many ways since Charlotte Fish Lacey stepped off the ferry in 1978 with plans to spend only a year.
She moved back to her native Massachusetts 25 years later, but she's recorded some memories of those early years in her new book "Only a Dot on the Map: St. John Remembered."
"They're little vignettes," she said.
Longtime residents will remember some of the events she writes about, and they'll be able to decipher who she's referring to when she calls island residents by their initials.
But even if you haven't called St. John home for decades or are just interested in island lore, the book is a good read.
She starts out with a tale of how she came to live on St. John in the first place. She writes that after two vacations camping at Cinnamon Bay Campground, she decided to take a year's leave of absence from teaching elementary school in Massachusetts.
During that year, she signed on as a temporary substitute teacher at Julius E. Sprauve School, one of two permanent subs who came to work every day because hardly anyone had phones to let the school know they wouldn't able to work.
"They couldn't call in," she said in an interview.
She said she was surprised by the lack of basic school supplies, but was delighted that the students, who had so little compared to her mainland students, were thrilled at such simple things as a magnifying glass.
After two years, she got her own classroom and taught second grade, third grade and fifth grade until she retired in 1993.
Lacey, now 81, was quite social in her younger years on St. John. In the book, she explores the nightlife, which included dancing at Fred's and fish fries at Pond Mouth. She fondly remembers the man she calls Father P, who danced with a beer can on his head.
Then there was the cranky woman at the post office who refused to check her mail, since she had received some the day before. And the woman who came from Tortola with a meager supply of fresh vegetables. According to Lacey, if you didn't get there before 11 a.m., the vegetables would be gone.
"You made do with canned vegetables from Miss Gladys's or Miss Lily's," she wrote, discussing two long-closed spots to get groceries.
Eventually, Lacey built her own house, on the waterfront near Asta Pond. Like any building project on St. John, even today, there were plenty of trials and tribulations. A Michigan man who was building what was supposed to be a two-unit complex next door was particularly annoying.
"He was bragging about how quickly he had obtained his permits … just give them a few bucks," Lacey wrote, adding that the man also built too close to the water and put up four units instead of the permitted two.
Lacey was on St. John when Hurricane Hugo devastated the island in 1989, and writes "there was no current for months."
"Food was in short supply, many cisterns were contaminated with salt water and there was no ice," she wrote.
In 2003, Lacey faced some health issues and realized that she wasn't getting any younger. This prompted a decision to move back to Massachusetts.
She was only there a short time when she met Dr. Hamer Lacey at church. The two hit it off immediately and got married a short time later. They honeymooned on a Witness for Peace trip to Cuba.
Since then, they've traveled to many far-flung places around the globe including China, Japan, Venezuela, many parts of the United States on a camper van trip and, right before they left their home in Gloucester, Mass., to spend the winter on St. John, on a 30-day cruise from Dubai to Capetown.
On St. John, she gets to visit with her daughter, Nancy Liburd, who teaches music at Sprauve. She has three other children: Natasha Balsom lives in Lexington, Mass.; Lisa Conley is in Madrid, New Mexico; and Karl Fish lives in Gloucester. She also has eight grandchildren.
According to Lacey, writing "Only a Dot on the Map: St. John Remembered" was the easy part. She then had to cull through photographs to find the ones she wanted for the book and get things organized for the printer of her self-published book.
"It was a lot of work," she said.
The book is for sale at Papaya Café and Bookstore in the Marketplace shopping center at and at Pink Papaya gift shop in the Lemon Tree Mall. Lacey said she expects it will be for sale at other locations on St. John. It's also available on Amazon.