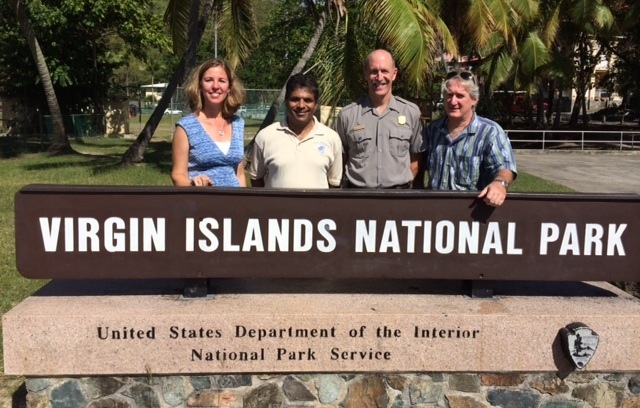 Thanks to another donation from Harith Wickrema of St. John's Eco Serendib Villa and Spa, the Friends of V.I. National Park is able to continue beach restoration work at Maho Bay. Wickrema donated a total of $22,850 to the project, with the final installment coming recently at a ceremony to commemorate the donation, the Friends said in a Tuesday press release.
The project began in 2012 and was created to combat serious beach erosion issues on park beaches as well as to counteract carbon emissions.
This year the project will continue to gather and propagate native tropical plants to stabilize the beach at Maho Bay while providing fencing for the young plants to protect them from deer and foot traffic.
The Eco Serendib Beach Restoration Project also made improvements to Hawksnest, Trunk Bay, Cinnamon Bay and Francis Bay.
Gary Ray of Virgin Forest Restorations on St. John oversees the project under the guidance of the park and with support from Friends group.
Plantings are native to the Virgin Islands and better able to control erosion while discouraging invasive exotics. Seedlings are currently being tended at Virgin Forest Nursery and the plantings will begin later this spring to coincide with rainy season and improve successful growth rates.
Wickrema owns Harith Productions, a global marketing communications, organizational effectiveness, education, training, event/meeting/destination management and production company that provides services in the corporate, social and political arena.