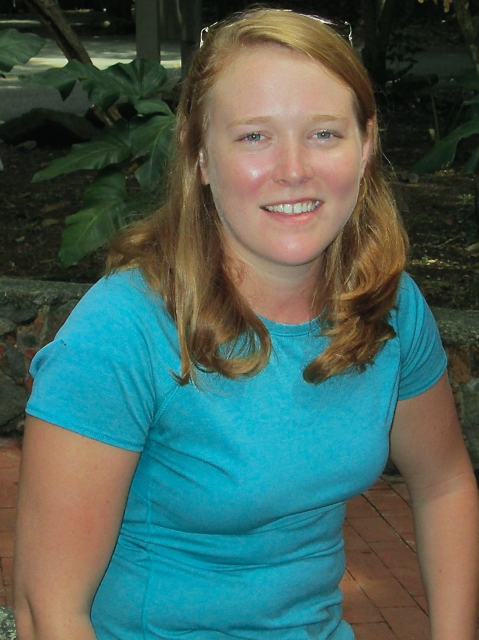 Anna Adams likes working outside. That's a good thing since as the volunteer coordinator for Friends of V.I. National Park, she spends most days organizing crews of people who volunteer for a week or more or just a day to work on the park's trails, overlooks and sites.
"At Peace Hill we opened up a lot of vistas," she said, ticking off a list that included work at L'Esperance and Annaberg as well as other far-flung locations in the park's vast acreage.
Adams, 25, arrived in October and will work till the end of April. She'll then return to Acadia National Park in Maine for her summer job as stewardship coordinator with the Friends of Acadia National Park.
"Same thing, different title," she said.
While working outside is a big draw, she said she also enjoys meeting the "diverse and inspiring folks" who volunteer for park projects.
"The best thing is definitely the people," she said.
She did find driving on St. John an adjustment, mainly because the roads are steep.
Her work is much appreciated at the Friends. President Joe Kessler said Anna brings a lot of enthusiasm, strong technical trail construction and maintenance skills, and an infectious love of the outdoors and national parks.
"She knows how to get the best out of people working on her trail crews while allowing them to work within their comfort zones. We have been very pleased with her performance and hope that she comes back year after year," Kessler said.
Adams did have some Caribbean experience before landing on St. John.
She spent 2010 on St. Croix volunteering with the World Wide Opportunities on Organic Farms at Mount Victory Camp. She also was the cooking intern at V.I. Sustainable Farm Institute and did a stint at Polly's at the Pier restaurant in Frederiksted.
"I love the food and the culture," she said of her experiences in the Virgin Islands.
At the St. John park, she picks up volunteers for the job du jour at 8 a.m. at the park's Cruz Bay maintenance yard, adjacent to Mongoose Junction shopping center, and between 8:15 and 8:20 a.m. at Cinnamon Bay Campground. She said volunteers do not have to sign up in advance. They should just show up for a ride to the job site. They'll work until around 12:30 or 1 p.m.
Adams provides gloves, tools and water but volunteers need to bring their own water bottle and wear closed-toe shoes.
She also coordinates efforts for groups like the Appalachian Mountain Club, which has several groups per year come to do projects in the park. She even had a group of students in the middle and lower high school from the private Vermont Commons School. They worked with her at Acadia, and they opted to do a winter trip to St. John because Adams is the volunteer coordinator.
Born in Augusta, Maine, Adams is well-qualified for the job. She started assisting Acadia trail crews when she was 16, worked for a while as a stone mason at the park, and went on to get a bachelor's degree in recreation and park management from the University of Maine at Machias.
When Acadia's stewardship coordinator post came open she jumped at the opportunity. She said the park took a chance on her even though she was younger by about 40 years than people who previously held the job.
"Now leading volunteers is my passion," she said.
As for the future, it's an open door. She said she hopes that splitting the year between St. John and Acadia works out. Though they are vastly different places, she said both are equally beautiful.
"The only reason I wouldn't come back is if I got a fulltime job," she said, adding that they are very hard to come by in her field.