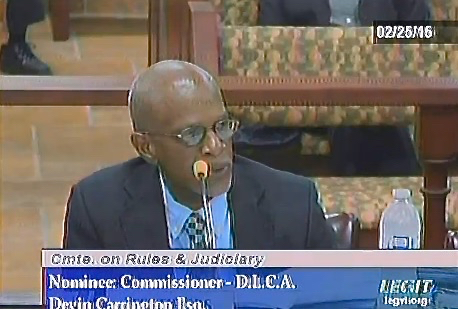 Licensing and Consumer Affairs has the purchase time and price information for wholesale gas and plans to publish it soon so V.I. consumers can see for themselves how much individual retailers are marking it up, acting DLCA Commissioner Devin Carrington told a Senate panel Wednesday.
Carrington and acting Internal Revenue Bureau Director Marvin Pickering were before the Rules and Judiciary Committee for their nomination hearings. Both were sent on for final votes without opposition.
DLCA subpoenaed the information from retailers and operators of fuel storage facilities such as Total Petroleum on St. Thomas, shortly after taking office in January. (See Related Links below) The previous administration had also subpoenaed information, but only from Hovensa, which supplied most fuel in the territory at the time, but has since stopped acting as a wholesaler and storage facility.
For about six months now, V.I. retail gasoline prices have held extremely steady, despite massive decreases everywhere else in the United States, including neighboring Puerto Rico, where the territory is now purchasing most of its gasoline.
According to the most recent DLCA price survey, as of Feb. 19, the average price per gallon for regular grade gasoline was $3.523. On St. Thomas, it averaged 10 cents more per gallon, and on St. John, even more at $3.849.
As of Monday, the U.S. average price at the pump for regular grade had risen nearly 20 cents to $2.33 per gallon – more than a dollar less per gallon than in the territory.
In late January, gasoline prices in Puerto Rico were less than $2.10 per gallon and stateside prices were about $2.04 cents per gallon, on average.
"So you have this information. What now?" Asked Sen. Tregenza Roach.
"We fully intend to make it public so everyone can see" what the markup is, Carrington said. Several senators asked what DLCA could do to regulate prices at the pump and in stores. Carrington said directly regulating prices would likely be challenged in court and DLCA would lose the court fight. But DLCA has some power to prevent price gouging, he said.
"There is a statute that allows this department to determine a reasonable markup," he said. Making a legal determination of "reasonableness" is "a process a little more complicated than … comparing the rack rate and the price at the pump," Carrington said.
After releasing the price information, DLCA will analyze the data to lay the groundwork "so we can determine reasonable profit margins," he said.
Over the years, Carrington has been counsel to several governmental agencies and, most recently, to Sen. Diane Capehart. He has also been a Casino Control commissioner and worked as a certified mediator with the V.I. Superior Court. Nova Southeastern University Law School awarded Carrington a juris doctorate in 1994.
After hearing from Carrington, the committee vetted Pickering for director of IRB. Pickering is a former Cruzan Rum chief financial officer. He began his career with Cruzan in 1982 as staff accountant and retired as senior vice president in 2012.