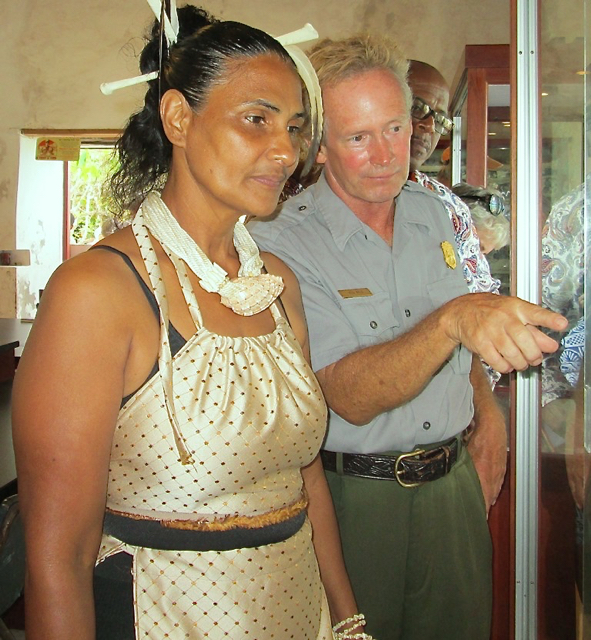 With a snip of the green ribbon, V.I. National Park Wednesday opened its Education Center and Archaeology Laboratory located adjacent to the beach at Cinnamon Bay.
"It's been a day I've been looking forward to for a long, long, time," park archeologist Ken Wild said in the opening ceremony.
While most people refer to it as a museum, Wild said that technically it can't be called that because it's not a climate-controlled building. The beachfront climate is hard on the exhibits because the building's doors remain open during the day, but Wild said all the exhibits inside can be dismantled and hauled away in 1.5 hours should a storm threaten.
It houses artifacts gathered from around St. John and even from an archeological dig at Krum Bay on St. Thomas. Wild said that a few of the items are reproductions but most are the real thing and tell a story that goes back 3,000 years.
One exhibit includes a large chunk of wood sitting in a chemical solution to preserve it. Wild said it appears that piece of wood may be from a 1600s shipwreck off St. John.
According to Wild, the exhibits are in a time line that tells the story of human habitation on St. John.
"One of the big things for the Friends is working on helping to tell the story of those who came before," Joe Kessler, president of the Friends of the Park group, added.
Wild's excavations showed that Taino Indians lived on St. John, and one of those present at the ceremony traces her maternal lineage to the Tainios. St. Thomas resident Maekiaphan Phillips said a DNA test in 2011 showed her ties to the Tainos.
"My great grandmother was stolen from Vieques by a pirate," she said, discussing how her family came to live in the Virgin Islands.
She said she traces her roots to people from many countries who came to call the Virgin Islands home.
The Friends funded the exhibits while the park paid for renovations to the building, which was built in 1680 and was part of the Cinnamon Bay estate.
"It's a really good example of how we work together," Kessler said.
It took 10 years to get the project completed.
Sen. Myron Jackson, who spoke at the opening ceremony, said that he hopes St. John will be the site of a larger museum to hold more of the island's artifacts.
While Kessler said several people made significant donations to make the project possible, Wild also noted that nearly all of the approximately 60 people who attended the ceremony contributed in some way to the project.
The Education Center and Archaeology Laboratory has a docent available to explain the exhibits 10 a.m. to 2 p.m. Tuesdays, Wednesdays and Thursdays. The museum is also open as staffing permits from 9 a.m. to 4:30 p.m. weekdays.