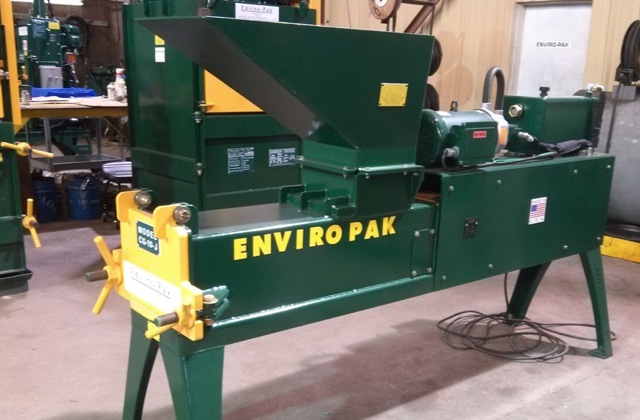 Help St. John's Island Green Living Association fund its aluminum can crusher by making a matching donation. Vacation Villa owner Harith Wickrema has agreed to match up to $20,000 the total contributions made by Earth Day on April 22 in an effort to encourage others to support IGLA's recycling efforts, the organization said in a press release issued Thursday.
If $20,000 is raised by April 22, Eco Serendib will add another $5,000 to IGLA's fund.
The can crusher and baler is currently on its way to St. John. The machine will operate at IGLA's ReSource Depot in a space that's been donated by Storage on Site.
It was purchased through donations made by Eco Serendib as part of a program that allocates a portion of the villa's rental income to preserving St. John.
In the span of one minute, the can crusher uses 59,000 pounds of compaction force to crush 600 cans at a time into a 12-inch-by-12-inch-by-6 inch bale. The bales will then be collected, palletized and shipped off island to be recycled. IGLA is working with shipping companies in the hopes of securing donated space in one of the many containers that leave the islands empty.
The can compactor will eventually operate entirely off-grid. IGLA, which is partnering with the St. John Community Foundation on this project, is seeking additional donations to purchase a photovoltaic panel system to provide power to operate the compactor/baler and future equipment for recycling glass, plastic and other recyclables.
Brad Camrud and The Link Group have already made a $10,000 donation to get this project started. Angel Electric and Solar Supply have offered to donate time and equipment at cost to get it up and running.
Until the photovoltaic panels are in place, the can compactor will be run by a temporary diesel generator. IGLA plans to build a roof over the can crusher using an existing structure at the Storage on Site Gifft Hill location, with the purpose of supporting the solar panels and collecting water to wash the cans prior to crushing. Labor for the roof's installation has been offered by Stronghouse Construction.
Several island restaurants have agreed to separate their cans for IGLA to recycle, and the Community Foundation already has an entire container full of cans ready to be crushed. They were gathered from the collection sites found adjacent to many island dumpsters.
IGLA will call on the V.I. Waste Management Authority and St. John residents for help with continuing to collect cans, whether by adopting certain collection bins or donating to the cost of paying for the collection and delivery of the cans to the crusher.
The can crusher is poised to make a big impact on the preservation of the Virgin Islands environment, but IGLA and the Community Foundation need the cooperation of the community and financial support to keep the machine running.
To donate, visit www.iglavi.org or call IGLA board member William Willigerod at 340-643-5313.