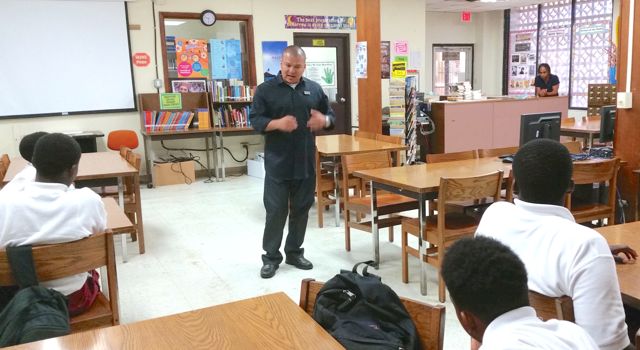 When former gang member Hector Verdugo speaks, people listen.
On Tuesday morning those people included members and guests of the Rotary St. Thomas Sunrise, including Virgin Islands top law enforcement brass, who came to hear Verdugo tell his story of pain and redemption and to provide clues to solving violence and hopelessness in the Virgin Islands.
Verdugo, who is associate executive director at Homeboy Industries in Los Angeles, grew up as a third generation gang member in a home with a heroin addicted mother. His father died of an overdose the week before his mother gave birth to him and his twin brother Gilbert.
"I was born into chaos," Hector told the early morning group that meets at Windward Passage.
"We lived in a garage. My mother put up a sheet between my brother and I and her and her boyfriend," he said. "We watched the silhouettes of them shooting up. It was like the Muppet Show of craziness." Verdugo said with a wry grin.
The room was silent, interrupted only by sporadic laugher as Verdugo spun the story of a life that left him no choice but to follow in his father and his grandfather's footsteps into a gang.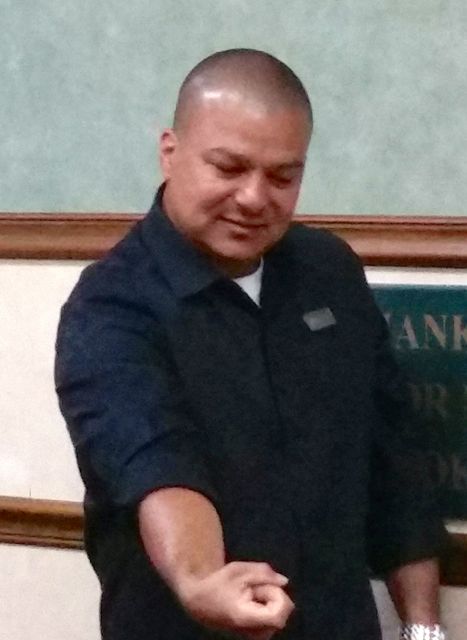 The circumstances of his life, Verdugo admits, have also led to violence. At 5 years old Verdugo was plotting to kill his mother's abusive boyfriend with a shovel. "I am going to kill Frank," he remembers thinking as he hid behind a door waiting for Frank to emerge. His mother found him and stopped him. And life digressed from there.
"We weren't living in the projects at first," but in order to escape the abuse, Verdugo's mother finally spirited him and his brother away to Ramona Gardens in East L.A., "a bleak bastion of crime," according to the Los Angeles Times, "so notorious for shootings, drug dealing and racially motivated attacks that the Los Angeles police dared enter only in groups."
Once he was ensconced in the barren wasteland of the violent projects Hector's mother would disappear for days. He was surrounded by "crazy" family members who were all gang members and high on drugs.
Verdugo recalls as a kid being out in the neighborhood flying a kite all by himself. There was a gang member called "Little Man" who acknowledged him, even flew the kite with him. "That's huge when you feel like no one sees you," he says.
On another occasion, Verdugo found a gun in the bushes. The gang members showed him how to use it, after taking the bullets out of the barrel.
Even though he was not yet in a gang, Verdugo said he can see how the attention the gang members gave him even as a young child was a set up to eventually join them.
He thought, "These guys will always accept me."
At some point early in junior high school, Verdugo said he tried to reach out to non-gang kids, but was shunned. So, hurt and angry he knew right where to turn and he did.
"Someone saw me," he said. And that meant everything. Not only did the gang members see him, but also they had his back. And they were his teachers, training him for first juvenile detention and later for prison life.
Verdugo, who could compete with any stand up comedian with his shtick, shows nothing but gratitude for his life today and displays no shame about his past. It's over. He is honest and straightforward – and funny – when speaking about the things that landed him in various lock ups.
The gig that landed him in juvenile hall was a stolen car. He jumped into the car only to realize it was a stick shift. "I don't know how to drive a stick shift." He laughs and then graphically demonstrates how his failure to operate the clutch properly brought him to the attention of the police and then to juvenile detention as the car jerked and jolted across a major intersection. It's a funny story.
But he turns serious when he talks about how his life changed.
His predictable trajectory landed him eventually in prison. He had been selling methamphetamines, and while in prison he heard a horrific story about what a woman had done to her baby while high on the drug. It got his attention.
Hector is one of those people who heard the voice of God and followed it, even though he had reached a gangster status that allowed him to drive fancy cars and buy lots of stuff and even play what he called "Robin Hood" to up and coming junior gangsters. But he asked himself what he was doing, who he was and how he had gotten there, and then life began to change. But slowly.
Smart and literate – which he attributes to a "mean" third-grade teacher who forced him to learn how to read at an advanced level – when he gave up selling drugs he turned to other businesses. He had made money in the drug business, so he figured he could easily invest in other enterprises.
He laughs when he talks about having a restaurant and construction company. He didn't know how to cook, and he is honest about the construction company being little more than a clean up crew.
Eventually it all tanked. "I felt like God was liquidating my stuff."
So once again he was left asking himself who he was and how he had ended up there.
Verdugo said he heard about Homeboy Industries, founded 27 years ago by a Jesuit priest at Delores Mission in Boyle Heights, in the worst part of Los Angeles. The program, which has long since moved to its own location, serves high-risk, formerly gang-involved men and women with a continuum of free services and programs, and operates several social enterprises that serve as job-training sites.
Verdugo found his way to Fr. Greg Boyle. He said Boyle welcomed him home as he always does with the hurting people lucky enough to find their way into the friar's compassionate arms.
"He hugged me, held me like this," Verdugo said tightly wrapping his arms around himself.
At first Verdugo said he just wanted to be passed onto some program or another, but Father Greg said, "No, you belong here," and offered him $8 an hour.
"Eight dollars an hour?" Verdugo quips in his street persona. "Oh well," he says, "Eight dollars an hour is what it will be."
And that's where he has been for eight years working his way up to the top of the Homeboy's administration team.
But his passion is working with the marginalized, he says. And telling his story, which he does with humor and deep passion and a way of making his listeners understand what it means to never be seen, to never feel loved. And then lifting their heart when the story has a happy ending.
"Little by little I started feeling good about myself. I started to grow," he says. "I am just one person, Homeboys has helped tens of thousands of people."
Verdugo says the only thing he ever learned in prison was how to be a better drug dealer. With many years between prison and his life today he knows, "True rehabilitation happens in the community."
Verdugo was on St. Thomas as the keynote speaker for the soft opening of the My Brother's Workshop Café on Back Street in Bakery Square. (See related link below and video). He also spoke to a group of 15 young people at Addelita Cancryn Junior High School Tuesday morning and appeared on WSTA radio's "Talkin' Solutions, Takin' Responsibility," Saturday morning.