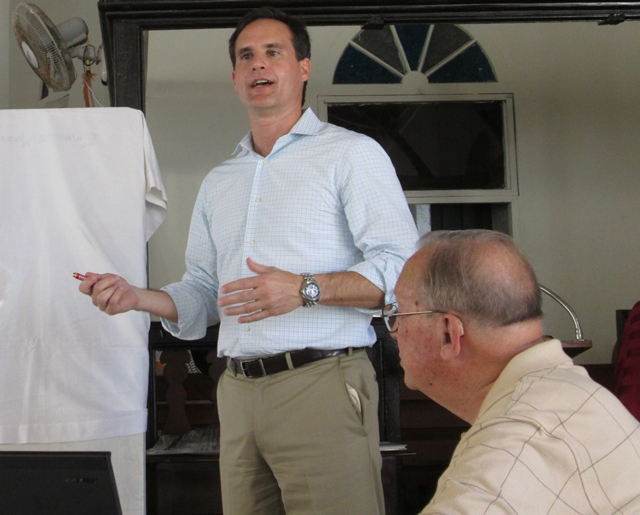 While a few people had some positive things to say Saturday, several of the 75 who attended the meeting at which Sirius Resort and Marina unveiled its planned marina said the project, in conjunction with the planned Summers End Marina, would take up most of Coral Bay.
"Between you and the other guy, there's not going to be any bay left," one boater said at the hearing that took place at Emmaus Moravian Church.
Sirius is designing the project on land owned by the Moravian Church Virgin Islands Conference. The resort portion of the project was aired on Oct. 18, 2014. Sirius, which was originally known as TREX, plans an 89-unit hotel development on 10 acres of land that stretches along Coral Bay. The buildings would be two and three stories high with studios and one-bedroom units.
The Planning and Natural Resources Department had a hearing for the land-based Sirius development Dec. 4, 2014, but it now needs legislative approval. Architect John Woods said the Legislature's date hasn't been set.
Sirius plans a 92-slip marina for boats 35 to 70 feet long. Consultant Mark Pirrello of the Tampa-based Moffatt and Nichol said they hadn't decided whether the docks would be fixed or floating.
Summer's End 145-slip marina will cater to mega yachts.
The Summers End marina got its Coastal Zone Management permit on Oct. 1, 2014. It is now in the process of securing the required Army Corps of Engineers permit. Opposition is fierce, and Coral Bay Community Council President Sharon Coldren said the organization submitted 1,000 pages of documents to the Army Corps to back up that opposition.
Woods said the Army Corps indicated to him it was going to look at both marinas when deciding whether or not to grant permits.
Pirrello said the Sirius studies showed the harbor can expect 300 boats visiting Coral Bay in 10 years.
"I'm very surprised you said there were going to be 300 boats. There is no chance there will be 300 boats," Coldren said.
Pirrello said that a 125-foot channel will separate the Sirius and Summers End docks. He said that if there are navigational issues, they will be addressed.
Those who attended Saturday's meeting had a number of questions about the project.
The Sirius marina will be tucked into the more sheltered side of the bay but the Summers End project is open to the seas. This prompted one resident to question what would happen to the debris if the Summers End Marina was destroyed by a hurricane.
"What are you going to do to protect yourself?" Brian Bell asked.
Pointing to the graphic that showed both marinas, Pirrello indicated that the debris would travel in a southwest direction and miss the Sirius marina.
The Sirius team said repeatedly that the marina and resort designs came about after market studies showed there was a need. The market study took quite a bit of flak from several people who disagreed.
"We love it here the way it is," Cary Chapin said.
She suggested that a marina would be more suitable for Cruz Bay where there are many shops and restaurants, but Woods noted that the Moravian Church owns the land in Coral Bay, not Cruz Bay.
Monica Aranha said a small marina for day boats to utilize Coral Bay shopping and dining opportunities was more in line with what the community needed.
Judy Kane said that tourists come to Coral Bay because it's beautiful and quiet and that the development of marinas would destroy that draw. She said there are currently far more tourists visiting Coral Bay than are likely to arrive in boats.
After the team said it hoped to install a reverse osmosis plant for water, Pam Gaffin pointed out that three request to the Army Corps of Engineers for similar plants were shot down. She said the outflow pipes had to go far out into the sea and nobody could afford it.
Sirius engineer Bill McComb of St. Thomas said the land part of the project will have cisterns but that barging water in was a possibility.
The Sirius team said it was still finalizing the design but it would be done before they submitted a request to the CZM. Woods said he expected that it would be sometime in May.
As the meeting neared its end the Sirius team and Moravian officials said they wanted to hear from the public before they finished the design.
"Your comments are not falling on deaf ears," Woods said.
Eulencine Christopher, supervisor of the Moravian Church Virgin Islands Conference, said the church didn't want to do something that turned out to be a "royal mess."
"We want to do what it takes to make sure you're comfortable," she said.
She urged people with concerns and comments to send email to moravianvic@gmail.com.
Developers Air Plans for Sirius Resort and Marina
https://stjohnsource.com/content/news/local-news/2014/12/05/developers-air-plans-sirius-resort-and-marina