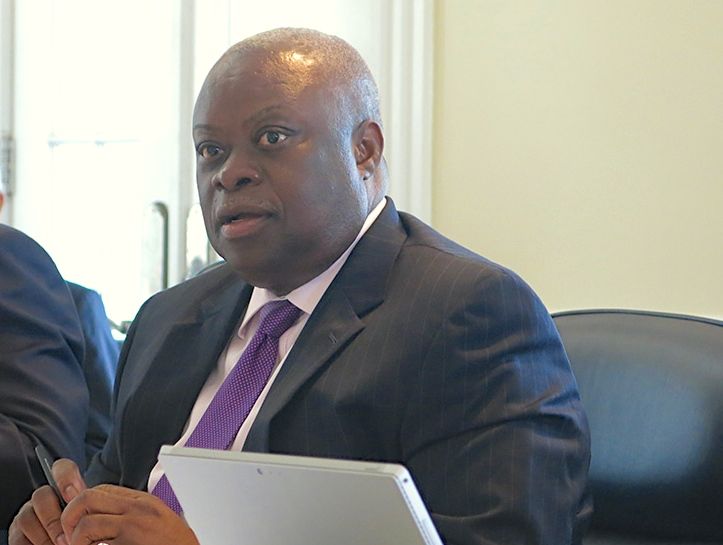 The Public Finance Authority Board of Directors voted during its monthly meeting Monday on St. Thomas to contract with T&M Protection Resources to assess the territory's law enforcement agencies and Coastal Systems International to relaunch Paul E. Joseph renovations and Frederiksted revitalization plans.
The board voted unanimously to authorize a maximum $300,000 contract with T&M to conduct a thorough assessment of all law enforcement personnel in the territory, including V.I. Police Department and V.I. Port Authority officers and enforcement officers from Department of Planning and Natural Resources and Department of Licensing and Consumer Affairs.
Gov. Kenneth Mapp, who is also PFA chairman, said the project would consist of a "top to bottom assessment" of all law enforcement agencies in the territory and highlight any weaknesses and needs.
"This will create a strategy to professionalize policing in the Virgin Islands," said Mapp. "We all know we are facing a tremendous shortage in our law enforcement community. We are not attracting qualified candidates to join our law enforcement."
T&M Protection Resources successfully overhauled the New York City Police Department, a connection that will benefit the Virgin Islands through a mentorship program, Mapp said.
The assessment will also look at the territory's 911 system and address the need to differentiate between corrections officers and police officers, the governor explained.
The program will ultimately include a partnership between University of the Virgin Islands and John Jay College of Criminal Justice and revive the high school cadet corps program, Mapp said.
"We will create a law enforcement cadet corps in the high schools to grow talent in the Virgin Islands," said Mapp. "That is how I got started in law enforcement. Our law enforcement community needs this."
The initial contract, not to exceed $300,000, will cover Phase 1 of the process, Mapp said.
"When the assessment is completed, police commissioners and chiefs will report to PFA and we'll decide how to proceed to Phase 2," said the governor.
The board also approved an agreement with Coastal Systems International, which was originally granted a contract in 2005 to renovate Paul E. Joseph Stadium and the surrounding area on St. Croix. That contract was suspended under former Gov. John deJongh Jr.'s administration in favor of a contract with General Engineering Corporation.
Mapp halted the GEC contract and in now is dusting off Coastal System's Frederiksted plans.
On Monday the PFA Board voted unanimously to authorize a $250,000 payment of Coastal System's original $17.5 million contract to continue the firm's services for the Frederiksted economic revitalization project.
"We don't need to start from scratch," said Mapp. "This was done in 2005; we have all of the files and the findings."
The project was never about only renovating the stadium, the governor said.
"This was never designed as only a stadium project," said Mapp. "This is part of a plan to revitalize, financially, Frederiksted. It's about the stadium and its surroundings. It's about sport and event tourism on St. Croix. It's all included in one plan."
Mapp said, "I hope to, I plan to, give GEC the right of first refusal for the construction. The existing contract allows me to terminate the contract. I don't plan to do that. I think we can come to terms with GEC."
In its $250,000 agreement with Coastal Systems the board also voted to request a timeline from the company on all points in the multistep project.
The PFA Board also approved unanimously a two-year contract extension with Winston & Strawn LLP, a law firm that has worked with the territory's government since Gov. Juan Luis' administration in the late 1970s.
"Winston & Strawn has been an institution," said Mapp. "They have worked on many legal issues on the federal level since the Luis administration. They worked on many tax issues and were instrumental during the Turnbull administration for receiving federal highway allocation funds."
Mapp said he wanted to continue Winston & Strawn's contract to focus on working toward a reduction in mandatory residency days for bona fide resident status and to realize more Federal Highway Administration funding.
"We discussed recently in Washington" with the assistant secretary for tax policy, Mark Mazur, "on reducing the residency requirement from 183 to 153 days," Mapp said, adding that they pledged to "support adoption of legislation going forward."
"We hope to further open EDC to restore much of the lost revenue as a result of the Jobs Act," Mapp said.
Winston & Strawn will also focus on pushing to increase the territory's FHA funding to half of that of the least populated state. With scant funding currently, the territory is forced to patch roads that need rebuilding, Mapp said.
"We get $16 million right now, which is essentially no money," said Mapp. "We want no less than 50 percent of the least populated state. Wyoming right now is the least populated state and their FHA funding is $227 million."
Mapp said, "We hope to convince congress, with the help of our senator, to grant this for five to six fiscal cycles so we can build roads in our territory. After that we can take a lesser amount for maintenance."
"We don't want to resurface roads," said the governor. "We lose that to rains. We want to construct roads."
During Monday's meeting, the PFA Board also voted unanimously to extend a contract with Callwood Associates to continue the territory's congressional outreach and Alexander Hamilton Award programs.
The board voted unanimously to authorize $350,000 to the Department of Sports, Parks and Recreation to improve public sports facilities in the territory.
"Many of the territory's public recreation centers are almost dysfunctional, with no bathrooms, leaky roofs and in a state of general disrepair," said Mapp. "This will provide some revenue to Sports, Parks and Recreation to begin to fix these facilities and improve them for the public."
The PFA Board also unanimously approved a $324,000 allocation from a 2003 projects fund to the Department of Finance for several change orders to its $5 million St. Thomas building renovation project. Mapp suggested the remaining $350,000 in the project fund be used to address Department of Finance structural needs on St. Croix.
The board voted to authorize $137,000 to WTJX to purchase a van so the public television station can take advantage of a $750,000 grant to outfit a mobile production unit.
Mapp, Department of Finance Commissioner and PFA Executive Director Valdamier Collens, Board Secretary Keith O'Neale, Office of Management and Budget Director Nellon Bowry and board member Pablo O'Neill were present at the meeting.