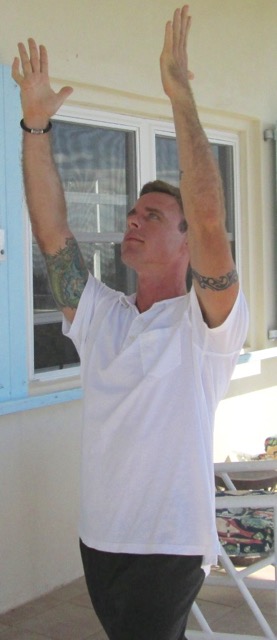 Adam Eichenauer got into yoga by chance and now, eight years later, he's certified in Dynamic Hatha Yoga.
Eichenauer teaches classes at Concordia Eco-Camps and provides youth instruction in the martial arts discipline taekwondo at the Agriculture Center in Coral Bay and Gifft Hill School.
"It's extremely difficult, but I love the challenge," he said of taekwondo.
He also volunteers to teach children taekwondo at the territory's Parks and Recreation Center in Cruz Bay.
Eichenauer, 35, grew up a bit of a wild child, he said. When he was hit by a car while skateboarding on Centerline Road near Coral Bay when he was 12, he broke nearly every bone in his body and suffered a head injury, which led to seizures. Prescription medication didn't alleviate them, but he said when he took up yoga they began to lessen and now he's seizure and medication free.
He also said that taking up yoga and taekwondo provided an alternative to the Cruz Bay nightlife that attracts so many of the island's young people.
While Eichenauer got into yoga for the physical exercise, he said he soon discovered the mental benefit.
"The euphoria you get out of yoga …" he said.
He said practicing yoga allows his soul to speak to him and lets him know himself better.
With taekwondo, the mental focus leads to a physical benefit.
While taekwondo is popular among youths and yoga has a big following with women, he said it's difficult to interest men in his age group in either discipline.
"I see a real problem here trying to motivate men," he said.
Part of the problem happens because people in their 20s and 30s are trying to figure out how to meet people, he said. They don't know or care about the healthier options like taekwondo and yoga so they head to the bars.
Born in Houston, Texas, Eichenauer moved with his family – mother Sharon Schoenleben, father Larry Eichenauer and brother Alan Eichenauer – to St. John when he was eight.
"They moved here to get away from the rat race," he said.
While his brother is still on St. John, his father moved to Florida and his mother died in 2014.
After attending Julius E. Sprauve School he headed off to St. Thomas to attend high school at All Saints School. He said he didn't finish but instead went to work at St. John Ice Co. and later in Clark Beam's cabinet shop.
The skills he learned woodworking helped him become a painter and high-end home furniture refinisher. He said that job helps fill in the financial gaps.
When he's not working as a painter or teaching yoga and taekwondo, he spends time exercising at the beach, surfing at Reef Bay or in Tortola, and hanging out with his life partner Monica Morris and her two children, Arjuna, 10, and Ananda, 13. He said he's delighted about the arrival of children in his life.
"I always wanted to be a dad," he said, adding that he didn't mind skipping the changing diapers part.
As for the future? He said he plans to get his GED so he can take the test to become a fireman.
"But I'm still writing the book," he said.
Eichenauer can be reached about yoga or taekwondo classes by calling him at 1-340-626-7087.