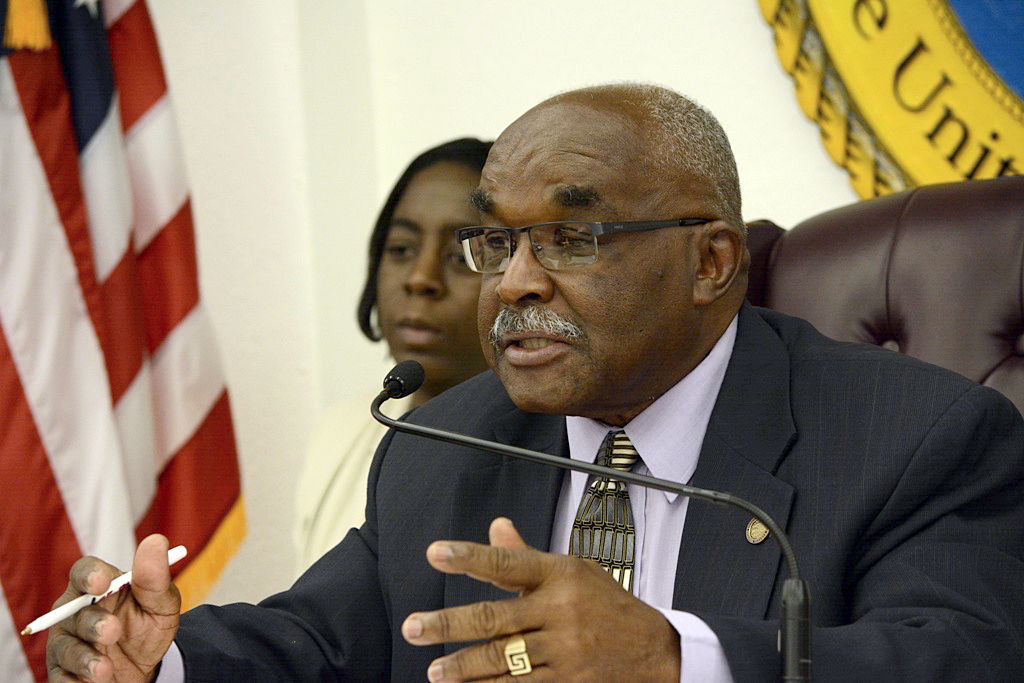 The Committee on Government Services, Consumer and Veterans Affairs heard testimony Wednesday on a proposal to expand the definition of "abandoned motor vehicle," then held the bill for further amendment.
Sen. Justin Harrigan Sr., the sponsor of the bill [Bill No. 31-0003] said expanding the definition of what is an abandoned vehicle and clearly saying when police can tow a vehicle will give the police and other government agencies clearer guidelines, speeding up removal of unsightly derelicts.
The bill expands the definition of "abandoned motor vehicle" to include those not currently registered and left on public roadways or public property. It also makes the owner of the abandoned vehicle liable for towing and storage fees.
"In our community today we are faced with more and more vehicles on our roads. Parking and blight are becoming ever increasing problems, especially in our town area and communities where there is little or no off street parking," Harrigan said. "While instances of abandoned vehicles have been reduced due to measures passed by previous legislation, more work needs to be done."
Police Commissioner Delroy Richards Sr. testified in support of the bill, saying it would help police in the field. Richards asked legislators to include "the procedures to be followed by the towing and wrecker services to recover the cost of removing or storing abandoned vehicles which will be recovered, removed or stored upon the instructions of members of the enforcement agency."
That way, towing companies can better know how to get paid, smoothing the process of clearing the roads, he said.
As the law is currently written, an abandoned vehicle is one that is "inoperable or over eight years old and is left unattended on public property for more than 48 hours, or a motor vehicle that has remained illegally on public property for more than 48 hours, or a motor vehicle that has remained on private property without the consent of the owner or person in control of such property for more than 48 hours."
The bill would make it clear that a vehicle does not need to be more than eight years old, if it is abandoned. Several senators raised concerns about the large number of derelict vehicles that might border a road, but are on private property. Senators voted to hold the bill for amendments to address vehicles on private property, and other enforcement concerns.
The committee also voted to indefinitely hold a bill, sponsored by Harrigan, to give a discount of 50 percent to senior citizens obtaining or renewing taxi licenses.
Bureau of Motor Vehicles Director Lawrence Olive testified against the measure, saying it would cost the government vital revenue in the midst of a budget crisis and that it "opened a Pandora's box" by setting the precedent that business licenses should have different charges depending on who is applying for the license.
"My thing is, if you are a taxi operator you are a business operator. Who is to say now, 'I want to open a bar or I want to open a store or restaurant and I'm a senior citizen too so I want a 50 percent discount too.' You are going to open the Pandora's box," Olive said.
The discount would cost about $32,000 per year, according to Olive.
Senators raised concerns about the cost of the measure at a time when they are looking for more revenue.
While I understand the intent of the legislation, I believe the timing may be a little off," Senate President Neville James said.
Voting to hold the bill indefinitely were James, Sens. Sammuel Sanes and Myron Jackson. Harrigan voted no. Sens. Terrence "Positive" Nelson and Tregenza Roach were absent.