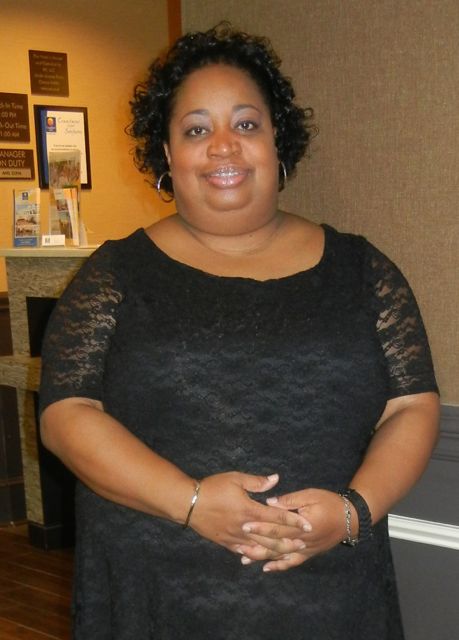 Jewels of the Virgin Isles is a feature series profiling Virgin Islanders in the diaspora who are excelling in their respective fields and/or positively representing the USVI abroad.
To those who know her, Corene Marsham is a rock – a pillar of faith who always has just the right words of encouragement and wisdom to support someone in need or, when necessary, to be that dependable confidante with the strength to keep others from falling apart.
These qualities ring true in her personal and professional life, however, what most do not see are the challenges she has faced and overcome to be the quiet force she is today. Born and raised in St. Thomas, Marsham attended the Lockhart Elementary School and Wayne Aspinall Junior High School (now Addelita Cancryn Junior High School) before graduating from Charlotte Amalie High School in 1987. She left St. Thomas at the age of 17 to pursue a career in communications, earning her bachelor's degree in mass communications from the University of the District of Columbia, and today she uses those skills in the Strategies and Measurements Department of a key federal agency in Washington, where she resides with her immediate family.
Marsham is the first to admit that her career has taken many twists and turns, at times, not looking even remotely like what she attended college to study. "I have to say that my job chose me, but I am glad for it because it has afforded me the opportunity to exercise my skills in writing, organization and planning," Marsham shares. She started out with the agency as a telephone operator to get her foot in the door and jumped at an opening to transition as a specialist in the telecommunications department.
Her diligence and attentiveness has afforded her the opportunity to travel and serve in other capacities to fulfill the goals and missions of her agency, which ranges from oversight management to managing projects and conducting analysis on other projects.
Although her professional life may currently differ from her initial passion, which is mass media production, Marsham is able feed her creative side as a member of her church's video ministry where she serves as one of the directors on several productions. She says her love for music and singing has allowed her to continue that passion as she performs with her church's choir.
Spirituality has played a major role in her upbringing and Marsham attributes her faith, love and trust in God as key to overcoming the major challenges in her life. "Leaving home for college at the age of 17 without anyone familiar around me was a real challenge," she confesses. "People talked differently, looked different and their mannerisms were different. I wanted to go back home after the first month."
Marsham admits that she is where she is today due to hard work and perseverance, including working her way through college as a retail clerk. Her belief that God had only the best in store for her and her self-proclaimed "stubbornness" kept her from giving up along the way. She also credits her mother, Zelda Marsham, for instilling such a strong faith and being a model as a God-fearing woman who never gave up.
Though she has lived outside of the Virgin Islands as an adult, Marsham says she still feels a strong connection to her home, people from the Virgin Islands and the calming effect of the sea. Thinking back to her upbringing as a teenager in the territory, she also longs to see more mentorships from Virgin Islanders living away for local youth.
"I would like to see more sharing of our lives and experiences to enrich the youth of today. I didn't have enough mentors and established professionals to guide my career or my personal path. Sometimes there is no one to reaffirm that where you are going is the right direction," Marsham says.
In spite of the absence of guidance early in her career, Marsham is happy with the way things have turned out and finds ways to give back to others as a volunteer, not just at her church, but at a Washington, D.C., soup kitchen. She admits to being a little nervous when she first started feeding the homeless, but says she realized that the people coming for assistance were humans too.
"I love giving back. I just have to maintain the right balance so that I am not giving all of myself away. It's a sacrifice to be there for 6 a.m. once or twice a month, but I feel blessed, humbled and privileged to serve this population and see them filled with gratitude," she continues.
If Marsham displays a calm demeanor to others, she says it is because her life has been filled with many highs and lows that remind her how precious each moment is. As the primary caretaker for her younger sister, Arlette, she took on the responsibility of being the sounding board and peacekeeper for her family as her sibling battled and recently overcame lifelong medical challenges. Throughout this time, Marsham says, she learned to lean on her faith and the love of her close friends and family to remain positive.
As a long time caregiver and a huge advocate for helping family members to navigate the system of medical red tape, Marsham offers advice and consultation to other family and friends who now find themselves in that unique position of caring for another. Her number one advice to those taking care of loved ones is to first take care of themselves because "you can be no good to others if you are no good yourself. Take time for yourself and find a balance in life."
In the midst of those trying years, Marsham herself was diagnosed with endometrial cancer at the age of 34, an experience that helped to put her life in perspective. Now she is living for the moment and dancing like no one is watching.
If given the opportunity, Marsham would like to create a forum to empower young women and raise their self-esteem. "I want to come from an honest place and use my experiences to help them to see and believe in themselves. Young women have to know that they are worthy of being loved and giving love," she states.
With such a determined spirit, there is no doubt that this jewel will accomplish all of her dreams.
Nugget for V.I. Youth: "Never give up, believe in yourself and create your own environment. If a door or window (opportunity) is shut in your face, use that as a driver and incentive to push further and find another door or window. Have faith in God, seek the Lord in all your ways and He shall direct your path."
Little Known Fact(s): "I am an 11-year survivor of endometrial cancer and proud of it! Additionally I love sports and am a huge football and basketball fan. I also love music and have been singing since I was very young. But, after growing up in a conservative Christian household, today, surprising even myself, I love to DANCE. I love movement and have taken tap, salsa, belly dance and modern dance classes."
__
Loán Sewer is a marketing and tourism consultant and proud Virgin Islander who resides in Washington, D.C. She is also a founding member of the USVI Alliance Inc., an organization focused on reconnecting the Virgin Islands diaspora with the local community and host of the USVI Economic Development Summit on the U.S. mainland. Follow her on Twitter @LoTalksTourism or e-mail her at info@Lotalkstourism.com.