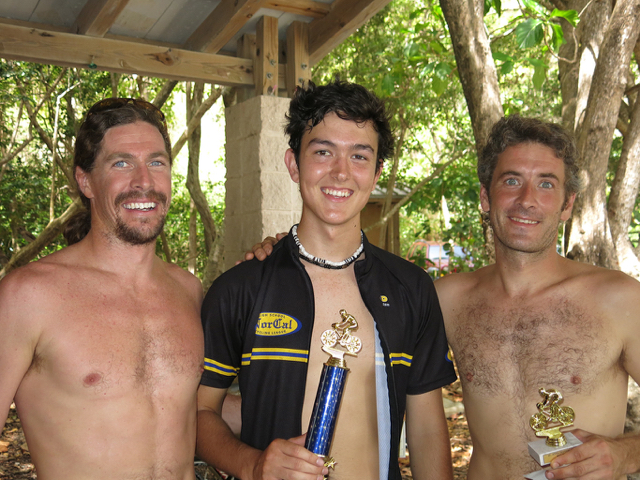 Love City athlete Matt Crafts, a veteran triathlete and no stranger to local winner's podiums, handily won the St. John Festival Bike Race Saturday.
Crafts, 37, finished the challenging 14-mile course in one hour, five minutes and 30 seconds, right behind the V.I. Police Department vehicle escort which warned passing cars of the race. and two minutes ahead of his nearest pursuer.
"It was a great race," Crafts said. "There was a little drizzle right at the beginning and that was it. There were no other issues. The police escort was great and all the traffic slowed for us."
Jasper Guyer-Stevens, 19, was the second place finisher with a time of one hour, seven minutes and 32 seconds. Originally from Northern California, Guyer-Stevens has been living on St. John for the past few months and has a summer internship with Friends of V.I. National Park. This was his first time riding in the St. John Festival Bike Race.
"It was hot," Guyer-Stevens said.
St. John athlete Brent Lynn, 36, came in third, crossing the finish line in one hour, 12 minutes and 55 seconds.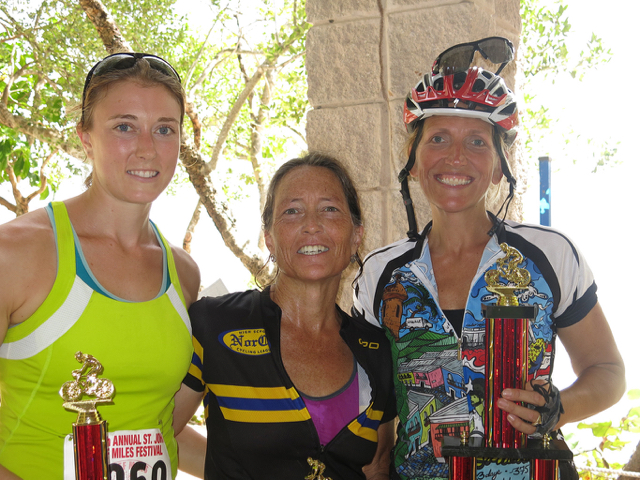 On the women's side it was St. Thomas' Janelle Zachman, 47, who topped the field and finished fourth overall, with a time of one hour, 16 minutes, and 45 seconds.
"That was a lot of fun," said Zachman. "It was great that it was dry this morning. It was super organized and everyone was super friendly along the course."
Zachman did come across a few obstacles on her route, she said.
"There were a few donkeys in the road," said Zachman.
Love City's Mary Vargo, 30, was the second woman to cross the finish line with a time of one hour, 23 minutes and 15 seconds. Vargo had no problem climbing the steep hills, but was less confident on the down hills areas, she said.
"I've ridden this course but this was my fist time doing this race," said Vargo. "I feel like I did well on the uphills, but I'm timid on the down hills."
Third place on the women's side went to Stephanie Guyer-Stevens, 53, with a time of one hour, 23, and 24 seconds. Cycling prowess apparently runs in the family; Stephanie Guyer-Stevens is the mother of men's runner-up Jasper.
The field of 19 riders, seven women and 12 men, headed out from the V.I. National Park Visitors Center in Cruz Bay at 8 a.m. and traversed the hills of Centerline Road before descending into Coral Bay. At the Coral Bay intersection, riders turned around and went back up Centerline Road to King's Hill Road where they descended to North Shore Road and pedaled out to the finish line at Hawksnest Beach.
After several years of rainy conditions ― which forced race director Adam Thill to shorten the course ― a dry morning allowed for riders to battle the full course this year.
"The last few years have been rainy, which forced us to shorten the course and avoid North Shore," said Thill, who runs the race along with his wife Jane. "Because of that our numbers have been sparse. We're glad to be able to run the full course this year and have a good number of people in the race."
Of the 19 riders who started the race, one person did not finish due to equipment problems, one person stopped in the Coral Bay, and a third person called it quits near Cinnamon Bay.
After the race, riders gathered under a gazebo at Hawksnest Beach for a short awards ceremony. The first, second and third place finishers took home trophies and $350, $250, and $150 respectively, checks courtesy of the St. John Festival and Cultural Organization.
"I want to thank Jane and Adam for conducting the bike race," said Leona Smith, St. John Festival and Cultural Organization chairwoman. "This is a fun race and we're happy so many people came out to take part. I want to wish everyone 'Happy Festival' and tell everyone to come out to all of our events."
Crafts said the St. John Festival Bike Race is a great tuneup for the upcoming St. John Triathlon, Aqua-thon and SUP-athon.
"This is the perfect race to see how ready you are for the triathlon in September," said Crafts.
St. John Landsharks will host the St. John Triathlon, Aqua-thon and SUP-athon on Sept. 6.