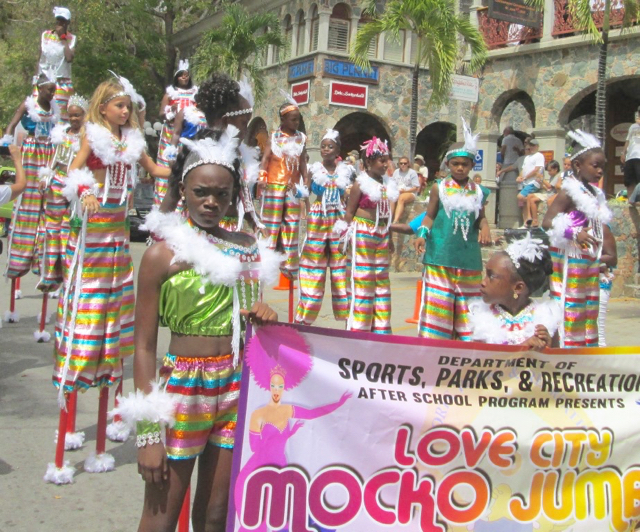 Under a broiling Caribbean sky, almost four dozen troupes, floupes, queens, twirlers, and even a car club entertained the throngs that turned out for the annual St. John Festival Parade.
The parade participants wended their way from Mongoose Junction shopping center through the streets of Cruz Bay to the Winston Wells Ballfield. While the parade brought many, many visitors to St. John, it was also a chance for local residents to mix and mingle.
"The major reason I come to the parade and the village is to see all the people I don't usually see," St. John resident Gary Emmons said, chatting with a friend near the start of the parade route.
St. Thomas resident Lucinda Davis, sporting an American flag on her navy T-shirt, had a front-row seat in Cruz Bay Park.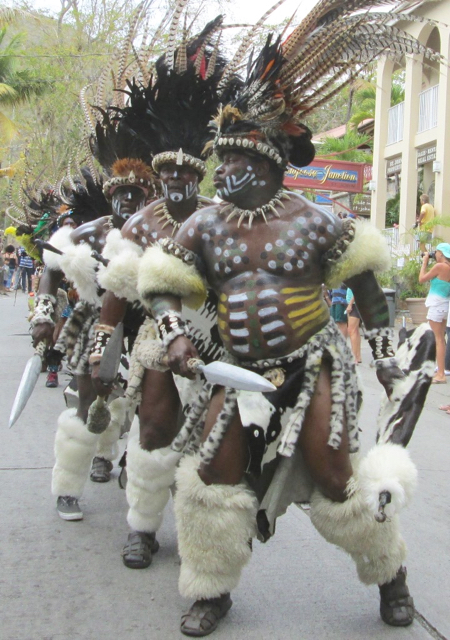 "I'm celebrating old friends I haven't seen in many years. I like the music, the fireworks and just the whole thing," she said.
Tina Peterson of St. John had a prime spot outside the Festival Village. She said she came to socialize.
"I like the scene," she said.
Others, particularly visitors, said they heard about the festival parade from people at their hotel so hopped the ferry to St. John to see what it was all about.
"Everybody said this was the place to be," Tony Lanza of Miami said, echoing the remarks of many.
Cliff Slay of Silver Spring, Maryland, said he really wanted to make the trip from where he's staying on St. Thomas to St. John on Friday so he could see the Emancipation Day event, but he had a time conflict.
"I like the history of it," he said.
Some visitors said they planned their vacation around the festival parade.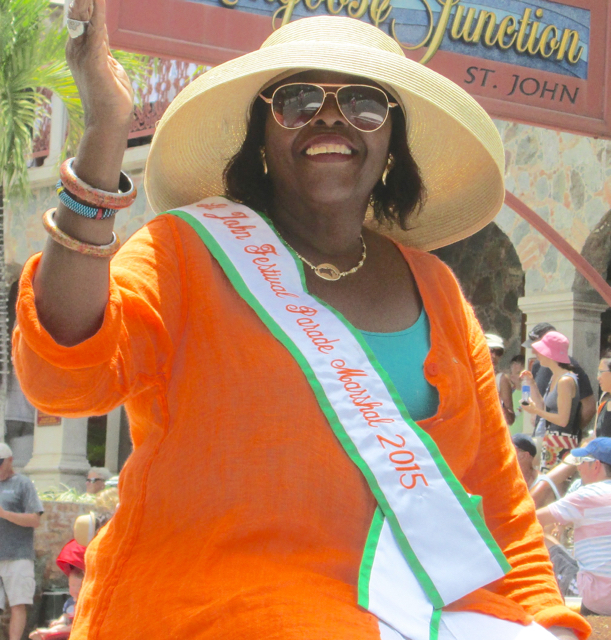 "The people watching is excellent, and there's good food and good music," Derek Atchley of Columbus, Ohio, said as he waited with friends for the parade to begin.
It started only about a half hour late, which is pretty good as festival parades go.
Alecia M. Wells, a festival stalwart for years, served as parade marshal.
"I'm having a wonderful time," she said, waving at the crowd from her perch in a convertible.
A bevy of Carnival royalty from around the Virgin Islands was followed by St. John's Love City Pan Dragons pinging out tunes aboard their trolley. A St. Thomas-based car club about a dozen strong, showed off their Karmann Ghias, Volkswagens and other spiffy vehicles. Liz Putnam of St. John followed with her dancers. The St. John Majorettes in green and yellow came next.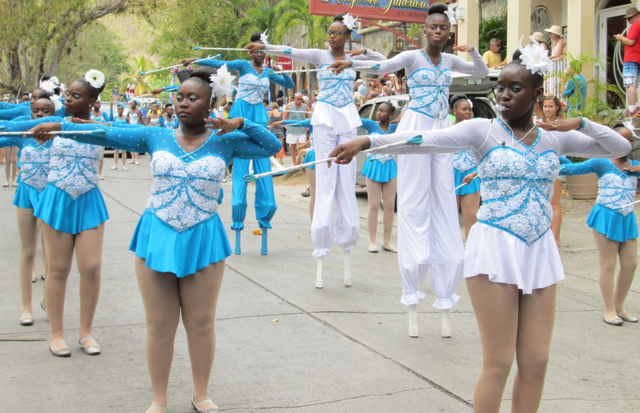 Then there was a space – just a bit less than an hour's worth of space. Nathalie Thomas, who heads the Festival Parade Committee, said the groups who were supposed to be heading down the road in that spot said they weren't ready.
"This is nothing new," she said.
Finally, as the sun reached higher overhead, the St. Thomas Majorettes in their Caribbean blue and white outfits headed out. It was not all smooth sailing, however. A trampoline used in their routine was sitting on its side aboard a flatbed truck. It took some energetic moves from one of its support crew to move an overhead utility wire out of the way using a broom.
More steel pans groups, mocko jumbie troupes and youthful twirlers joined the Westin Resort and Villas and Caneel Bay Resort floupes to round out the parade.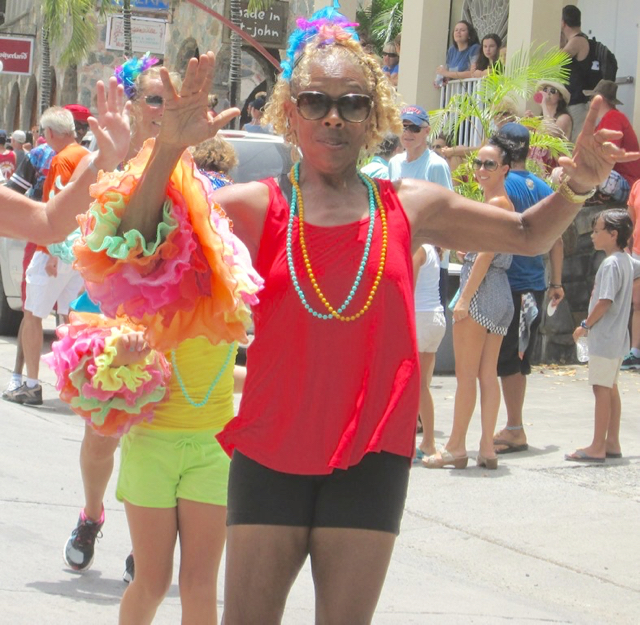 Caneel Bay's theme was An Educational Scene in 2015. Its float featured the names of many St. John elders, some of them still living, who contributed to the island.
The late Guy Benjamin, whose name graces the now closed Coral Bay school, was among them. His name was joined by such others as Julius E. Sprauve Sr., whose name is on the island's only operating public school, Clarice Thomas, who has her name on the Sprauve School annex, and Myrah Keating Smith. Her name is on the island's Community Health Center.
The Westin's floupe featured the men as freedom fighters and the women as conch shells.
"It's the sounds of freedom," Wendy Bailey, the resorts human resources manager, said.