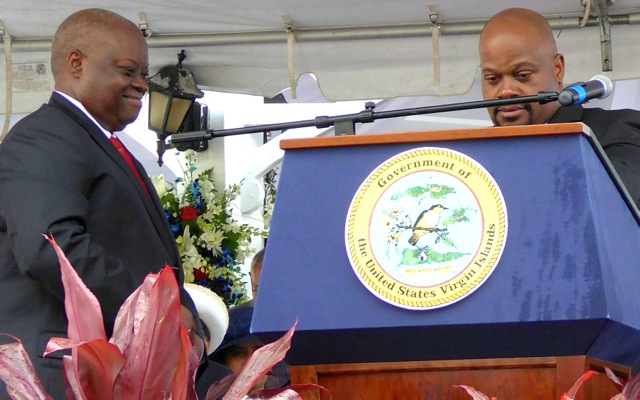 After years as a senior staffer in the V.I. Delegate's Office, followed by a long tenure in the Legislature that included serving as president of the body, Shawn Michael Malone is hardly inexperienced. But in his latest job, he's had to hit the ground running, learning as he goes.
When Government House announced his appointment in June, it was billed as the climate change coordinator, but Malone clarified his position in an interview with the Source this week.
"My job is really the federal affairs coordinator," he said, which encompasses myriad issues and centers on getting federal funding to address local needs. Funding for plans to deal with global warming is "what's on the table right now" so it's currently his primary focus, and probably will be for the foreseeable future, he said.
"I'm a regular (government) employee," as opposed to a contract employee, Malone said, adding his salary is $80,000 annually.
While he said is familiar with federal grant programs and their attendant requirements, Malone's admittedly short on technical knowledge about climate change. "I'm not a scientist," he added.
So he's been tapping local and regional experts in the field for help in understanding the problems caused by climate change and what may be needed to mitigate them. He had his first briefing three days after he was hired.
"We're very behind" on climate change in general, Malone said. "We've got to get ahead" and begin to educate the public about changes it can expect in a vulnerable island community.
The first step will be for Gov. Kenneth Mapp to appoint an advisory council for climate change. Malone said he's already identified most of the people he would recommend to be on a 15-member volunteer panel. Later there may be an executive director.
The council would include leaders in government agencies specifically involved in aspects of the community that will be directly impacted by global warming, such as the Departments of Planning and Natural Resources, Health, Public Works and the V.I. Territorial Emergency Management Authority. There would also be representatives from the private sector, from local nonprofit agencies and from the University of the Virgin Islands. The panel would include researchers and scientists.
Once the council is in place, Malone said the U.S. Department of Interior will release funding to hire technical assistance for the Virgin Islands to make its vulnerability assessment, followed by its risk assessment. The reports will outline changes the islands are expected to face as both the temperature and the sea level rise.
Malone discussed a few of the far-reaching effects that already appear to be manifesting. Warmer temperatures may have increased the prevalence of the mosquitoes that spread chikungunya, thus bringing the disease to the Virgin Islands for the first time last year. An increase in droughts in Africa mean an increase in the Sahara dust that sifts through the Caribbean each spring and summer, exacerbating breathing problems for asthma suffers and promoting allergies. Warmer air and water temperatures are blamed for increasing the intensity of hurricanes – something Malone said he believes may have been in play as early as 1995 when Hurricane Marilyn suddenly and unexpectedly intensified. And with sea levels rising, buildings near the shore are increasingly at risk of flooding.
"Micronesia took three years" to make its assessment, Malone said. "There's no need for us to spend three years … We want to do it in 12 months." The territory should be able to build on research other coastal communities have already done.
He noted that the Virgin Islands is also ahead of many territories in a related aspect – prying its electrical utility away from fossil fuel and thus shrinking its carbon footprint.
"The good news is there's lots of funding outside of the territory" to address climate change issues, Malone said. Besides Interior grants, there is money from the National Oceanic and Atmospheric Administration and from the private group, the Nature Conservancy.
While his attention is on climate change, Malone said he will also be coordinating efforts to fund other projects and to tap available federal sources.
President Barack Obama proposed $80 million in the 2016 budget to be channeled through Interior to the territories, Malone said, adding that he's working on establishing how much is actually available to the Virgin Islands and what needs to happen to tap into it.