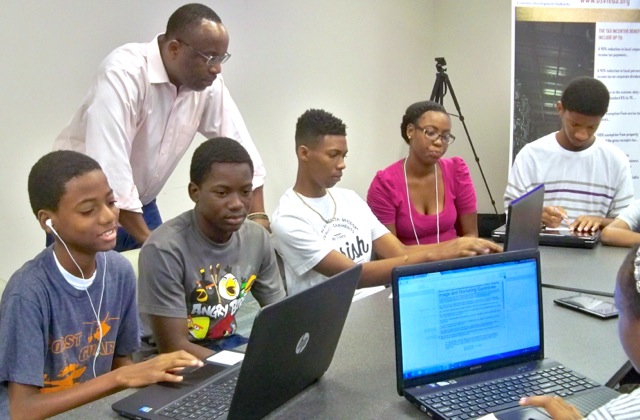 Seventy-five young Virgin Islanders spending every day this week at camp from 8:30 a.m. to 4:30 p.m. at the Gov. Juan F. Luis Hospital in the Cardiac Center Conference Room may be the best hope yet to get St. Croix out of the economic slump it has been in ever since Hovensa abandoned the island.
The young people ages 13 to 22 weren't making lanyards or taking swimming lessons. They were working in teams designing websites, creating advertising, setting up Paypal accounts, marketing T-shirts and transforming their ideas into a business.
The Virgin Islands Economic Development Authority partnered with Small Business Camp in presenting the Young CEO Camp on St. Croix.
Some of the young folks attending are already entrepreneurs making money in their business but they wanted to enhance their business skills.
Candle maker Marisha Butcher, 18, said she wanted to open her mind to more ideas on how to grow her business for a better future.
"I want to learn more about how to make contacts and networking to make more money," Butcher said. She sells her candles at Itiba, Anything in a Basket, the Agriculture Fair and other events.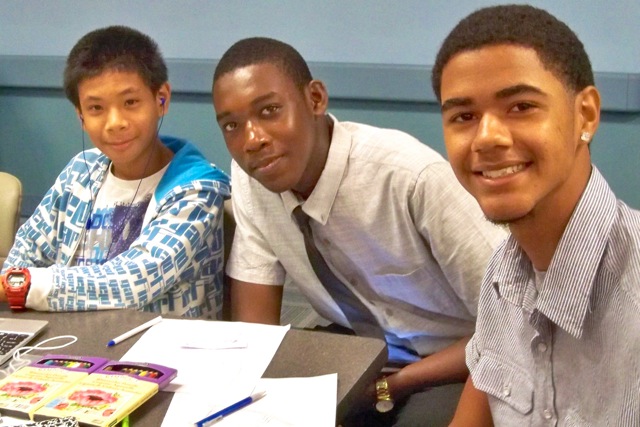 Deidra Matthew, also 18 and a student at Johnson and Wales University, said she needed guidance in how to push her ideas in the right direction and to further her knowledge in entrepreneurship to grow her clothing design business called Femachree.
Devante Felix, a senior at St. Croix Central High School who is already making money doing videography, cinematography, and graphic and clothing design, said his parents really pushed him to attend the camp.
Andrew Morrison, president of Small Business Camp and the instructor of Young CEO Camp, said he didn't hold the camp last summer and parents were very disappointed.
He said almost 100 youths are watching the camp live on web video broadcasts, adding this allowed kids who could not attend on St. Croix to interact with the instructor and fellow participants via online messaging and chats.
"Young CEO Camp is leading the way in providing online instruction for our local youths and training them for entrepreneurship in the world of e-commerce," Morrison said. He said the participants had homework and there are local guest speakers every day.
"The kids are having a great time and they are fully engaged," he said.
Sponsored by the United States Department of Commerce and the VIEDA, the Young CEO Camp was free to participants. To be accepted and enrolled youngsters had to write a 100-word essay about why they should qualify for the program.
Morrison has lectured at Harvard University, been featured in the Wall Street Journal, trained thousands of entrepreneurs from Alaska to Africa and has appeared on The Oprah Winfrey Show.
VIEDA acting Chief Executive Officer Wayne L. Biggs Jr. said, "The VIEDA's Incubator Program embraces this opportunity to partner with Small Business Camp to provide our young people with the necessary tools and lessons that can inspire and empower our next generation of leaders to become business owners in our community."
Miamor Young, assisting Morrison, said the camp is just what St. Croix needs to help create jobs. "Kids creating their own businesses and jobs is a beautiful thing," Young said.
For more information visit www.BizYouth.EventBrite.com or contact the VIEDA Incubator Program at (340) 719-2037.