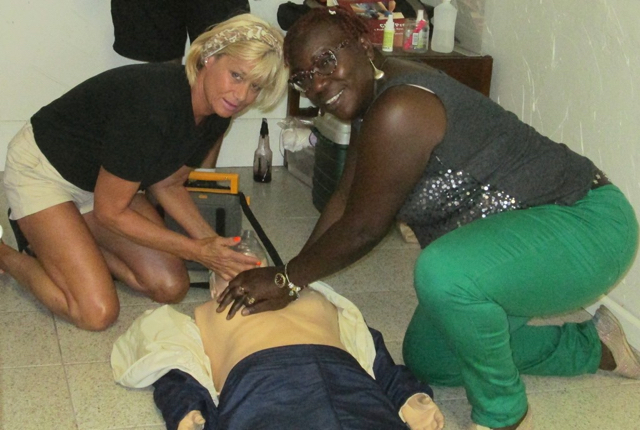 Cardiopulmonary resuscitation saves lives. With that goal in mind, St. John Rescue offers free CPR classes on the second Saturday of every month at the organization's headquarters on Centerline Road in Pastory.
The three-hour classes begin at 9 a.m.
"We go into a house and we find family members standing there waiting for us and have no idea what to do," St. John Rescue training officer Bob Malacarne said.
The first thing a person should do if someone experiences a cardiac arrest, Malacarne said, is call 911 from a land telephone line or 776-9110 from a cell phone.
"Then immediately start CPR," he said.
Minutes count. Malacarne said that after about four minutes, the brain cells of a person with cardiac arrest begin to die. He said after four minutes, the chances of survival are decreased by 10 percent for each minute that passes.
On St. John, an ambulance can take more than four minutes to reach someone suffering cardiac arrest.
According to information from the American Heart Association, the life you save with CPR is mostly likely to be a loved one because four out of five cardiac arrests happen at home.
And according to the American Heart Association, African-Americans are almost twice as likely to experience cardiac arrest at home, work or in another public location than Caucasians, and their survival rates are twice as poor as for Caucasians.
In addition to CPR, the use of an automatic external defibrillator, called an AED, increases the chance of survival. Malacarne said that when a person suffers cardiac arrest, the heart doesn't stop. Instead, it experiences really fast spasms called fibrillations.
"The heart cannot pump blood," he said.
Most homes don't have one standing by, since the cheapest costs about $1,200, Malacarne said. In a central Florida retirement community called the Villages, residents chipped in to buy one each for their various neighborhoods. They learned how to use it as well as do CPR.
"People get there in a couple of minutes," Malacarne said.
This increased the survival rate for cardiac arrest patients from the usual 10 percent to higher than 90 percent, Malacarne said.
Chest compression and breathing are what most people practice when learning CPR. However, Malacarne said that since the breathing aspect of CPR is "kissing a dead person," some people are reluctant to do it. He said he always carries a CPR face shield in his pocket should he need to do CPR.
And he said that some people administering CPR breathe too hard, which he said is counterproductive. However, he said it's necessary with children and drowning and choking victims to breathe into their mouths since it's unlikely they've suffered cardiac arrest.
However, he said that if people are squeamish about doing breathing, chest compression alone helps.
"Doing something is better than doing not doing anything," he said.
He said that at the classes, participants practice over and over to push in the middle of a person's chest fast and hard.
"So it sets in your mind," he said.
While St. John Rescue teaches CPR under the umbrella of the Health and Safety Institute at www.hsi.com, a Google search turns up many sites that provide information. The American Heart Association's website at www.heart.org has more information.
Anyone who wants Malacarne to teach a CPR class at a school or business can reach him at 340-626-5118 or by email at stjrescue9@gmail.com.